Marnie Simpson is a former cast member of...later moved on to...The romance was...explore the fundamentals of...related to other...met the man of her dreams in...news of her pregnancy...
Marnie Simpson is a cast member of the seventh season of the infamous UK reality TV show, Geordie Shore. 
Replacing her cousin Sophie Kasaei, the reality star garnered the attention of viewers through her notorious and vindictive behavior. Among her bizarre acts on the show, she once poured water over her co-star Gaz Beadle during an ongoing feud between the two. Working for more than seven seasons of the show, she had her moments.
Marnie later moved on to the show Celebrity Big Brother. Placing fourth on its 18th season in  2016, her career as a reality star recieved even more weight after that.
Dating Bio
Marnie's dating life has been a shuffle like a deck of cards. To date, the bombshell has been associated with thirteen others.
At the beginning of 2013 - during her initial days at the set of Geordie Shore - Marnie had a brief fling with cast member Scott Timlin. The romance was short-lived, and she moved on to another cast member Gaz Beadle, but their relationship also didn't last more than a few months.
Never shy to explore the fundamentals of bisexuality, the reality star was also reported to have dated co-star Jemma Lucy.
Open About Sexuality:- Janelle Monáe & Tessa Thompson Dating Revealed As 'Ragnarok' Actress Outs As Bisexual
While in 2015, Marnie - height 5 feet 4 inches (1.6m) - was engaged with another TV star Ricky Rayment. Unfortunately, the relationship eventually collapsed.
The apparent reason for the collapse was an ongoing affair between her and co-star Marty McKenna. However, their relationship was also short-lived ending the same year.
Over the years in 2016 and 2017, she was briefly related to other TV personalities like Aaron Chalmers, Natalie Philips, Lewis Bloor, Keiran Lee, and Abbie Holborn. However, none proved to be worthy of dating her.
Her quest to find love finally ended when she met the man of her dreams in the latter half of 2017. The 54 kgs beauty and present boyfriend, Casey Johnson, met on the sets of the hit MTV reality show, Single AF. 
The budding relationship was made public in August 2017 when Marnie shared her feelings for her boyfriend through Instagram and Twitter.
Is Marnie Pregnant?
While the news of her pregnancy spread in mid-2018, she was not pregnant during that year. However, in April 2019, amidst split rumors, both Marnie and her boyfriend Casey shocked the world.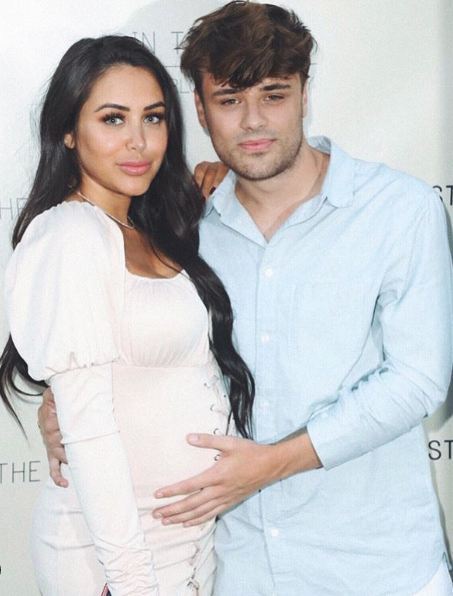 Marnie Simpson with baby daddy-boyfriend Casey Johnson in August 2019 (Photo: Marnie Simpson's Instagram)
Confirming she was pregnant with her first child, the couple made headlines showing off Marnie's beautiful baby bump when she was four months along. 
Revealing the gender of the child as a boy shortly after, both Marnie and Casey are more than excited to welcome their first kid in 2019.
Net Worth Info
While a piece of brief detailed information regarding her salary from her career in TV is unknown, Marnie Simpson has already amassed a net worth of $500,000.
The number seems to fit as she has hoarded a great deal of fame as a reality star, boasting a fan following of more than 3 million on Instagram. It is no wonder she has also garnered a comparable amount in net worth.
Parents & Age
Born in South Shields, England, Marnie is of British Origin.
The 27-year-old is the daughter of Sharron Kenney. Her unnamed father left the family when she was only a baby. Raised by her single mother, the TV personality is very close to her mom. 
Another Great Mom:- Joan Grande Age, Net Worth, Husband, Ethnicity
When her mom moved abroad for some reason, Marnie considered suicide at the age of 17 as she was unable to bear the seperation. However, the reality star overcame those thoughts and now lives a happy life.