Entertainment
Is Golden Brooks Married? Has A Daughter But With A Boyfriend Or Husband?
Everyone yearns for a beautiful love story for themselves and wishes to be bestowed by a real lover and a soul mate. While searching for one person sometimes you stumble upon one and also if you don't stumble upon, one then you take a lesson from it and move on and good memories from it.
Sharing a similar story is actress Golden Brooks who was in a relationship in the past but did she ever marry her boyfriend? And also she is a loving mother of an adorable daughter and flaunts her as well. So let's read to find more.
Golden Brooks Married?
Talented actress Golden Brooks was in a relationship with her boyfriend D.B Woodside from 2008, and they announced Brooks' pregnancy in June 2009. They welcomed a daughter, Dakota Tao Brooks-Woodside after the completion of the pregnancy on September 1, 2009, and she was 23 inches long and weighed nine lbs., 2 oz.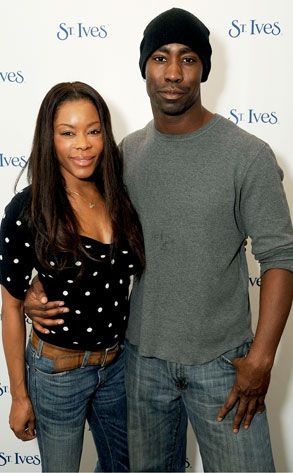 Caption: Golden Brooks with her boyfriend D.B Woodside.
Photo Credit: famousfix.com
On this joyous occasion, Golden shared her happiness with People and said,
"Everyone is insanely in love with her. We're so happy, my mom and dad have moved in to be around her that much more! We're already calling her our little jumping bean because she's so active!"
Many factors affect the longevity of a relationship and unfortunately the relationship of Golden and her boyfriend, D.B Woodside suffered a split in 2010. However, Golden has not been married is yet to enjoy a married life with her husband.
Mother Daughter Relationship:
A mother-daughter relationship is one of the most beautiful relationships to witness and loving mother Golden Brooks flaunts her adorable daughter Dakota Tao Brooks-Woodside in several occasions, through social media platforms.
Proud mother Golden shared the proud moment when her daughter Dakota ran in her school Jog-a-Thon, through an Instagram post in February 2017.
Golden's daughter, Dakota is a fashionable girl who says "Fashion first mommy." Golden has shared this current avatar of her daughter via an Instagram post on April 21, 2017.
Dakota is a naughty girl as evident in a photo shared by Golden via Instagram on December 28, 2016. In the picture, Dakota is smiling flaunting her red lip, after applying her mother's lipstick.
These are just a few examples of the mother-daughter love. More about their relationship is evident through Golden's Instagram posts.
Golden has been a single mother and has been busy with her career as well, but did she ever find the man of her dreams yet? The answer lies with Golden as the rumor of her boyfriend has not surfaced in the media.
However, her Instagram post on March 2017, suggest that she has been in love and missed the person as well, but the identity remains a mystery.
Like her many fans, we hope that Golden Brooks finds the man of her dreams with whom, she can enjoy happy married life!
Stay with us for more news on Golden Brooks!