Entertainment
A Look At Rick Lagina And His Show That Has Been Increasing His Net Worth; Has A Married Life And Wife To Flaunt?
The progress of a show depends on the materials it presents and "The Curse of Oak Island" is a show that has a fantastic presentation of facts to the people.
One of the stars of the show, Rick Lagina is someone who has given his plenty to make the show a hit and today, we take a look at the star and the show which has proven to be his home. Also, we take a look and see if he has a wife in his life.
The Show That Made Him The Man He Is Now:
Rick Lagina and his brother Marty are the stars of the reality television series "The Curse of Oak Island" that premiered in Canada back on 5th January 2014. This program that airs on the History Channel revolves around the efforts of the Laginas from Michigan in their quest to solve the ancient, 220-year-old Oak Island mystery. In the series, Rick and Marty along with their crew search the three most important area on Oak Island located in Nova Scotia where the treasure is said to be hidden.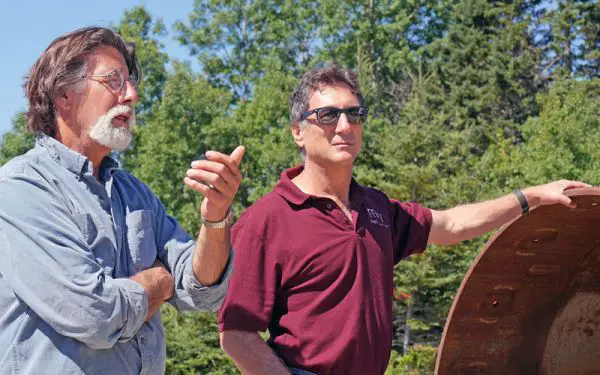 Caption: Rick (L) and Marty Lagina (R) are the stars of the show, "The Curse of Oak Island."
Photo Credit: realityblurred.com
The show, as per the Lagina brothers is not scripted. Marty stated,
"Everything about that show is real. There are no scripts. We said early on we would not do a scripted show. We kind of reluctantly agreed to it. We weren't looking for any sort of fame. We still don't really like that. They said, Just let us follow you. Well, it's not quite like that. Things take more time, you have to get mic'd, and all that. So it's not them just following us, but it is real. We will not do scripts. All the discussions in the war room are what we are discussing."
Adding to his brother's statement, Rick said,
"Some of the things we've done—the marginal things—we've expanded on those or been more aggressive on them because the show needs content. It's not something we wouldn't have done,"
"The truth is, on a personal level, we didn't seek this show out,"
The show has been one of the major highlights of Rick's career, and he first got attracted to solving the mystery when he read about it in the January 1965 issue of Reader's Digest at a very young age of 11.
But the series is what describes his professional life and fans do wonder if he is married to someone beyond the screen whom he calls his wife. Well, he is seen to be enjoying a substantial net worth in his life but does he have someone to share it with?
So far, Rick has not revealed anything regarding his personal life. Maybe, he is yet to get married or perhaps, he just does not want to show it. So let us wait and see if he opens up about his marital status.
A Short Wiki-Like Bio of Rick Lagina:
Personal matters are something that Rick has kept far from the media, and it's his professional accomplishments that describe the life of famous producer Rick Lagina. He is best known for producing successful projects like "The Curse of Oak Island" along with his brother Marty, "The Curse of Oak Island: Drilling Down" and "The Late Show" with Stephen Colbert.
Caption: The clip of treasure hunt show "The Curse of Oak Island" S4 Ep13 (Published on Feb 8, 2017)
Rick who has touched immense height when it comes to measuring his success in professional life. And with all the hard work, he has been able to accumulate an incredible net worth of $2 million.