Entertainment
2 Divorces And 5 Children! Tragic Story of Matthew Dowd: Married Life, Wife. Plus His Affair With Maria Shriver
Quick Fact Check
Date of Birth

1961-05-29

Age

57 Years 9 Month(s)

Nationality

American

Profession

Political Consultant

Religion

Christianity

Ethnicity/Race

White

Children/Kids

4

Relationship Status

Dating

Divorce/Split

Yes (Twice)

Girlfriend

Maria Shriver (2013- Present)

Ex-Wife

Tammy Edgerly (Divorced), Nicole Baines (Divorced)

Gay

No

Dating/Affair

Maria Shriver (2013- Present)

College

Cardinal Newman College

Hair

Half-bald

Hair Color

Salt & Pepper

Eye Color

Black

Siblings

10
When a person is finding a partner to share his/her life, then it's obvious to have some bitter experiences and failed relationship. Does a person's ability to have a committed and healthy relationship is determined by the failed relationship of the past? Is it fair to be judged upon by their previous relationships?
Sharing a similar story is Matthew Down who had a bitter experience of two failed married life ending in divorce. And everyone remembers the scandalous divorce between Mariah Shriver and Arnold Schwarzenegger. Well, a new fact has come to light in the case of the divorce of his present day girlfriend Mariah Shriver with Arnold Schwarzenegger.
The Unknown Truth About Shriver:
Mathew Down had one of a tragic back story which people have heard about due to the controversy that Dowd is aligned with. Yes, I am talking about the Mariah Shriver controversy.
As if things weren't bad enough, Mariah Shriver was seen with her ex-husband's former political strategist, Dowd, that now a new fact has come to light that this duo was having an affair a long time before the divorce. She had a divorce with her actor/ politician ex-husband, Arnold Schwarzenegger after he publicly claimed in May 2011, that he had had an affair with his maid and was now supporting her son who is presently 16 years.
Caption: Mariah Shriver's ex-husband Arnold Schwarzenegger's interview on a new memoir which gives his perspective including an affair with maid and ex-wife Mariah Shriver.
But now a source had revealed to Radar Online that they were having an affair a long time before this came up. In fact, Schwarzenegger had made the revelations in 2011, and the source remembered Dowd and Shriver meeting in a hotel in 2007, but the affair had been going on long before then.
This new information changed the people's thoughts on the matter from how they reacted before,
What right did @mariashriver have to feel so hurt after having an affair with another man? Was it a guilty conscience, perhaps?

— Paul Hamilton (@PVD1983) February 14, 2015
Caption: Maria Shiver was reportedly having an affair with her then-husband Arnold Schwarzenegger's lead campaign strategist's Matthew Dowd. (published on September 2, 2014)
To how they react now.
@mariashriver You will find your freedom in forgiveness. This is a quote by myself after my ex had an affair on me. Blessings Maria.

— Danielle DeMartino (@Danellabella01) June 2, 2011
The Misunderstood Idea Towards Dowd:
After this, it is likely for people to have a bad mentality towards Dowd. But in reality, many people look at things one sided and miss the fact that Dowd getting divorced twice is not the reason to believe that he is not meant for commitment but that he too could have been a victim.
The divorce has taken same effects on Dowd. If he could still find somebody after such heartbreaks, then he may deserve it as well because that's not all the sorrows in his life. He has been married twice with 4 children in total, 3 from his first and 1 from his second marriage. However, he was supposed to have twins during his second marriage, but one died during their premature evacuation. The trauma had caused his second marriage to crumble causing differences between him and his ex-wife, Nikki.
Recently on the occasion of Father's Day on June 18, 2017, the proud father of four children had some beautiful words for all the fathers.
Happy Fathers Day to all the dads and all the people who father others in this uncertain world. Father is more of a verb than a noun.

— Matthew Dowd (@matthewjdowd) June 18, 2017
A happy couple of Down and Shiver were spotted during a leisure walk on May 25, 2016, in the Brentwood neighborhood in Los Angeles. The duo color coordinated their sportswear and enjoying their romantic moments with each other.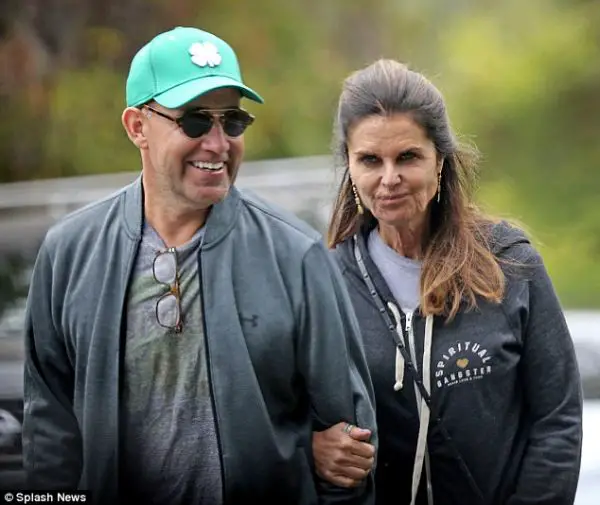 Caption: Mathew Dowd was seen together with Mariah Shriver on May 25, 2016, in the Brentwood neighborhood, Los Angeles.
Photo Credit: Daily Mail
Peaceful Path to Redemption:
He currently resides alone in a ranch in Texas, just outside a rural city. He is living off the rest of his life with the support of his beliefs in his religion from all his past sorrows and loss.
On the Presidential Elections:
When he was asked about the upcoming Presidential Elections on November 2016 in ABC's 'This Week' he said that Hillary Clinton would probably win the elections with a big margin considerably larger than the estimated 95 percent. He said in a statement:
"I think she's got about a 95 chance to win this election, and I think she's going to have a higher margin than Barack Obama did in 2012. Higher margin. She's going to win by more than 5 million votes. She's going to win a higher percentage. And itnerestingly she's going to have amore diverse coalition than Barack Obama even did when you take the final vote into consideration. Every piece of data points in that direction."
Moreover, Mathew Down is a renowned political strategist and an advisor who was the chief strategist for Schwarzenegger's campaign too. He is also known for his criticism towards the wrong handling of gay marriage by Bush administrators.
Furthermore, Down tweeted in support of gay marriage through his tweet on May 9, 2012, and even applauded the effort of the President.
President comes out for gay marriage. I may disagree with him on many things, but have to say on this one he has my applause. Bravo.

— Matthew Dowd (@matthewjdowd) May 9, 2012
Social media has become a medium to voice one's opinion, and Down also voiced his opinion through Twitter on December 19, 2013.
Thinking of duck guy gay comments who is now a multimillionaire, didn't Jesus talk way way more about the evils of money than sex???

— Matthew Dowd (@matthewjdowd) December 20, 2013
The life is full of up and downs and as it is said- if you do not see the low phases in your life would not appreciate the high phase in your life as one would. So all his fans are hopeful that, this time he would have a beautiful romantic union, with his woman, Mariah Shriver to cherish for life.