Entertainment
Actress Arianne Zucker is Dating Again After Divorce with her Former Husband! Well, Who's her Lucky Boyfriend?
Love knows no limits when it comes to finding the right person. Arianne Zucker, famous as Nicole in "Days of our Lives," has found her new soul mate Shawn Christian after dissolution with her former husband, Kyle. Arianne and Shawn have been dating each other since 2014. Let's have a sneak peek at Arianne's personal life.
Arianne Feels Luckier with Her New Boyfriend!
The couple has been sharing love and affection with each other soon after they started dating in 2014. Arianne and Shawn went for skydiving in Sydney at the beginning of their relationship in early 2014. Moreover, she seems to keep her new relationship smooth and steady since there is no news regarding conflicts in between them.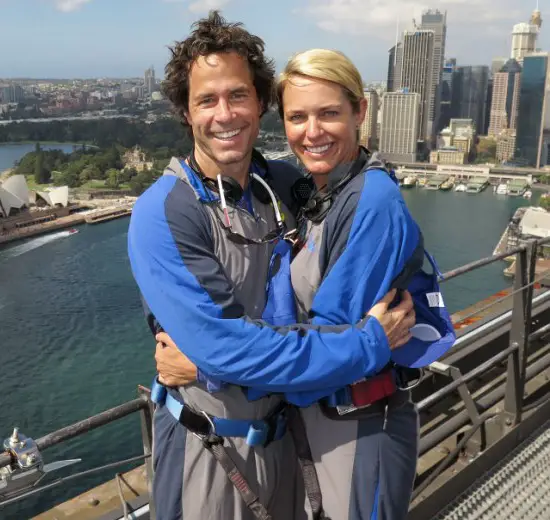 Caption: Arianne and Shawn were feeling cloud nine at the top of Sydney Harbor on March 26, 2014.
Picture Credit: Dailymail.co.uk
The couple posted the same picture on their respective Instagram accounts quoting each other "protector" and "guide."
Arianne and Shawn along with her daughter from ex-husband, Isabella Reese Lowder, were recently spotted skating together. So we can speculate Shawn as a good stepfather for Isabella.
Arianne and her ex-husband are Still Friends After their Divorce!
Arianne and Kyle Lowder met each other in 2000 during the cast of Days of our Lives. The friendship soon converted to a love affair followed by their wedding on August 3, 2002. There were no disputes between them until 2007. Arianne separated with Kyle in 2007 however the separation didn't last longer than a year. Soon in 2008, they reunited, and Arianne got pregnant with a baby girl. Their daughter, Isabella, was born in 2009, right after the reconciliation of the pair.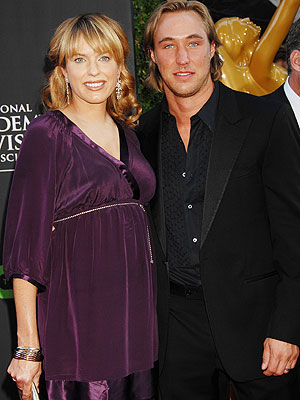 Caption: Arianne and Kyle after their reunion at Emmys where Arianne flashed her baby bump.
Picture Credit: celebritybabies.people.com
In a joint statement released on Soap Opera Digest, she shared,
"In response to ongoing inquiries, we would like to announce that with respect to our privacy, we quietly separated a while ago and are officially divorced. We continue to remain great friends and loving parents to our daughter."
Moreover, Lowder added,
"Ari was like, 'I love you. We love each other, but you're 21 years old. If you need to experience life, go out, and do it. I don't want us to be married and all of a sudden for you to have a crisis,'"
Unfortunately, Arianne and Kyle announced their divorce after 12 years of relationship in 2014. This separation was obviously heartbreaking their beloved fans, but the couple could not convey the appropriate reasons for this act. Reportedly, the main reason for their divorce is rumored to be the age gap between the couple and different values in their career. Regardless of the failed marriage, Zucker and Lowder have stayed good friends and caring parents to their 6-year-old daughter.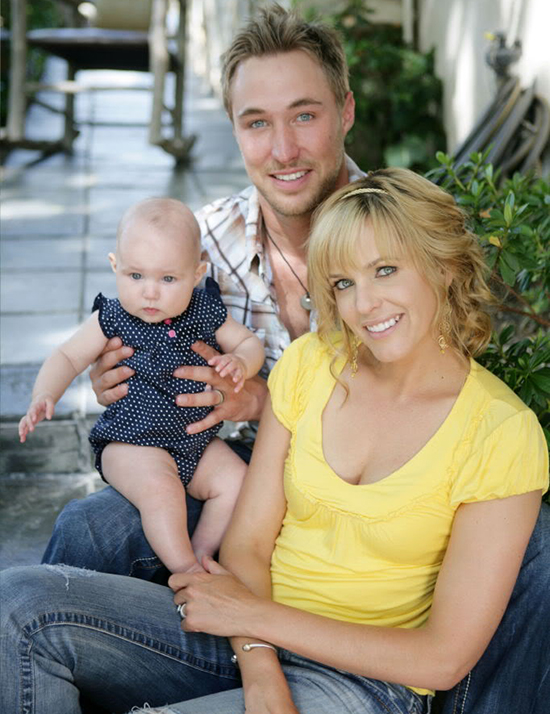 Caption: Kyle and Arianne with their daughter Isabella.
Picture credit: Photobucket.com
Caption: Arianne having fun with her daughter, Isabella, along with Shawn Christian.
Arianne is now happy with her new boyfriend, Shawn Christian. However, there aren't any hints where this relationship is heading. Now that Arianne knows Shawn is her new life, she seems content with her decisions and Shawn Christian.
Arianne Zucker Leaves 'Days Of Our Lives'
Arianne has announced her departure from NBC Soap Opera 'Days Of Our Lives' and this announcement took everyone by surprise. The actress' contract expired on April and she announced that she had no plans to renew it. As a goodbye to fans and the cast, she released a video of her on the the last days of her work on the set.
Captions: Arianne Zucker's last days on the set of 'Days Of Our Lives.'
It was reported that Arianne planned to leave 2 years prior after writers failed to create a good plotline for her character and the subsequent firing of Boyfriend Shawn Christian. She also clarified about her decision on her blog stating,
"After 18 years of an incredible run as Nicole Walker on 'Days of our Lives', I will not be returning this contract year. I have had such beautiful support from all of you who have loved to hate Nicole and then love her again. Nicole has been through a life not fully rewarded by some of your standards, but I have also been able to connect with you on personal levels. Although nothing is ever permanent and I never like to say never, it is bye for now. I will see you all in other places as other characters and I am excited for my journey. I leave you for now with the Dreams (Blue Angels) video to inspire YOUR dreams. Thank you Van Halen and Sammy for helping me fulfill my dreams."