Entertainment
Why Did Amanda Lindhout Not Get Married? Relationship Slump - All Details
Canadian journalist Amanda Lindhout and Australian photojournalist Nigel Brennan were held in captivity for more than 450 days.
Following their release from the captivity, Amanda, age 37, has gone to pursue a career in philanthropy all the while chronicling the harrowing tale she was forced to endure in her 2014 memoir titled A House In The Sky.
Publisher's Weekly described her book as "a testament to resilience and character in the face of unimaginable trauma."
Almost Married To Captor Husband
Amanda's story to freedom is as captivating as it is tragic. The fatal 2008 journalistic assignment in Mogadishu, Somalia saw her and Nigel get kidnapped by a group of insurgents alongside their Somali translator on their way to a Somali refugee camp.
You Don't Want To Miss:- Katrina Weidman Married & Settled Or Engaged In Casual Dating? Status Now
While in captivity, she was beaten, raped and tortured. In an effort to get on her captive's good side, she and Nigel even converted to the Islam faith.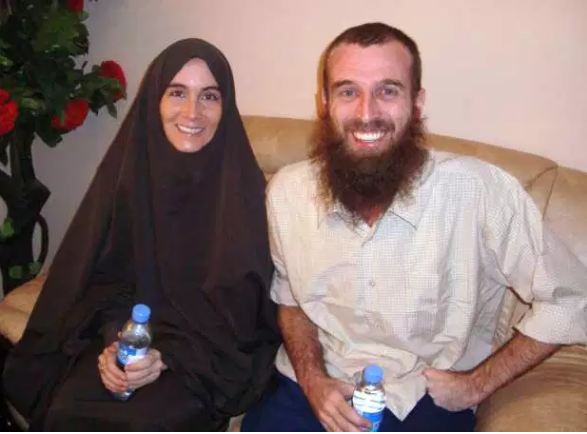 Amanda and Nigel are dressed in Muslim attire (Photo:- nationalpost.com)
Back home, the rumors of Amanda, who is of a considerable height, taking up the leader of her captors as her husband grew rampant. So did the rumors of her being pregnant.
It's true that her rumored husband, Adam had floated the idea of them possibly getting married one day to her. Thankfully, with her release in 2009 - following 460 days in captive - Amanda was never coerced into getting married to her ruthless captor.
Turns out $600 thousand is her ransom money, the price of her freedom.
Discover:- Corey Harrison Is Married - Again! Shows Off His New Wife Who Might Just Give Him A Family
Six years after her release, the police in Mogadishu arrested Adam, whose real name was later learned to be Ali Oman Ader. In a statement released after the capture of her captive, Amanda spoke on her then prospective husband, Adam:
"He struck me as educated and comparatively well-off. He spoke English better than most of our other captors and was based in Mogadishu."
Further, she professed a sense of relief in her captive's arrest but claimed the arrest does nothing but stir old memories. She added:
"My healing and recovery, however, has never been contingent on this form of justice. I've spent the last couple of days feeling extremely emotional about the arrest, contending with the brutal memories it calls up."
She ended her statement by asserting that her alleged husband's fate has nothing to do with hers.
Amanda's Relationship With Her Parents
Raised in a single household by her mother, Amanda's stern personality stems from her troubled childhood. Her parents' relationship had ended when she was just a baby because of her father's long battle with sexual identity and chronic health problems.
Read Also:- 'Kin' Star Myles Truitt Age 16 With Supportive Parents | Net Worth & Facts
Today, Amanda has three people she can call as "her parents" -- her father's in a gay relationship with another man for 25 plus years now as suggested by her 2015 facebook post whose caption read:
"Happy Fathers Day! So blessed to have these two. Their relationship has been a shining example of love all my life. This year they celebrate 25 years together! Eating out at the Grizzly House in Banff tonight!"
Of all her parents, she seems to share the closest bond with her mother, who has accompanied her to every book release and who has released a book titled One Day Closer based on experience dealing with Amanda's kidnapping.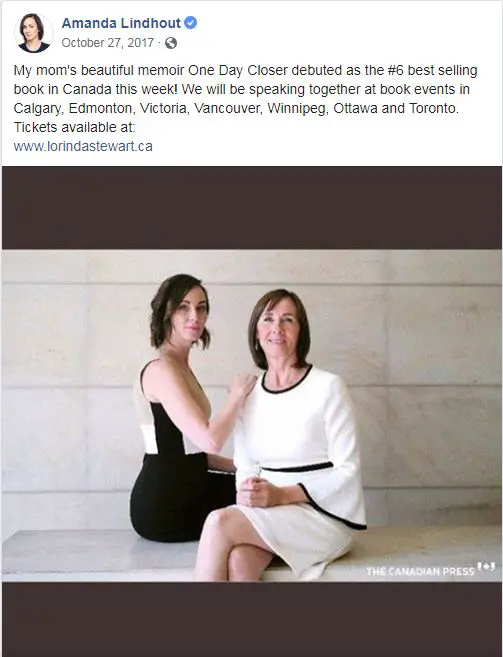 Amanda and her mother next to each other ahead of the speaking event (Photo:- Amanda Lindhout's Facebook)
As of 2018, Amanda has published two books Her book deals, public speaking gigs, and journalistic works have landed her in a comfortable space - financially speaking - with her net worth estimated to be in millions.