Entertainment
Amber Heard and Sean Penn Spotted Together! Dating Or Just Rumors?
American actress and model Amber Heard, who starred in 'The Stepfather,' seems to have sparkled romance with the American actor and filmmaker Sean Penn. This created a hype among the fans regarding the tenure of their relationship.
So today we'll present you some details regarding their relationship and to clear out whether the rumored couple is dating or not!
Amber Heard's New Romance?
The rumors started to swirl after the American beauty went on a romantic late night date with Sean on 9 March 2018 at the Tower Bar Restaurant at the Sunset Tower Hotel in Los Angeles (L.A).
According to the source, they were reportedly on a date and were having a good time together. The pair even shared a bottle of red wine and got flirty and intimate with each other, at times in deep conversation.
However, the representatives of Amber and Sean has not commented anything regarding their dating rumor.
Likewise, the pair also has not been spotted again, probably because they don't want to stir up rumors. As for now, it seems that Sean isn't Amber's new boyfriend!
According to Pagesix, a source noted that Amber and Sean's date started after she attended the top Hollywood agency WME's Oscar party, which was also attended by billionaire Elon Must, who suffered a breakup with Amber after years of dating.
An insider told that Amber showed up in her date with Sean in the same dress which she wore to the WME party. Amber looked beautiful and happy, even if she avoided a run-in with Elon earlier that night.
Amber and Elon started their dating affairs in 2016, but they have parted their ways twice. The then-couple first confronted their relationship on Twitter and Instagram, where they shared a picture of them enjoying moo moo at the Moo Moo Gold cost.
The couple first broke up in August 2017 due to conflicting schedules but rekindled their romance in December last year and were seen holding hands at dinner in Los Angeles.
Since then, they were spotted twice in LA sharing breakfast and kisses outside the restaurant. But unfortunately, they again called it quits this February.
On the other hand, the Oscar-winning actor Sean has been in a number of affairs, which includes his relationship with the Australian blonde Leila George.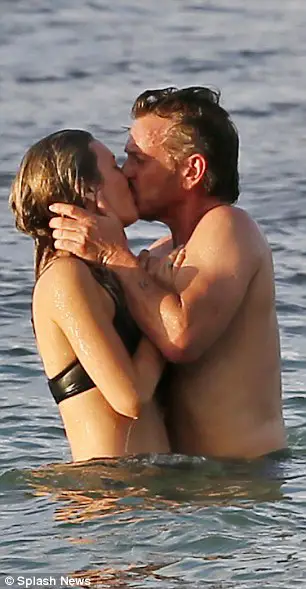 Sean and Leila getting cozy at Hawaii beach (Photo: dailymail.com)
The then-couple came into the limelight after Leila was spotted getting cozy with Sean sharing a kiss on the Hawaii beach near Sean's beachfront home. But Sean is not spotted with Leila since December 2017.
Think we're missing something? Do let us know in the comment section below!