Entertainment
Amber Laign Wiki: Birthday, Age, And Other Interesting Facts On The Partner Of Robin Roberts
The entire world is no stranger to the name Robin Roberts. Roberts is an inspiration to many for the bravery she demonstrated while battling with fatal ailments and her broadcasting works.
However, Robins shocked the world when she came out as a lesbian and also revealed that she was dating her longtime girlfriend, Amber Laign; who is the public figure we are going to talk about here today.
Most probably everybody knows Robins, but the world is still not yet properly introduced to her partner Amber. And for those who are excited to know the facts about Amber's life and also the details about her relationship with Robins, let us get going!
Who Is Amber Laign? How Old Is She? Her Age, Birthday In A Short Wiki-Like Bio of her:
Amber Laign is someone who has tried her hands in various fields of work. She also has a fashion background but is best known for her career as a massage therapist. But before she made her name in the very field, she worked as a sales representative for "Berger & Stevens," a showroom that displays the unique collection of evening wear, sportswear, separates, and accessories, for nine years.
As per the internet, Laign studied massage therapy at the famous Swedish Institute of Health Sciences for around a year back in 2008, and she is known to have specialized in Deep Tissue, Myofascial Release, Swedish, and Trigger Point.
That undoubtedly has helped her earn a good amount of money in her life, but unfortunately, the lady has not revealed the actual figure of her net worth officially.
Speaking of her age, she is someone who has been a shy person and has often preferred to keep her personal details to herself, but all thanks to her partner Robin Roberts, it is known that she is 43 in age. Amber isn't the one to reveal it, but back in September 2014, Robins shared a sweet snap of them while wishing Laign on her 40th birthday.
So three years later, she is 43.
Amber Laign & Her Relationship With Robin Roberts:
It is no rocket science that Amber Laign and Robin Roberts are madly in love with one another. The two have been seeing one another since 2005, but their relationship was made public only when Roberts officially declared her sexual orientation through her Facebook status she posted on October 29, 2013, which stated,
"At this moment, I am at peace and filled with joy and gratitude. I am grateful to God, my doctors and nurses for my restored good health... I am grateful for my entire family, my longtime girlfriend, Amber, and friends as we prepare to celebrate a glorious new year together."
Caption: Robin Roberts comes out and goes public with her relationship with her partner Amber Laign.
Video Credit: MSNBC's Facebook Page.
They then made their Red Carpet debut appearing at the 11th Annual GLSEN Respect Awards held in New York City.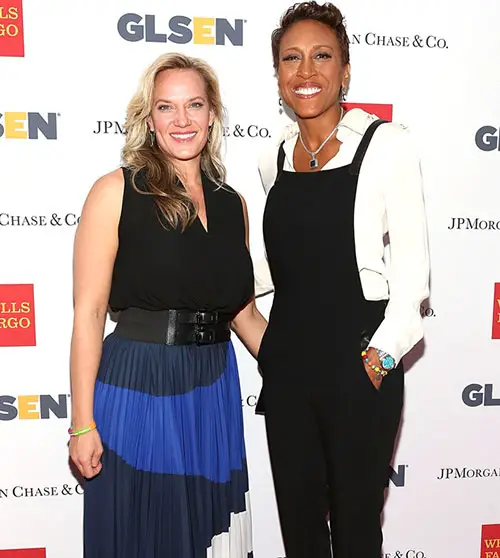 Caption: Robin Roberts and her girlfriend Amber Laign attending the 11th Annual GLSEN Respect Awards held in New York City.
Photo Credit: liverampup.com
And since the couple went public with their relationship, they have been gushing about their romance all over social media sites.
An example of their undying love came forth when the media personality shared back to back snaps of her and her love when they celebrated 12 years of being together.
A little throwback was added to the mix as well.
Moreover, the support they two showed to those who were celebrating the Pride Day this year shows how much they back the LGBTQ people and stands by what they believe in.
The ever-growing strength and love, in their relationship, is the reason why people are eagerly waiting for their wedding; wanting to see them enter a new dimension with their adoration and companionship.