Entertainment
Anne Curtis Still Dating With Boyfriend Erwan Heussaff Despite Jasmine Smith Kiss Scandal
If I wasn't an actress, I would have been a schoolteacher.

-Anne Curtis
It is not uncommon for a celeb, who has big fame and a bigger ego, to be jealous of counterparts. Especially amongst women, their possessiveness and distrust often result in fights and accusations; often referred to as "Cat Fight."
But going as far as kissing somebody else's boyfriend doesn't sound like a very decent thing to do.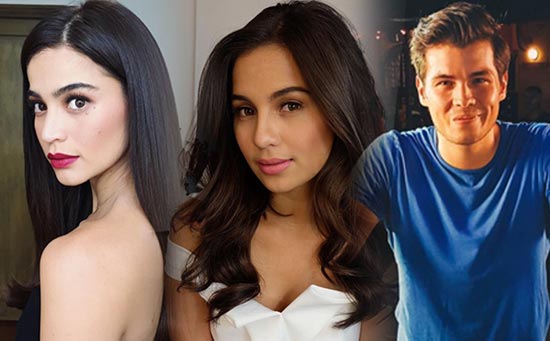 Caption: Anne Curtis's love relation with Erwan Heusaff turns into a love triangle
Filipino model and actress/blogger Anne Curtis was expected to bash her sister, Jasmine Smith after Jasmine posted a video of her and Anne's boyfriend getting comfortable on Snapchat on Tuesday, January, 26.
Caption: A Lovely Picture of Anne Curtis and her boyfriend Erwan Heussaff.
Anne and Erwan; who happens to be a restaurateur as well as a food blogger; commenced their relationship from 2009, and everyone knows that they are dating. The two of them were going smoothly until earlier this year when the scandal hit the internet.
However, Jasmine doesn't see why it is such an issue as she thinks things are all the same between the three of them. She also said in an interview that she was not at all bothered by the comments in social media, and her sister has taken it lightly as well.
In fact, Anne has defended her sister.
Although reports indicate that Anne and her younger sister Jasmine @jascurtissmith have not always had the best of relationships, it seems like the scandal is not going to cast any effect on Erwan and Anne's bond. As of February 2016; it was being said that these two were soon to be husband and wife and Jasmine was the one to talk about it first. Both Erwan and Anne seem to be deeply in love with each other with the plans of getting married in future, and there are plenty of tweets to support that:
Anne and Erwan, Now Engaged!
Anne and Erwan are girlfriend and boyfriend no more, they are now fiancees and have decided to share their moment of love with the world!
On Dec 17, 2016, Erwan posted a VLOG of their recent travel together. The video that features Anne and Erwan roaming around New York City and Connecticut. The video at first seems quite romantic, showing how the couple enjoys traveling together and how close they are to each other.
From roaming around in Parks to going to parties in Dresses, from enjoying the city hustle to enjoying food at a quiet cafe, it shows it all, but the real reveal came at the end of the video where Erwan engages to his longtime girlfriend in a forest where her expressions range from breathless to blissful. Truly a heart warming moment. You can see this moment for yourself below:
Caption: Anne and Erwan's Travel Vlog and a special surprise at the end.
And if you didn't think Erwan was romantic enough here's more. In February 2017, the Foodie posted an interesting picture of Anne with the most beautiful caption dedicated for her birthday. His heart warming lines goes something like this,
"I have always enjoyed taking pictures of you. Even though you are frequently afronted by harsh flashes, I still feel that I can capture pieces that only I seem to witness. Moments of candor, insecurity, joy and reality. At the end of the day I ponder over your puzzle, perplexed as to how things fit together, always learning something new. I will consistently be there to help you give context to the world, fill in the blanks, colour in or outside of the lines, demystify crosswords and to simply make sense of the irrational. Happy birthday mon amour, I can't wait to see you in that white dress."
Caption: Erwan congratulates Anne a happy birthday with the most beautiful letter ever.
About Anne's Career:
Australian-born Filipino actress and model Anne Curtis is a hot and popular name in the Philippines entertainment industry. As a young competitor in the "in house" beauty pageants, she opened the bigger doors of opportunities for herself from a very young age. Her career-making event came in 2004 after she joined the ABS-CBN network as a V.J.
Caption: Anne Curtis' winning speech after getting her first FAMAS Award For Best Actress in the movie "No Other Woman" last September 24
Source: Viva Ent, Twitter
Having appeared in several movies as well, she has recently joined the UNICEF Philippines; as a celebrity advocate. Her success has earned her an estimated net worth of 10 million US dollars.
Anne Ojales Curtis-Smith, better known as Annie Smith, was born on February 17, 1985, in Victoria, Australia to an Australian father and Filipino mother. She was born as the eldest of two sisters in Victoria, Australia.
On one of such visits to her mother's family, Anne was scouted by a child talent agency, and that compelled the family to move and settle in Asia. In 2016, she was seen co-hosting the show "I Love OPM," alongside Erik Nicolas. The show is a singing competition with several foreigners taking part in it. Also, she was a guest star in FPJ's Ang Probinsyano alongside actor Christopher De Leon.
She is also an award-winning singer and a successful restauranteur.
Caption: Anne Curtis, Christopher De Leon join 'Ang Probinsyano.'
Source: Just Stellar TV