Entertainment
Anthony Carrigan Dating To Get Married? Bio - Personal & Professional
Are you a fan of DC Comic? If yes, then you must have known Victor Zsasz, one of the supervillains who have a frequently occurring role in the sitcom Gotham which is based on DC characters.
Well, Victor Zsasz in Gotham is portrayed by Anthony Carrigan. Anthony with his acting skills has been able to grab many fans for himself, who are much interested to know what his life is like behind the cameras.
Interested in knowing if he is married and has a wife? Keep reading to know more.
Anthony Carrigan Married?
Anthony Carrigan, an American actor, is currently enjoying his personal life apart from a professional one. He is one of the supervillains who has been able to gain himself a massive amount of admirers for his role.
Although his fans are curious to know about his relationship status, he does not readily talk about it and has been keeping his dating life low-key.
Nevertheless, it has come to light that Anthony is seeing a woman romantically which simultaneously fends him from gay rumors. He has been romantically involved with Gia Olimp as he posts pictures with her on his Instagram.
Even though he has not opened up about the beginning of their relationship, Anthony first posted their picture on Instagram at around May of 2016. He captioned the picture writing,
"Me and my ?"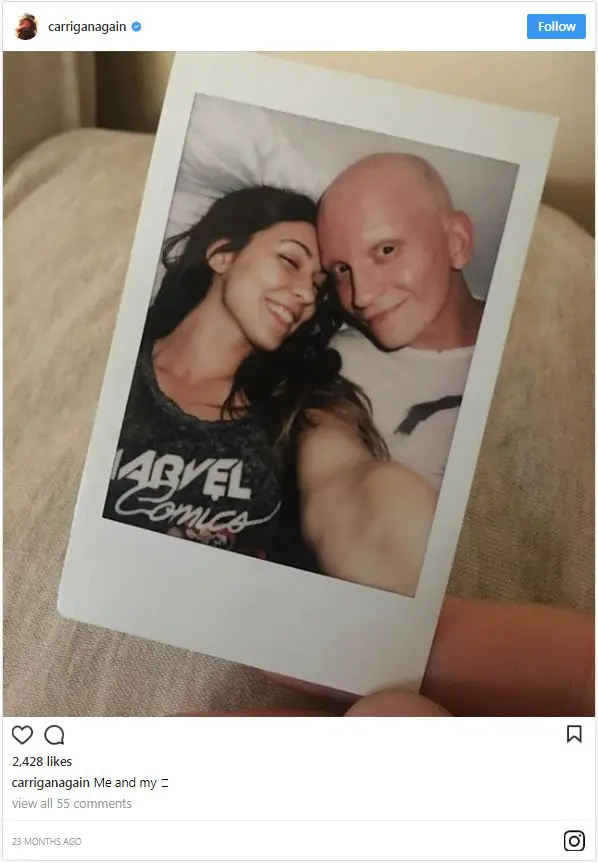 (Photo: Anthony Carrigan's Instagram)
Since then the duo has been going strong with their relationship. They do post pictures together but not frequently. On the occasion of Valentine's Day 2018, Anthony shared a photo with Gia while masked. Anthony had a mask of a tiger while Gia had put on a mask of a raccoon.
It seems that they are enjoying thier dating life and as of now there is no any news of their wedding known to the media yet. But you never know they may make an announcement soon!
Anthony Carrigan's Bio
Anthony Carrigan was born on 2 January 1983 in Boston, the capital and largest city of Massachusetts. His parents raised Anthony along with his sister. Anthony was just three when he first was first introduced to hair loss. Since then, Anthony has been struggling with his disease Alopecia Areata which is mostly known as Alopecia. The disease is a condition in which body's immune system attacks the hair follicles.
However, Anthony opened how he struggled to cover up his alopecia. Later, when he spilled his secret, he realized how he didn't care what people thought about his bald head.
While some people thought his disease would put an end to his career, instead the projects kept coming for Anthony along with public acceptance. He landed various roles most notably crazed villain Victor Zsasz from Gotham.
However, Anthony, who attended Carnegie Mellon and earned a degree in theater, made his film debut in 2009. Also, he portrayed a role of a stabbing victim possessed by a Civil War ghost in the paranormal romance The Undying.
Moreover, Anthony cast as Tyler Davies, a medical school dropout in the ABC's sitcom, The Forgotten in 2010. Later in 2014, Anthony starred as a villain Kyle Nimbus/The Mist in television series The Flash in 2014. Recently, Anthony starred as NoHo Hank in a TV show Barry which has IMDb rating 9.1.