Entertainment
Aurora Perrineau Boyfriend! 'Equals' Star Dating Amid Rape Conflict?
American actress Aurora Perrineau has been making headlines ever since she had become the defacto face of the Me Too Movement.
But what shook the showbiz world more is the high profile rape case involved the biggest of name, Murray Miller, writer of the hit show Girls. Fellow Girls writers and showrunners Lena Dunham and Jenni Konner, somehow, got mixed up in the whirlwind.
Many would find hard to believe that the 23-year-old actress once enjoyed a delightful couple of years of dating an actor boyfriend.
Aurora, who is of mixed ethnicity, looked the happiest when she was in love.
Blissful Times With Actor Boyfriend; One-Year Dating Anniversary
Aurora has had one high profile relationship that she has made public till today. She and actor Sam Strike were once an item.
Discover:- Jon Rahm's Wife To Be? Meet Smoking Hot Girlfriend Of Pro Golfer
Their relationship dates back as far as July of 2015 as suggested by her July 2016 Instagram post of them celebrating their one year anniversary.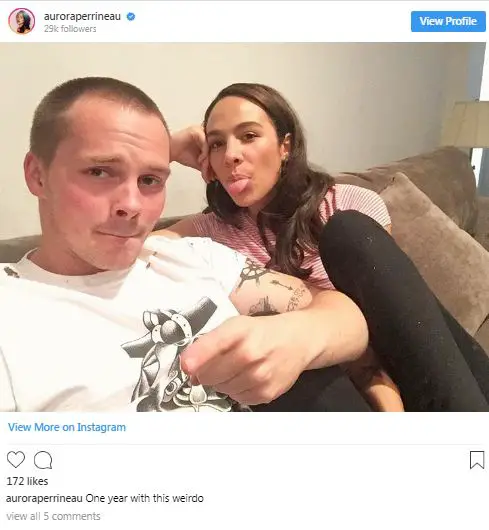 Aurora celebrates a year of dating with then-boyfriend, Sam Strike (Photo:- Aurora Perrineau's Instagram)
As for the actual timeline of their dating history, they've opted to keep it a secret between the two.
The Jem and Hologram star routinely poke fun at her then-boyfriend back when they were still dating. On 27 June 2016, while on a trip to The Wizarding World of Harry Potter at Universal Studios, she put up an Instagram post featuring her ex-boyfriend, Sam alongside a caption that read:
"Just because it's Monday, doesn't mean that this is an mcm, but it also doesn't mean that it isn't."
Being around Sam seemed to have brought the lighthearted nature in Aurora the most. This playful side of hers was evident when she took to Instagram in September of 2015 to call her then-boyfriend "a hipster."
Read Also:- Who Are Lana Condor Real Parents? Wiki Reveals - Dating, Boyfriend & Personal Details
Despite all the suggestions that the couple might go a long way - in January of 2017 - the rumors that the pair has called it quit shocked the world. Usually never shying away from flaunting Sam on her socials, by early 2017, Aurora had altogether stopped sharing a snap of the two.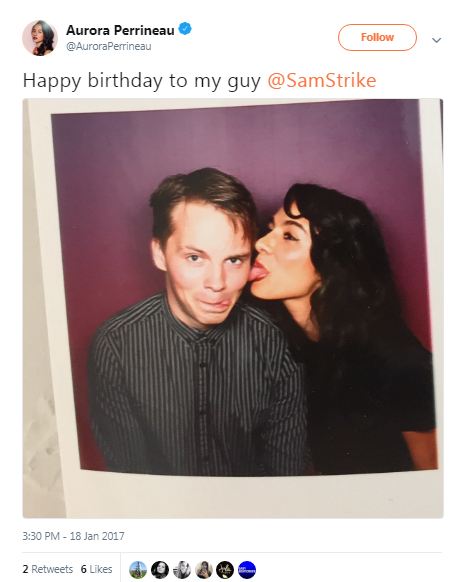 Aurora playfully licks her ex-boyfriend's cheeks (Photo:- Aurora Perrineau's Twitter)
The Chasing Life star's last known online moment with Sam involves the pair celebrating the latter's birthday in January 2017.
"Woke Up In Murray's Bed Naked"; "Not Watching A Victim, In Presence Of A Warrior"
By September 2018, Aurora was already riled up in a case involving her and writer/executive producer of Girls, Murray Miller -- leaving her less than a year to recoup from her alleged breakup from the ex-boyfriend, Sam.
The Wrap was the first media outlet to report on the allegations accusing Murray of raping then underaged Aurora.
Interesting:- Who Are Lana Condor Real Parents? Wiki Reveals - Dating, Boyfriend & Personal Details
The report which was filed with the Los Angeles Sheriff's Department accused Murray of raping Aurora when she was just 17 years old.
According to Aurora, after meeting Murray at an event, she and her friends had ended up at Murray's residence. She would go on to describe the actual act of rape by wording:
"At some point, I woke up in Murray's bed naked. He was on top of me having sexual intercourse with me."
The Pretty Little Liars star, who stands 5'6'' (1.68 m) in height, then followed up by asserting that she hadn't provided Murray with consent to any sexual contact.
The accused, Murray, through his attorney, denied the rape accusation altogether. In a statement released after the allegations had surfaced online, his attorney said:
"Mr. Miller looks forward to sharing all evidence and information with any and all authorities seeking the truth in this matter."
In addition to denying the charges, Murray's attorneys accused Aurora and her family of soliciting hush money -- a claim which they'd retract later.
Murray's affiliates Lena Dunham and Jenni Konner recieved widespread backlash for accusing Aurora of fabricating the rape story. Lena and Dunham, later retracted their joint statement to Hollywood Reporter.
Interesting:- Did Gary Carr Turn Publisher Girlfriend Into Wife? Family & Status Now
Aurora's father, Harold Perrineau whose net worth is believed to be around $7 million, took to his Twitter to break the silence on the matter on 9 December 2017. Addressing the public, he spoke very highly of his daughter and said:
"What do you say when you're watching your wife not eat or sleep? What do you say when you realized you couldn't protect your child? What do you say when your heart is just … broken? I'm not watching a victim here, I'm in the presence of a warrior."
In August 2018 - despite the support from her family and the Hollywood - the Jem and Hologram star lost the case.
Citing expiration of the three-year statute of limitation on statutory rape and inconsistencies on the rape charge, the Los Angeles County District Attorney's office declined to press charges against Murray.