Entertainment
Awesome Rapper Da Brat: Partying With Her Girlfriend in Club, Lesbian or Bisexual? Boyfriend Issues
These days, people are no longer shy and afraid of the conventional thinking of their sexual orientation, and that might be the reason behind coming out of some celebrities. Likewise, there are some celebrities who like their fans and followers wondering about their sexual orientation. So does Shawntae Harris aka Da Brat.
American rapper Da Brat has never opened up about her sexual orientation but has been found dating both male and female. Is she straight by sexuality? Lesbian? What about her partner? Let's find it out.
Da Brat doesn't discuss Her Sexuality: Lesbian/Gay
According to afterellen.com, in an interview in the year 2011, De Brat revealed that she likes to keep her sexuality private. She said-
"I hope they stay fascinated with my sexuality because that's something that makes them wonder. Some people feel like they know; some people feel like they wonder; and some people feel like they don't know. So I probably will NEVER answer that question to make people keep on wondering."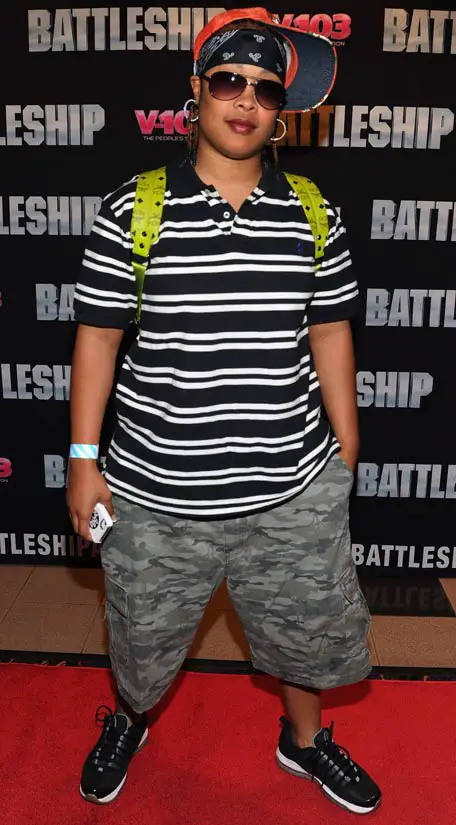 Caption: Da Brat dresses up like a guy who has created many speculations regarding her sexuality.
Source: theboombox.com
She was also asked about her attire. The way she dresses up has created many speculations regarding her sexuality. They asked her the reason behind dressing up like a guy. Da Brat answered them as-
"When I dress tomboyish, I don't really consider it dressing like a guy. I am a full fledge woman and I like to dress however I feel comfortable. So when I feel like getting glam-med up, and throwing on the Christian Louboutins, and the weave, or whatever I'm going to do to my hair, and push up my titties in a push-up bra, throw on my La Perla, then that's what it is and I'm comfortable either way. But when I'm performing or just, on the day to day, or in the streets, I'll probably have my braids with my hat cocked to the back."
Partying with a Girlfriend in club:
Though Da Brat hasn't uttered a single word regarding her sexuality, many people have hypothesized her as a gay due to her actions and her attire. In September 2015, she was seen partying with her new girlfriend in Tao, a nightclub in Las Vegas. The celebrities like Black Chyna, Wilmer Valderrama, Amber Rose, Nick Cannon, and James Harden were also present in the club. According to sandrarose.com, gay rapper Da Brat was sitting in the corner of the VIP with her girlfriend. Loyal reader Hilary, perhaps a reporter to Sandra Rose, wrote-
"So Dat Brat was out & about in Vegas with her undercover lover. Brat was rockin great make up, we all had a great time & Brat made sure that she was in the VIP's VERY back corner so she and her girl could get reallllllly intimate. The joke of the night was "y'all get a room!" because of their…. How should I say… Goings on."
Da Brat's Previous Relationships: Boyfriend and Dating
Prior making girlfriends, Da Brat used to have boyfriends. She was not only linked up but also rumored to be dating many male celebrities from the town. In Jan 2006, Da Brat was found dating American television personality David Gest.
According to whosdatedwho.com, she has been in a relationship with other guys namely Andre Benjamin and Allen Iverson as well.

Caption: Da Brat's ex-boyfriend; David Gest, Allen Iverson, and Andre Benjamin.
Besides boys, she was also seen with many women viz. Keisha Spivey, Missy Elliott, Karrine Steffans and Traci Bingham.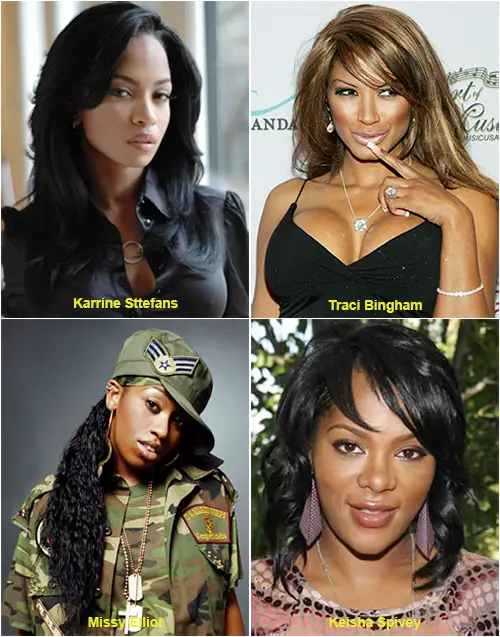 Caption: Da Brat's ex-girlfriends; Karrine Steffans, Traci Bingham, Missy Elliot and Keisha Spivey.
Da Brat's Short Bio:
An American rapper from Chicago, Illinois, Da Brat was born on April 14, 1974. She was raised in two different households with her siblings as her parents were never married. Actress LisaRaye McCoy is her younger half-sister.
During her sophomore and junior year, she attended Kenwood Academy. She also went to a Baptist church where she sang in the choir. She is a graduate of Academy of Scholastic Achievement.
Da Brat is a first female rapper to go platinum which has received two Grammy Award nominations. She is best known for her debut album Funkdafied (1994). She has also participated in the fifth season of VH1 reality series Celebrity Fit Club in 2006.
From July 2015, she has been working as a co-host for the Rickey Smiley Morning show. Brat's net worth is estimated to be $1.5 million.