Entertainment
Did Bi-Sexual Debbie Harry Ever Get Married To Have A Husband? Expresses Regrets On Not Having Children In An Interview
Many celebrities are so committed to their work that they often forget about their personal life. But some success to make a family with their relationship as many celebrities have done that, namely Dan Abrams, Damon Wayans, Jillian Michaels and the void of not getting married might have covered it all for them. So far, it seems so, isn't it? And in life, the thing which is difficult to endure is to have regrets and bi-sexual Debbie Harry have one.
What is the first thing that comes to your mind when you hear the song of rocker Debbie Harry? Have you ever wondered about whether she got married or not? Willing to know about the relationship status then and now of Debbie Harry? Then you are in the right place. Let's dig in!
Did Rock Star Debbie Harry Ever Get Married?
Still radiant and platinum blonde Debbie Harry has won the many hearts and had as "the sexiest singer alive" by Glamour magazine in 2014.
We have known hand full of dating affairs of the Denis Denis hit maker in the past but have she turned any of her boyfriends into a husband? So far, she hasn't done that.
She had been in a relationship with her bandmate Chris Stein in early 70s. At the time, she was a struggling singer, and Chris was an art student. Their relationship went on for years, and later in 1989 the romance fizzled, but they managed to remain close friends and musical partners.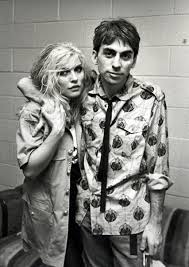 Caption: Debbie Harry and Chris Stein dated for years, but in 1989 their romance fizzled but still managed to remain friends.
Photo Credit: pinterest.com
As of now, Chris Stein is married to actress Barbara Sicuranza since 1999 and also shares two children. And Debbie Harry is a godmother of the two kids of her ex-boyfriend of years.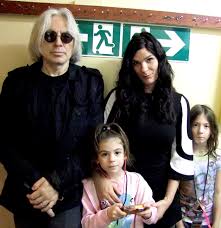 Caption: Chris Stein got married to actress Barbara Sicuranza with who he also shares two children.
Photo Credit: flickr.com
The puck rock turned disco icon been in a relationship with men and women both and namely its Penn Jillette, Joey Ramone, Iggy Pop, Cal Chamberlain. She has also encountered with Harry Dean Stanton. But none of those stood so well as with Chris Stein, and that might be the reason that she is single now.
Yes! You heard it right. She is possibly single now and so far hasn't got married. So that means she doesn't have a husband.
What Is Her Regret?
We all learn from mistakes and Call Me singer believes that too. The singer who has always been very open about her drugs addiction when she was young, in interviews. And in an interview, she mentioned about her addiction saying,
"Drugs were a social thing at that time and I was a social person. I guess I was a part of that world."
She added,
"I was absolutely a drug addict for a couple of years. It was a depressing time. Everything fell apart and I fell apart along with it."
However, Debbie was able to come out of that after she was while away in rehab.
Apart from Debbie's regret of "turning down the role of the blonde robot Pris in Ridley Scott's Blade Runner," she also regrets of not having children sometimes. In an interview, when Debbie was asked about whether she regrets on not having children or not and then she answered,
"Sometimes, sometimes. I guess it never struck me as being part of survival and for many people it is, it's a way of surviving."
Everyone have a different kind of regrets, and Debbie Harry also has one. Acceptable!
A Peek Into Her Total Outcome:
Born on Jul 1, 1945, Debbie Harry was an adopted child when she was a three-month-old baby. She was raised by Richard and Catherine Harry in New Jersey.
She started her career as a singer in 1974 after she joined new wave band "Blondie." The band became worldwide famous after their single Heart of Glass.
Caption: The blonde beauty became worldwide famous with their single "Heart of Glass." (Published on Feb 24, 2009)
She further started her solo career in 1981 and has also got her hands into acting and has worked in several films and television.
All her work as a singer and actor has helped her a lot to accumulate handsome net worth of $20 million.