Entertainment
Television Personality Bobby Deen's Blissful Married Life With His Girlfriend Turned Wife
The famous cook and a cooking show host Bobby Deen who is the youngest son of the even more famous Paula Deen is currently a married man but the question is who his wife is. Many might already know that he is a married man but when and where is all that is left to know but worry not because you stumbled on the right place.
His Married Life and Wife:
Jumping right onto the marriage topic will definitely leave you bewildered so let's take it all from the start and make all the sense with it. Bobby Deen who was listed in the top 50 list of eligible bachelors in 2006 which was later followed by the news of his engagement in April of 2013, with his commercial producer girlfriend, Claudia Lovera whom he was dating who is possibly in her early 30s right now.
The couple got engaged in Bobby's hometown i.e. Savannah, Georgia. His mother, the popular cook as well as a cooking show host was also 'over the moon' as Bobby said.
After a couple of months, in July, the couple got married in Savannah which was a surprise wedding ceremony by Bobby's mother. The couples tied the knot and swapped their vows in front of family and friends; about 75 of them which included Claudia's family who lives in Panama.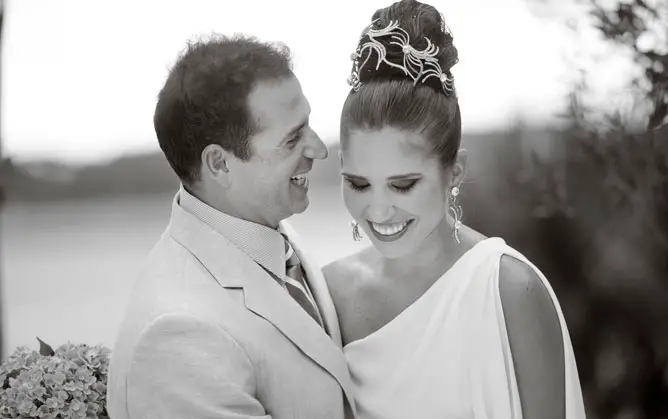 Caption: Bobby Deen with wife Claudia Lovera in July of 2013.
Source: pinimg.com
The wedding which was beautiful enough was not yet satisfying as Bobby's mother Paula stole the limelight but not is a very nice way. During the wedding time, Paula was surrounded by fallouts and criticism because of her admitting in a deposition released in June where she used the N-word which allegedly shamed her.
In a phone interview with Savannah now, Bobby said,
"When the sky fell on my family, it was everything to have Claudia by my side, but unfortunately, the people who did that to my mother. My mother has not wronged anybody, they stole our wedding from us"
The couple later decided to have another wedding ceremony which would be as Bobby said, a 'huge Catholic wedding' in Panama where all of their relatives and friends will be present. Bobby, 46, also explained Claudia in his own words and it was sweet indeed.
"I'm blessed. She's a beautiful woman who was a real bright spot in my life this year."
The husband and wife have not yet disclosed about expecting a baby or already having one. Maybe they both are focusing on their career and securing their future, and it only seems right to do it.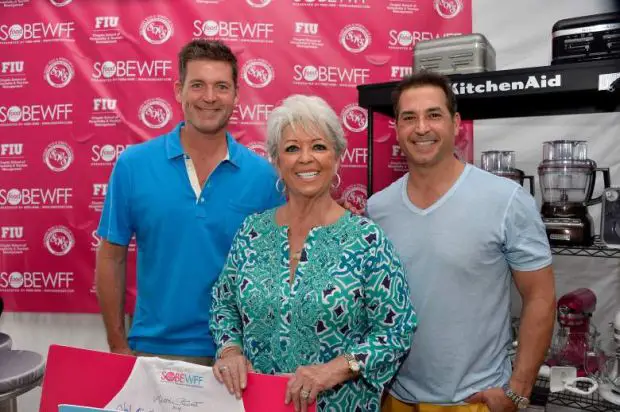 Caption: Bobby Deen (right) with mother Paula Deen (middle) and brother Jamie Deen (left).
Source: liverampup.com
Currently, Bobby Deen operates and co-manages the family restaurant 'The Lady & Sons' with his elder brother Jamie Deen who is also a fellow television personality with whom, Bobby has hosted a reality television series on The Food Network called 'Road Tasted.'
With all the work Bobby does, whether be it alone or with his brother; It has helped his to accumulate him a splendid net worth of $5 million dollars.