Entertainment
Cokie Roberts & Husband Stay Strong | Cancer Was Just A Hurdle - Bio Reveals
A couple, who spend more than half-century together is worth-watching and listening to their tales seems like a fairy tale of the 21st century.
The Emmy Award-winning broadcast journalist, Cokie Roberts shares the long and joyful journey with the veteran journalist husband. The couple never got the time to appreciate each other, still, they have a happy family who is standing still even after more than a half-century of married life.
With their growing age, the couple is more into each other and also claims that they cannot imagine losing the sight of each other. So, anyone can imagine the situation of Cokie's husband when she broke the news of her cancer.
Family Bio Includes Husband; Never Lost Sight Of Each Other
Born on 27 December 1943 in New Orleans USA as 'Mary Martha Corinne Morrison Claiborne Boggs', Cokie got married to the veteran Jewish journalist Steve Roberts on 10 September 1966 in the Cokie's family garden in Bethesda, Md., where the couple still lives together.
"We had a Jewish Catholic marriage and had to overcome some hurdles," Mrs. Roberts said. "So we married in my backyard instead of in a house of worship."
More than 1500 guest attended the wedding ceremony, and her mother cooked the food for the entire guests all by her self. A couple of half-centuries shared the first glances at the National Student Association in 1962 organized at Ohio State University.
See Also:- Has Dean Winters Made Any Woman His Wife Or Are The Fan Speculated Gay Rumors True?
It was Cokie who approached Steven to greet him at first and started dating since then. After many hurdles and communication gap, he proposed to her after she warned him that he was moving to California. As he did not want to lose her, he immediately came with the marriage proposal.
"I said if we didn't get married I was moving to California. So he proposed. He didn't want to lose me.
She added;
Fifty-one years later, they've never lost sight of each other.
Daughter of prominent U.S. Representatives father Hale and mother Lindy Boggs, Cokie shares two children with her husband; a daughter named Rebecca and a son named Lee.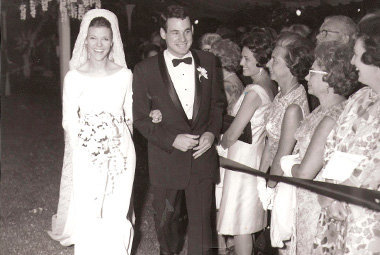 Cokie and Steve Roberts at their 1966 wedding in Bethesda, Maryland (Photo: Steve, and Cokie Roberts)
Both the children of the veteran journalist took the different path of the career from their mother, Rebecca studied politics at Princeton college and then produced political radio ads in Philadelphia but ended up being the host of a daily talk show, The Intersection.
So, her son, Lee Harriss Roberts is an associate in the London office of Morgan Stanley & Company, the investment bank.
Don't Miss:- Lucy Kennedy Reveals Family Secret With Husband Of Close 2 Decades! Children Are Add-ons For Happiness
Cokie, who has a net worth of $5 million, is cherishing the old life with her grandchildren as her 48-year-old daughter shares the three boys with her banker -husband Dan Hartman whereas her 49-years old son might have other three children.
With their over 50 years of marriage, the couple revealed to New York Times in December 2017 that the key in their long-marriage is to try to change together. After getting married, she never thought she would have a successful career but also with her quickly adaptation habit; she got the career for the best.
Also, she revealed that she had two jobs and also was raising her children at the same time. Even after the stressful day, the couple never got the time to appreciate each other.
Also, the couple had an advantage of having the same job as they would drive home together and get rid of that whole conversation in the car that married people have, so when we got home, we were available to our children.
Battle Against Cancer
Cokie, who was appointed by President George W. Bush to his Council on Service and Civic Participation, had a fierce battle with cancer back in 2002. This Week anchor confirmed to the Washington Post about her Breast cancer.
You May Also Like:- Michael Aspel Now: Still Alive, Overcoming Health Issues At Age 85
The doctor found a lump in her breast in June 2002 and revealed that it was the small tumor in her left breast. Immediately, she went under the successful lumpectomy at Sibley Hospital in Washington, D.C. Even though she was fighting for her life, she continued her work at ABC News.
With her right treatment at the right time, she won the battle against the breast cancer. Also, as of now, she gives the health advice to other people.