Entertainment
Comedian Rodney Carrington's Family: Divorced With Wife in 2012, Where Is He Now?
Rodney Carrington is a standup comedian as well as a music artist. He's been making people laugh his whole life. But who would have though he, himself would be in pain?
Rodney Carrington ended his eighteen-year-long marriage in 2013. And what about their children? What was the reason behind their divorce? Let's find out the reason behind his troublesome married life and what is he up to these days all over here.
Goodbye to Romance, Goodbye to Marriage!
Rodney Carrington and Terri Carrington tied a knot in 1993 but ended eighteen years of relationship in 2012. Rodney has revealed that he tried to make his marriage work, but it wasn't meant to be. Carrington in a telephone interview with The Free Press on September 9, 2013, said that;
"I was married for 18 years and that ends tomorrow (Tuesday) — thank God," "It's an official date. I've been going through it for two years and it's gonna be kind of a relief.
Moreover, he added:
"I will tell you this. Once you come out of the cave of divorce, good God is the sun much brighter. Everything in the f— cake is much sweeter and so is the candy . . . life begins,"
Things went out of control as Carrington watched his wife, Terri, live in their big house while he moved out temporarily to a guest house. Rodney also said he doesn't speak and has no terms with Terri, but both will still be involved for the shake off their kids. Carrington said,
"We split them half the time. I get my boys half the time,"
Carrington has often stated that he wanted their marriage to work and tried his level best to keep his family on a page, he said;
"I was doing really good, and out of the clear blue, she says, 'I'm leaving.' Well if that (relationship) don't work, I don't know what the. ... "
After Terri had left, Carrington did realize he had faced many concessions over the years. He felt that he was "duped" and was unwilling to make concessions in future relationships.
The couple has three sons altogether: Sam Carrington, George Carrington, and Zac Carrington. After the divorce with Rodney Carrington, his wife Terri is possibly singles as per reports obtained by various portals.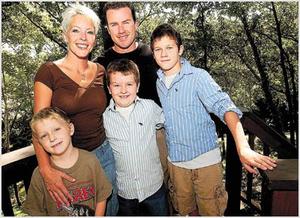 Caption: Rodney Carrington along with his wife, Terri, and their three sons – George (left), Sam and Zach for the Tulsa Walk for PKD on September 10, 2006.
Source: tulsaworld.com
What's he up to these days?
It already has been three years since his divorce and Carrington has found a new perspective. He has been busy in his career with his tour and musical albums. Carrington said on January of 2015 to Amarillo:
"Every bit of comedy comes from something typically horrible or embarrassing or tragic, and once you come through it, there's something funny,"
He is busy indeed with shows at F. M. Kirby Center, Wilkes-Barre, PA, the US on October 6, The Wellmont Theater, Montclair, NJ, the US on October and Stiefel Theatre, Salina, KS, US on November 4 and still has a lot more to go. He has also released his album "Laughter's Good," which was released in October of 2014.
Caption: Rodney Carrington with his latest show on October 30, 2015.
More About Rodney Carrington:
Rodney Scott Carrington (born October 19, 1968) is an American stand-up comedian as well as a singer. He has released six albums altogether. Carrington has net worth as that of $6 million dollars.