When you are celebrated as one of 2015's sexiest people in the television world, people have many questions to ask you namely "are you married?", " Who is your husband?" and zillion others curiosity led questions.
We may not have answers to all the questions, but we sure can address some regarding Hallie Jackson.
We all know Hallie as a news correspondent for NBC News. She is famously known for covering Ted Cruz's presidential campaign. But how well do we about her personal life? Let's explore a little.
Caption: NBC's Hallie Jackson: Cruz "rails against big banks" but takes loans from them, January 2016. Born on April 29, 1984, Hallie Marie Jackson, is a native of Yardley, Pennsylvania. She transferred to NBC News from Hearst Television in 2014.
Source: Tina May, Youtube
Being a television personality, it is definitely very hard to keep your personal life under wraps. Hiding your dirty little secrets away from media is never an easy task. But we can't say the same in the case of Hallie Jackson. Hallie has beautifully managed to hold onto her reputation of a very private person.
We might know a lot of things about her professional life, including what she does and how did she manage to establish herself as a reporter. However, when it comes to the information other than her profession, people know only a little.
Married Life, Husband, and Affair?
Did you know she is a married woman? Yea bummer, right?
So many hearts might have cracked after hearing this info. Well, what can we do? The truth is the truth that will come into the light tomorrow if not today. So let's just continue with the story, shall we?
We don't really know much about Hallie and her married life because of her hush-hush personality, but hey we are no John Snow, we do know something.
Hallie and Doug, yes her husband's name is Doug (not sure if it's short for something like Douglas or simply Doug) were college sweethearts (aww how cute is that?). The couple got engaged sometime around May 2010. She was working with WFSB at that time.
Boyfriend, Engagement, and Wedding?
She hadn't officially announced her engagement, but it was the viewers who saw her rocking a huge rock in her ring finger. This is how the engagements rumors were ignited.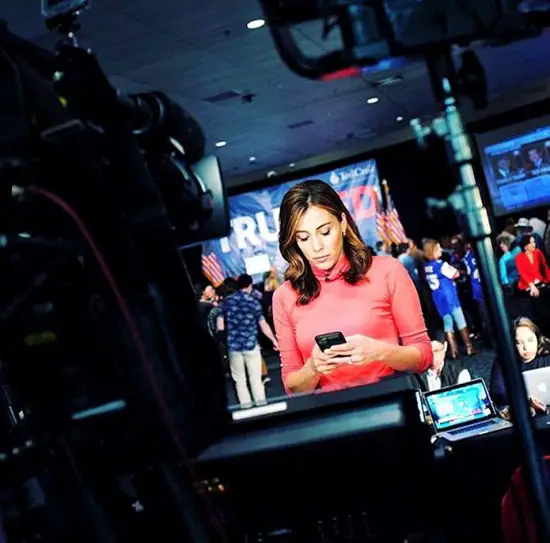 Caption: Hallie on set going through her phone sporting the huge wedding ring, May 2010
Source: twimg.com
Hallie Jackson's Wedding Details:
Hallie married her long-time boyfriend sometime around September-October 2011. Their beautiful wedding took place in Perkasie, Pennsylvania in Bucks County, among family and close friends.
1. The wedding Destination: Perkasie in her Homestate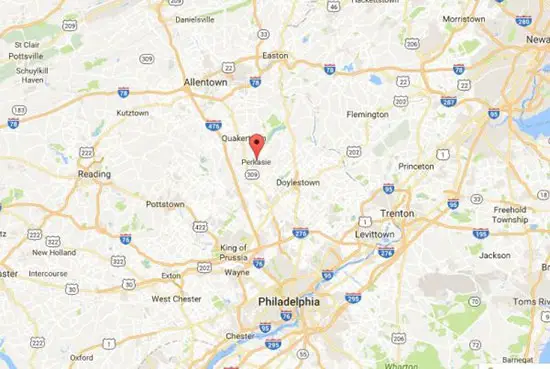 2. Romantic Kiss With Husband: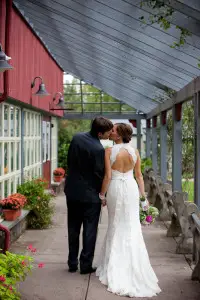 Caption: Hallie sharing a romantic kiss with husband Doug after their wedding
Source: sweetwaterportraits.com
Hallie and her friends
We told you earlier that we have no information regarding Hallie and Doug's personal relationship, especially Doug. So we can't tell for sure what Doug does or what his last name is but we for sure know that the two of them are very happy in their relationship with no signs of getting a divorce anytime soon.
We have a rare picture of Hallie and Doug along with some of their friends.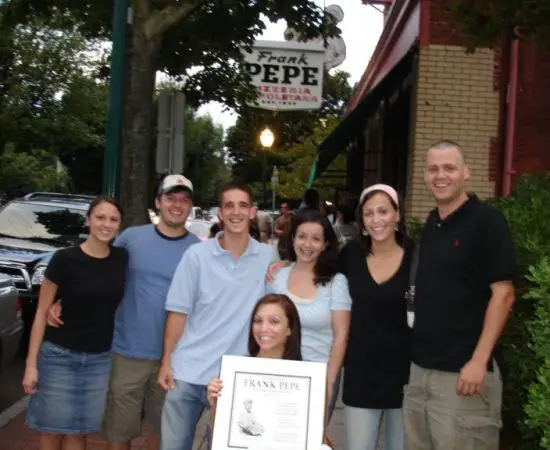 Caption: Hallie and husband Doug along with some of their friends in a pizzeria.
Source: marriedwiki.com
Hallie's Social Media Interactions:
Hallie, apart from being a really talented reporter also loves traveling and photography. We scrolled through her Instagram account, and we were surprised to see the beautiful pictures. Are you a professional photographer, Hallie?
Hallie Jackson's Professional Life:
Hallie started working for NBC News since 2014 when she was hired as a news correspondent. Prior to that, she worked as a reporter for Hearst Television where she reported for 26 of their stations all from Washington DC. But she actually started her career as a journalist from WBOC-TV only in the year 2006.
Jackson is famously known for the coverage of the Presidential Campaign of Ted Cruz.
Hallie's Most Famous Controversy:
Reporters and TV personalities are often recognized for their controversies. Hallie was also stuck in one. We can't really call it a controversy but rather a funny incident which she handled very professionally acting as if nothing really happened. But the internet is a dark place reminding you every minute about your mishaps.
Back in February 2016, while Hallie was covering the Republican presidential nomination race, which was apparently live, something strange happened. Her nose started running out of nowhere. But she continued with her story, not a bit distracted from what just happened.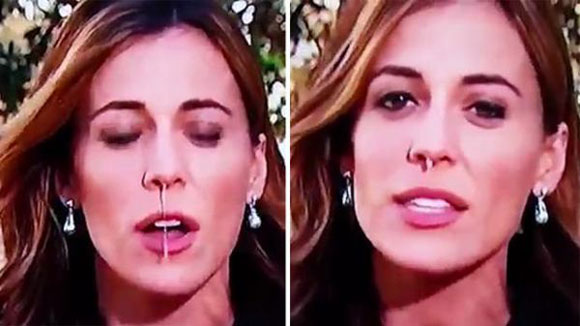 Caption: Hallie with her runny nose during a live news coverage
Source: worldtimes24.com
Hey, things happen and to handle it like a pro shows what a good reporter Hallie is.
While her Instagram is filled with her personal journey, her twitter is filled with work-related feeds, especially about the presidential campaign.
"Our movement will continue," says @tedcruz as he suspends his presidential campaign.

— Hallie Jackson (@HallieJackson) May 4, 2016
Sources confirm @realDonaldTrump expected to endorse House Paul Ryan in WI (my caveat: Trump, being Trump, could change mind at any second)

— Hallie Jackson (@HallieJackson) August 5, 2016
Trump, in one fell swoop, endorses Ryan, McCain Ayotte. Reading off notes, getting on-script (literally.) Key Q: can he stay there?

— Hallie Jackson (@HallieJackson) August 6, 2016
Trump asks if any Democrats are in the room. Saw guy in middle raise hand. Trump: "I mean, I don't think we need too many, to be honest."

— Hallie Jackson (@HallieJackson) August 6, 2016
Post-Ted Cruz failed Candidacy:
Since Ted Cruz presidential campaign is over, Halie, who has made a name for herself as a professional and open-minded reporter in the country, is now focused on covering the rest of the election process. Unfortunately for Hallie, this election year has also brought some controversy. Many have criticised her for being biased against Trump, yet failing to dissect issues related to Hillary's presidential campaign.
Well, it's not her fault. She is doing her job 24/7. It's only that she is in an organization which has been known for its's liberal bias.
Hallie's Short Bio:
Born on April 29, 1984, in Yardley, Pennsylvania, thirty-two years old Hallie has actively been involved in television since 2006. She graduated from Johns Hopkins University in the year 2006 with a bachelor's degree in political science.
She originally wanted to be a print reporter and graduated in political science. But after a brief broadcast internship, she decided to work in television journalism.
Besides journalism, she is interested in science photography. In 2006, Hallie was inducted as a new member of Phi Beta Kappa, from the senior class in the Krieger School of Arts and Sciences.
Caption: Backstage, at the RNC
Recently, she has been busy covering the US 2016 presidential election. This time, most of the reporters covering the election for NBC are women including Hallie Jackson, Andrea Mitchell, Chris Jansing, Kelly O'Donnell, Kristen Welker, Katy Tur and Kasie Hunt.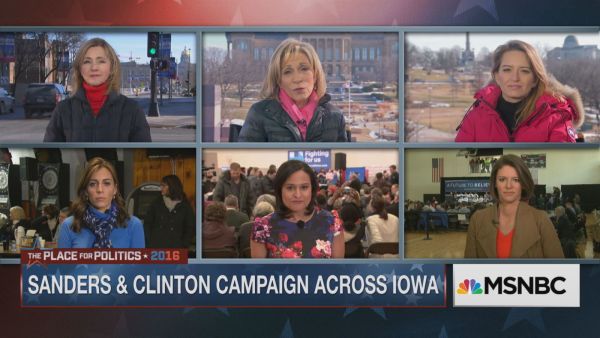 Caption: NBC's women power in election: NBC' stars including Hallie report from the trail in Iowa
Source: NBC News
Info: Did you know that Kristen Welker, Hallie Jackson and Kasie Hunt are all from Philadelphia?
#NBC News
#Salisbury
#Maryland
---