Entertainment
Erika Alexander & Husband Of 20 Years Married Life Rift - Single Now?
Actress/writer, Erika Alexander had a tough childhood growing up. Raised in a low-income family, she tried hard to keep her siblings fed. But as the years passed, her finances came together due to multiple acting jobs.
Further, she also found a loving husband, who not only made her romantic life better but also collaborated with Erika on different projects. However, it seems like the long-lasting marriage has finally reached an inevitable end. Could Erika be dating someone else now that her marriage is over?
Long-Time Married To Husband, Now Single
Erika had a successful marriage, getting to tie the knots with the partner of her choice.
Erika married the screenwriter, Tony Puryear on 27 September 1997 at the age of 28.
Don't Miss:- 'Blackish' Creator Kenya Barris Wife & Family Details! Parents To Six, Inspiration
Tony, who is bi-racial, conceived from the union of a black father and a white mother, has written screenplays for movies and series including Eraser, Queen of the South, Street Time, The BFF Chronicles, and more.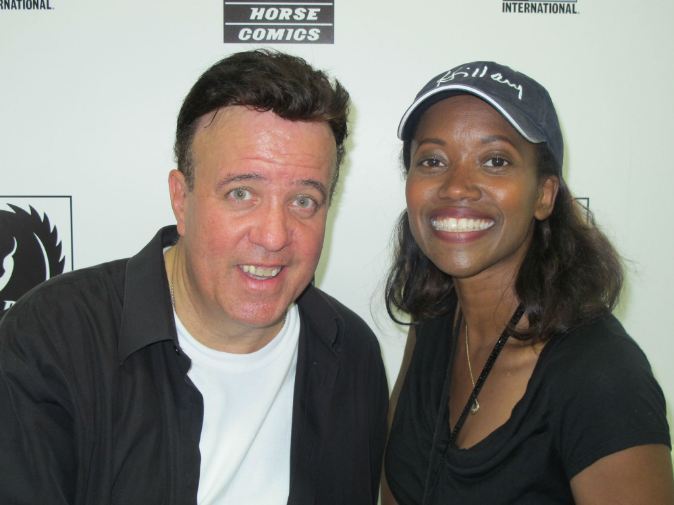 Erika and husband Tony attend an event (Photo: ILoveOldSchoolMusic.com)
Erika married her husband in an outdoor wedding ceremony attended by 150 guests, which raised curiosity among many due to their mixed-race marriage. Skeptics were even questioning their alliance and did not give their marriage a chance.
Despite an abundance of lack of conviction, their wedding did not show any signs of it. The guests, who had merried around in the lavish wedding, joined for an evening reception which was held at the Malibu's Stone Manor. Erika's husband was even heard saying the wedding event as a "sexy ceremony."
You May Also Like:- Hallie Meyers-Shyer Is Engaged, Wedding Plans & Husband To Be Details
The couple went side-by-side in both their personal and professional life. Together the two even created a comic book called Concrete Park, which was initially released in 2011. However, there were many obstacles and rejections to face before they would finally succeed in publishing their joint project.
Earlier when they reached out a studio executive with their idea of a comic book with a black protagonist, the executive dissed their idea claiming it wouldn't work as black people didn't have the vision for the future.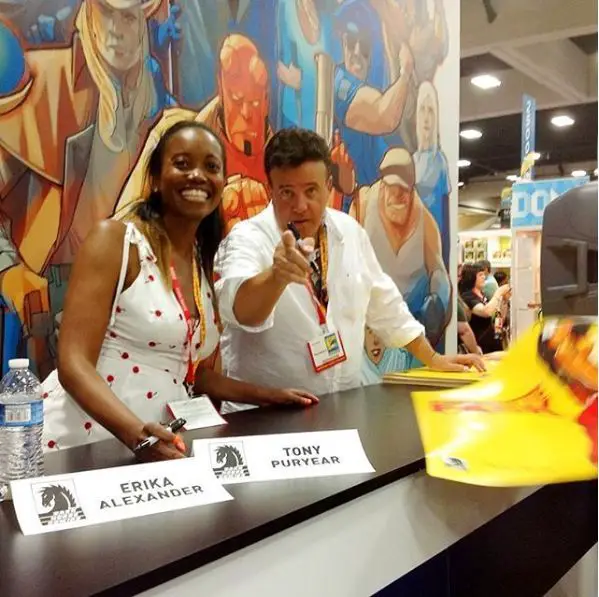 Erika and husband Tony sign autographs at the Comic-Con (Photo: Tony Puryear's Instagram)
Feeling offended by the executive's remarks, Erika said,
"We were very surprised. We were actually shocked by his blatant racism. It wasn't just that he said that Black people wouldn't like it. His assumption was that you're only making it for Black people, so that's the problem. You have people, they give themselves the tag of White Hollywood liberals, and they can often be some of the most racist people you've ever met."
Erika, who committed two decades of her life remaining married to Tony, has now separated from her once loving husband. In a recent interview with The Muse, she mentioned Tony as her ex-husband but didn't disclose the reason and date of the divorce.
As of now, the African-American beauty is supposedly single and has not shown any interest in resuming her dating life.
Family, Career And Net Worth
Born as the daughter of a preacher in Arizona, Erika along with her family hopped around the states, before finally settling down in Philadelphia. Her parents were orphans but had six children of their own. Due to the poor economic background, Erika had to abandon her personal goals and take up acting to earn the bread so as to keep her five siblings fed.
She was first discovered at the Philadelphia's Freedom Theater and is now considered one of the most famous graduates of the theater. She earned her first lead role at the age of 15 in a Merchant Ivory movie. Erika, who currently ages 48, got her big breakthrough as she joined The Cosby Show in 1990 playing cousin Pam.
See Also:- Bill Cosby's Sexual Assualt Case Concluded As Mistrial; Prosecutors Vow To Come Up With A Retrial
Further, she has also acted in Living Single, Beyond, Get Out, Queen Sugar and so on. In 2017, she co-wrote Buffy the Vampire spin-off titled Giles. For her contributions towards the acting and screenwriting industry, Erika has been honored with a net worth of $3 million.
Erika recently talked in an interview with iHeart Radio about her working experience with the infamous Bill Cosby. She mentioned that Bill was a man nobody had thought, but added that he never tried to make an advance towards her.