Entertainment
Mixed Ethnicity Dancer Cassie Ventura Again Dating Her Former Boyfriend, Why Did They Split Before?
Cassie Ventura started dating her boyfriend again after she split with him before. We will surely find the reason for their split but in the meantime think about the reason for which the couple got back together. Was it the feeling of remorse or sheer love? While you Keep thinking about it, we'll start with the news.
Cassie Ventura has been dating the rap tycoon P Diddy, originally Sean Combs, from five long years. Even after being a high profile couple, they have managed to keep their relationships as low as possible.
Caption: Cassie Ventura with boyfriend P Diddy at the Boys and Girls Harbor event on September of 2016.
However, the news about their split in-between July and August could not stay behind the curtains as it flew away in the media. The couple split after having a heated argument while driving on their way to Beverly Hills. It all began after Cassie said that the relationship was over and to Diddy's poor reaction, he got hold of Cassie's phone to find anything that might be the reason for their break up. Later after they got back home and Cassie ceased her phone, Cassie's mother called the police to intercede regarding an argument over the missing cell phone
The police came but only a domestic incident report was filed as there was no crime and the phone was given back to Cassie. In order to make it up to Cassie after their huge fight that caused the split, Diddy threw a lavish 30th birthday party for Cassie on August 26. As per a source, Diddy loves Cassie so much to let her go.
P Diddy was previously a boyfriend to the beautiful Jennifer Lopez from 1999 to 2001. However, even after being separated for over a decade they both share a friendly relationship as they did a friendly reunion early this year; however, Jennifer was there with her current boyfriend, Casper Smart.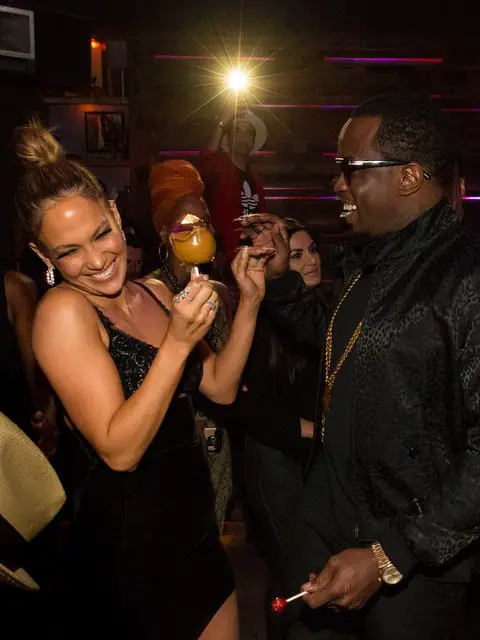 Caption: P Diddy with former girlfriend, Jennifer Lopez at a friendly reunion
Source: gcstatic.com
Every girlfriend would be jealous if their boyfriend would do a so-called friendly reunion but Diddy explained everything about what happened with Cassie afterward in an interview with US Magazine in April. He said,
"My woman at the end of the day, you know, she ain't have a problem with it. She had some questions. She had some questions. But nah, nah, you know, Casper was there. Me and Jennifer … people gonna be friends, man," Diddy continued. "People gonna grow, and, you know, any of my exes, they smile, and they're happy to see me, you know what I'm saying? And that's all that was about. And, you know, I answered the question."
Caption: P Diddy sharing his girlfriend Cassie's reaction to his reunion with the former girlfriend, Jennifer Lopez.
Cassie Ventura who was born to a Filipino father and an African-American, West Indian and Mexican mother shares a mixed ethnicity as her parents belong to different cultures. Just like any other couple who are in love, Cassie and Diddy are going strong regarding their relationship.
In 2016, Diddy revealed that he would be producing new music for his girlfriend Cassie and other artists like Kanye West, The Weekend, The Lox, Pusha T, A$AP Ferg.