Entertainment
Florence Welch Seen With Multiple Boyfriends Over Time; Currently Dating Someone?
Indie's rock band, "Florence and the Machine" has been able to make its mark in a dynamic manner in the music industry. Most of the credits for the band's success goes to the front woman, Florence Welch as she has carried the band in an impressive manner.
As a singer, writer and musician, she has a lot of fans and has done extremely well when it comes to her professional life. But her fans crave to know about the mysterious lady's personal life, and those who are her huge fans might know the stuff related to her dating life. But for those who are still unaware of her love life, we have got you all covered.
Florence, her past, and current love life: All you need to know.
There is no doubt that she is one talented musician, but she is also really attractive and gorgeous which helps her win over a lot of hearts of men and women around the globe. But did you know that she also lost her hearts to some people in the past? If no, we'll help you with that.
Florence Welch was once in a relationship with boyfriend James Nesbitt, who is an actor as well as a presenter. James and Florence began dating in the year 2012 but kept the relationship out of the limelight.
However, the speculations were always there as the two were spotted together on several occasions. Moreover, reports also suggest that the two even split following Florence's professional obligations before getting back again during Spring 2013.
A source stated,
'They have been inseparable since they got together.'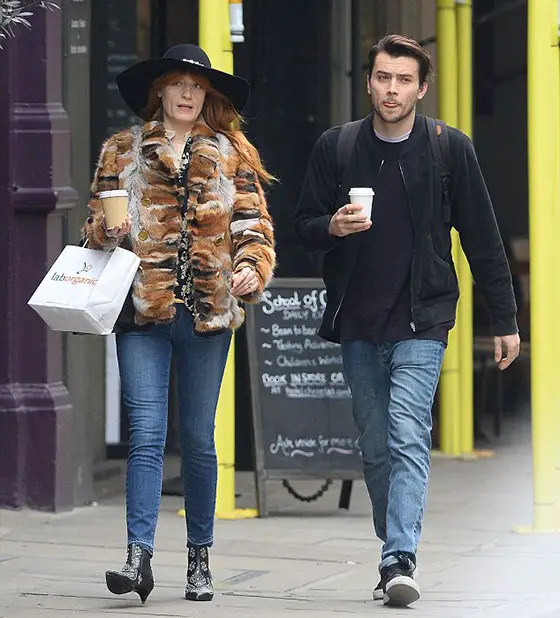 Caption; Florence and James leaving their London hotel after brunch date in 2015.
Photo Credit: dailymail.co.uk
But the love between them got tested, and following some rows, the pair split in 2015. A friend revealed,
"They split up last year when the explosive nature of their relationship became too much."
But that was not all, as the former couple crossed paths again the next year when they ran into each other at the Glastonbury Festival 2016. However, both were present for their personal cause. As per some sources,
"He has quite a few famous friends and will no doubt be hanging about in the VIP area. It could be awkward if they run into each other."
The split with James resulted in Florence creating some beautiful tracks, and her performing the songs in front of James was ironic for her.
But that was all gone and done when it comes to Florence, as she was reportedly dating her childhood friend, Felix White.
The speculation first hit the media when the two were spotted having a quality time in Rio back in 2016.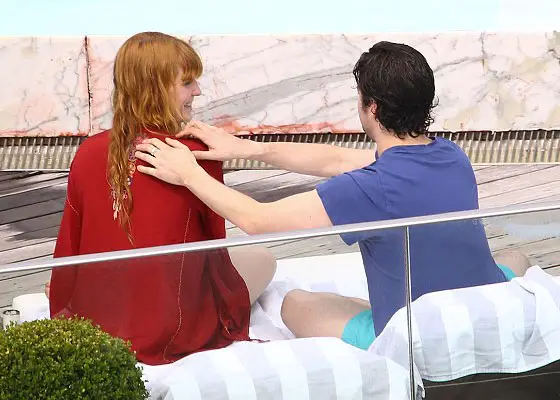 Caption: Love in the air: White giving a nice little back rub to Florence in Rio 2016.
Photo Credit: dailymail.co.uk
The two were even seen having difficulty getting their hand off one another, which shows the presence of affection for one another. The two are a long-time friend too, and the extra closeness between them then made people speculate if they are dating. Some close people suggest,
"Florence and Felix grew up together, so they really know each other well. They've only been dating a few months but they are insanely happy together."
Moreover, he added,
"As well as knowing Flo since before she became successful, Felix understands the industry as he's in it too. He's a great support to her."
Good to know that she has found a good match in her life. No news of them splitting have come forth from their end which might lead us to assume that she is still enjoying her time with Felix.
Now that we know about her dating history with men, the gay/lesbian rumors surrounding her are just hoax raised due to some misunderstanding.
Tattoos and Quotes:
Florence is a musician who knows the value of art and craft; that's the reason she is known to have at least 11 tattoos on her body. Some are small but obvious meaning while some are crafty with some real meaning behind them.
Florence has a tattoo on her left middle finger of her younger sister's name "Grace" and a heart with it. Famous tattoo artist Minka Sicklinger gave her the tattoo in July 2013. Her sister gave birth to her child on the very date.
Moreover, she has tattoos on the back of her both ankles which read "too fast for freedom" taken from her song "Delilah" off of the album How Big How Blue How Beautiful.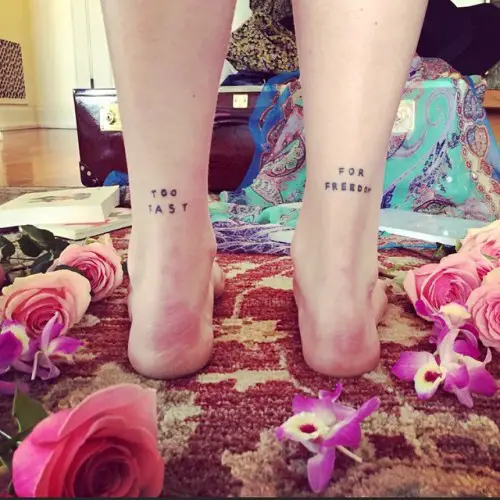 Caption: Florence's ankle tattoos taken from her song Delilah.
Photo Credit: stealherstyle.net
Not only is she addicted to getting tattooed, she is also an inspirational person, who has inspired people with her quotes. Being able to touch people's nerves with music is what she has done, and she has also contributed a lot of quotes related to her music and the impact it has on people's lives.
"I try to write lyrics so that they won't age, which sort of leaves you with the big subjects like death and love and sex and violence." - Florennce Welch
"On stage, you can use your emotions. It's the place where you can channel them. They have a purpose." - Florence Welch
The quotes are heart touching as well as inspiring for the new musicians to take note on what to do in their careers.
Caption: Florence Welch Interview: 5 things you did not know about her.
Published on May 7, 2012.
Good thing that her personal life has not shadowed her professional life as she has a huge fanbase supporting her in every step of her life!