Entertainment
Fran Lebowitz Married & Partner | Lesbian Author Has Love To Flaunt?
Take impeccable writing style and witty comments, the American author and public speaker, Fran Lebowitz has created a little different identity for herself in the public eyes.
For the one, who has made acting appearances, the writer has been able to astonish people one after another throughout her multi-talented career.
With a carefree attitude, Fran has hooked all even in her personal matters especially her relationships. Not the one to believe in the monogamous relationships, Fran has had no struggle about being a lesbian but has made a huge effort in making her dating life a low-key.
However, for her mysterious personal life, Fran has her own of opening the layers, one by one!
Lesbian Author Married To Wife Or Has Partner?
A book lover possessing more than 10,000 books in her personal library, Fran has managed to keep her own life an open book as well. Quite open about the various chapters of her life in interviews, The Wolf of Wall Street star, however, has not yet revealed a page of her life. The page containing her relationship details.
A well-maintained secret, Fran's personal life has been a mystery to all. Though identifying herself as a lesbian on several occasions, she has never revealed much about her partner.
Read Also: Young M.A Dating Girlfriend At Age 26? Lesbian Rapper Real Name & Facts
However, in the countless interviews, she has given over the years after coming to fame, she has hinted on few instances about her belief towards relationships and some information about her partner.
In an interview given to Francesco Clemente in 2016, the author revealed her views regarding relationships.
"I could not possibly be in a relationship now for more than six days. When I was younger, I might have said six months, although I think the longest relationship I was ever in was three years. But what I can't be is monogamous."
She also went on to describe how she generally behaves in a relationship.
"Years ago I had a girlfriend who summed me up perfectly. She said, "You know what it's like being with you? At the beginning, every day, you asked me a hundred questions about myself. Then 50 questions, then 20 questions, then, finally, you said, 'Can you see I'm trying to read?'"
Extremely self-sufficient in her own ways, the Metropolitan Life author, Fran revealing that the longest relationship she ever had in her life till date to be three years, is not considered much of a surprise.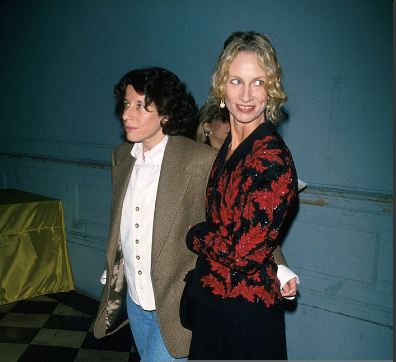 Fran Lebowitz alongside her rumored partner back in 1994. (Photo: gettyimages.com)
You May Also Like: Hannah Hart Engaged To Girlfriend! Lesbian Love Creating A 'Buzz'
Finding it hard to stay in the monogamous bond that a relationship demands, it will be safe to assume that the lesbian is not at all fond with the idea of getting married or having a wife of her own.
Bio Reveals Age, Career Highlights, and Family Details
Born on 27 October 1950, Fran, at age 68, continues to be ever so joyful and young at heart. And with a career to take immense pride upon, there is no way she should not.
A great believer in self-education, Fran never considered herself a bright student in school. Thus, after being expelled from high school, she moved to New York City to make a name of herself. And the name she did.
After entering the writing background at the age of 21 working as a columnist, she made it big in life after the success of her first two books, Metropolitan Life in 1978 and Social Studies in 1981.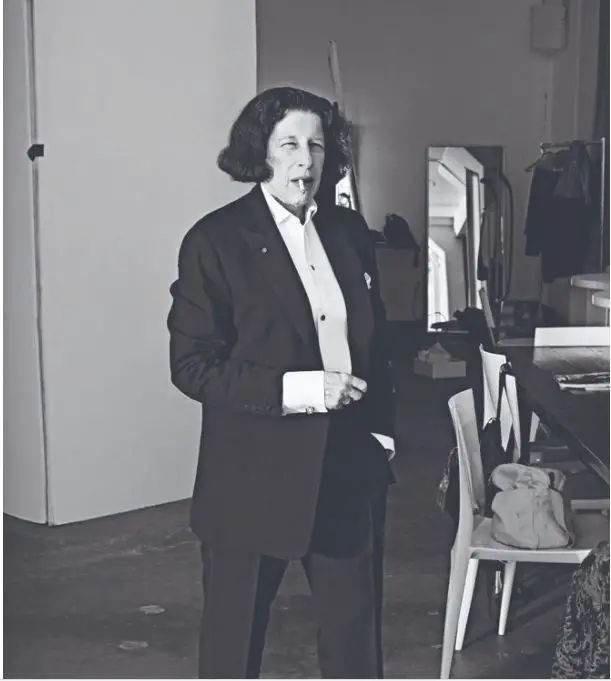 A heavy smoker, Fran Lebowitz posing with a cigarette in a photoshoot. (Photo: interviewmagazine.com)
Don't Miss: Dr. Umar Johnson Bio: Age, Wife, School, Net Worth & Racial Talks
Born and raised in a middle-class family to parents owning a furniture store, Fran has thus had to go through a lot of struggle to reach the stage she is today.
A heavy smoker, therefore, continues to enjoy the fruits to her hardship, living alone in her apartment and enjoying a net worth of $4 million.