People at large should take tips from Jack Dylan Grazer, an American actor who found love in his early teenage. Not many get to date a perfect partner at such a young age; however, Jack knew the drill just right.
Essential Details - Age & Height
For those who don't know, Jack is an American actor who rose to prominence for his role as 'Eddie Kaspbrak' in the feature film version of Stephen King's 'It,' which indeed was one of the most talked about horror movies of 2017.
Born on 3 September 2003 to parents Angela Lafever and Gavin Grazer, Jack is just 15 in age and 5' 3'' (1.6 m) in height, but he already has formed a strong foundation to build his career further.
Dating Ellie Hiyar
Moreover, garnering fame and recognition in his teenage isn't the only achievement that Jack received; he had a prosperous in his love life too. Jack enjoyed a fruitful dating period with his now-former girlfriend, Ellie Hiyar, an internet personality.
Dating Instagram Star:- Model Sjana Earp Age 24 Bio Reveals Height & Dating Status Of Yoga Expert
The two knew each other long time before they started dating in 2017, and as per sources, Jack's girlfriend Ellie - who as well is 15 years of age - wasn't aware of his acting work before they began dating.
Back in 2017, Ellie provided an insight into their relationship, through a live streaming video, where the two were not tired of expressing their love for one another.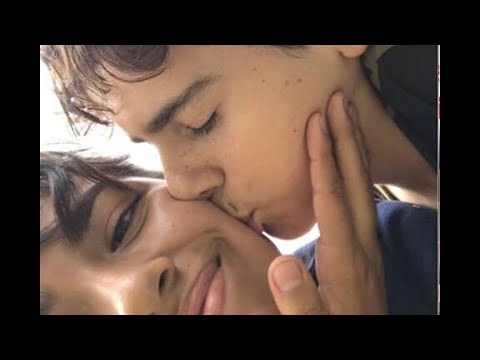 A screengrab of Insta live featuring Jack Dylan Glazer and his ex-girlfriend Ellie Hiyar circa 2017 (Photo:- Ellie Hiyar's Instagram)
But despite having an adorable bonding, their relationship witnessed numerous 'rocky' phases. Many assumptions swirled that the two broke up following an incident where the morphed screenshot of Ellie's text from a group chat went viral.
The text was about, Ellie calling Finn Wolfhard, a Canadian actor, attractive. People started conjecturing that Ellie might have cheated Jack with Finn; however, Ellie came forth clearing the air about the controversy.
Split From Instagram Star Girlfriend
Jack and his then-girlfriend Ellie never truly recovered from the stated cheating fiasco. And by 2018, the lovebirds had broken up.
However, the fans weren't aware of the split until the Instagram star released a video on YouTube entitled "Jack Dylan Grazer and Ellie Hiyar broke up" in April 2018.
An emotional Ellie hid her face in dark lighting as she broke the news. Without spilling details of what went down, she shared that the duo had parted ways in early 2018. Despite the breakup, she claimed that they were in amicable terms.
Dating Anyone Now? New Girlfriend In The Picture?
The somberness of the split wouldn't loom large over Jack's head as he got cast as Freddy Freeman in the DCEU superhero flick, Shazam.
Fellow Shazam Star:- Zachary Levi Transition From Dating To Married Life Felt Heavy; Is That The Reason For Divorce With Wife?
Released in April 2019, the blockbuster film - which grossed millions in box office earning - has occupied all of Jack's time and attention. With a rumored sequel at work, the 15-year-old actor's schedule is likely to pose as a hindrance to his dating life.
Meanwhile, his ex-girlfriend Ellie has already moved on. From December 2019, she began dating a mystery hunk.