Jenni Farley has completed a full circle with her new boyfriend, who was once an attendee at her wedding with ex-husband Roger Mathews in 2015.
While she was long-time friends with Zack Clayton Carpinello, they didn't date in the past as Jenni was a married woman. However, once her husband Roger was out of the picture, there was no one to stop the adorable duo from dating.
Married, Divorce, Kids?
Jenni Farley has had a hot and cold outing when it comes to her relationships.
The reality show actress dated Tom Lippolis for a good two years but eventually ended the romance in 2010. Though the relationship lasted for a couple of years, it was remembered for all the wrong reasons.
You May Also Like:- JWoww's Married Life With Husband Still 'Wow' Nearly Two Years After Wedding Day And Two Kids? Details
During their time together, a drunk Jenni once stabbed Tom and also cheated on him with Roger.
After she eventually split with Tom, the Jersey Shore heartthrob continued her dating affair with Roger and ended up married to him in October 2015.
As husband and wife, the duo nurtured two kids: a daughter named Meilani Alexandra Matthews and a son called Greyson Valor Matthews. Unfortunately, their happiness did not blossom as they filed for divorce in 2018, two years after marriage.
Now that she has separated from her husband, Jenni is dating her old friend, Zack Clayton Carpinello. The couple, who first met through Jenni's sister Erica, confirmed their romance via an Instagram post in April 2019.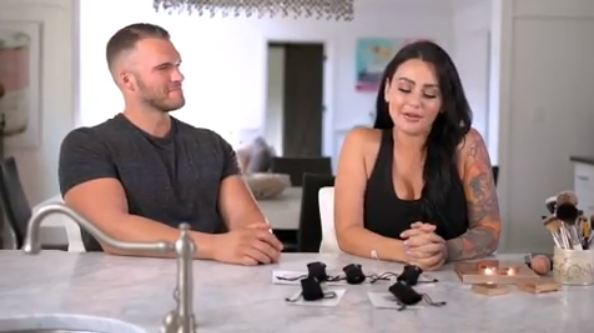 Jenni Farley with boyfriend Zack Clayton Carpinello during the shoot of a makeup video in August 2019 (Photo: Jenni Farley's Instagram)
Though the couple is having a good time together, there is still a question mark on how long their relationship will last.
Parents, Surgery & Height
Jenni Farley was born in Franklin Square, New York on 27 February 1986. Her mother was mentally ill due to which she was separated from her at a tender age.
As a child without a mother, she was raised by her father, Terry Farley. While attending high school, she was very much into computers, mainly graphics designing. Though she did not eventually complete her studies, she opened up her website for graphics designing called MissDomesticated.
In 2009, during her time in college, Jenni got a chance to appear on the reality show, Jersey Shore. But, before making her first TV appearance, the 5 feet 7 inch (1.70m) beauty opted to make minor changes to her body.
Recommended For You:- Morgan Hurd Parents, Ethnicity, Boyfriend, Facts
While many celebrities go under plastic surgery, Jennie decided to have a breast implant before the shooting of Jersey Shore. After the first successful surgery, she again went through the same procedure in 2015.
With such an enhancement to her body, the reality star is turning heads with her sizzling hot looks in TV shows and series.
Net Worth Info
In the reality show industry, Jenni Farley is a well-established name. She has been part of numerous projects like The Mint, The Real, Snooki & JWoww, and Jersey Shore Massacre, earning a hefty sum for herself.
From her accolades in acting alone, she has managed to afford a mansion worth $1.4 million -which is on sale from June 2019. Not only her assets but she also earns a salary ranging from $300,000 to $10 million, which gives us a brief idea about her ever-growing net worth.
On top of that, the 33-year-old is coming up with new productions in 2019, which will rise Jenni's value as a brand.