Entertainment
Did Katty Kay From BBC Get A Facelift? The Plastic Surgery Rumors Comes After Significant Change In Looks
Different people have a divergent take on plastic surgeries! While some detest the idea of altering the natural beauty by undergoing a knife, some find it worth giving a try; given that the surgeries boost their confidence.
BBC's anchor Katty Kay is also rumored to have altered her looks with the help of facelift. But is there any accuracy to the rumors? Let's take a peek at the matter to find out!
Truth Behind BBC's Anchor Facelift; Plastic Surgery Allegation
The 53-years old anchor, Katty Kay looks younger than her age, and the reports on Washingtonian back on December 2012 credited her appearance to a facelift. The Washington Institute of Dermatologic Logic Laser Surgery's director, Tina Alster gave her opinion on Katty's looks and stated,
"She's an attractive woman who looks refreshed by likely having Botox or Dysport around her eyes and brow as well as hyaluronic-acid-filler injections in her nasolabial folds and mouth corners,"
She added,
"Either her toxin injections are providing a lifted appearance to her eyes or she's had a subtle eye lift. It's sometimes hard to tell."
The rumors of plastic surgery of Katty circulated when the pictures of Katty Kay's before the plastic surgery surfaced in the media.
See Also:- Rosalyn Gold-Onwude Married & Husband | Multiple Dating, Found Soulmate?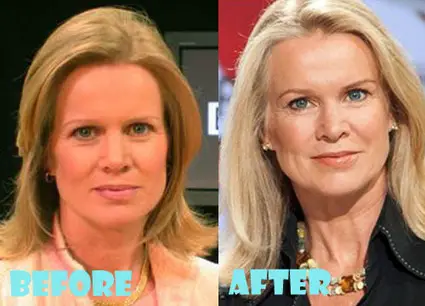 Before and after picture of Katty Kay after undergoing plastic surgery for the facelift (Photo: scoop.it)
Despite the allegation of plastic surgery, Katty hasn't come forward and commented on the claims yet and has maintained the dignified silence in the matter.
Married Life Includes Children; Salary And Net Worth
Besides being a reporter at BBC, Katty is a married family woman as well. She is married to her husband Tom Craver- a former BBC reporter, who currently serves as the vice-president of Control Risks Group.
Don't Miss:- Howie Carr: Radio, Show, Twitter, Net Worth & Essential Facts
The couple shares four children; three daughters Maya, Jude and Poppy Carver and a son Felix Carver.
Her husband has also authored a book titled Where the Hell Have You Been. And on 2013 she tweeted the picture from the celebration of book launching where she asked her followers to read the book.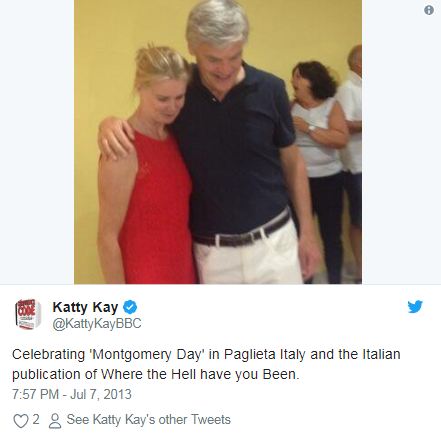 Katty Kay, husband Tom Craver (Photo: Katty Kay's Twitter)
Katty mentioned about her children in her tweet and shared their opinion as,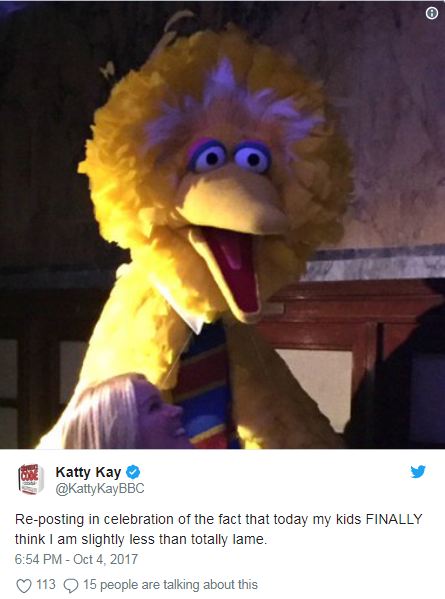 Katty Kay tweets on children (Photo: Katty Kay's twitter)
Besides their hectic working schedule, the couple takes their time out for each other. When the couple decides to meet each other, it seems nothing can stop them. They had decided to have dinner on 26 September 2018 but the rain started pouring.
Read Also:- Tom Ashbrook Second Wedding After Tragic Demise Of First Wife
But also they made their time and had dinner together in New York City. She shared the glimpse via Twitter on 26 September 2018.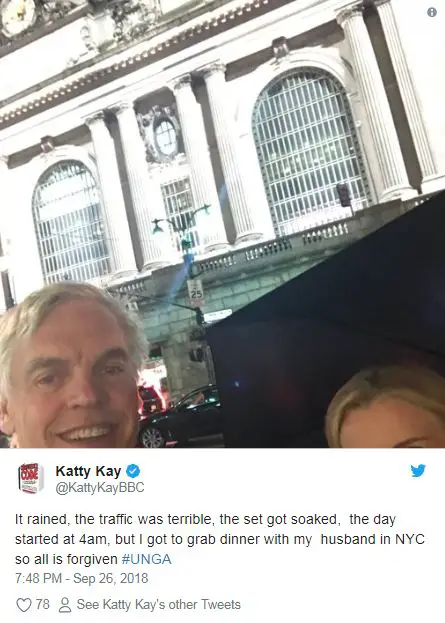 Katty Kay, husband Tom Craver on dinner (Photo: Katty Kay's Twitter)
Talking about her career, Katty joined BBC in 1990 as a Zimbabwe correspondent for the African section of BBC world service. Further, she went to work in the BBC World Service Radio London, and BBC News television for Tokyo in 1992, and subsequently worked in Washington DC in 1996.
She joined The Times news bureau only to return to the BBC as a freelance journalist based in the US in 2002. She co-presented the BBC World News bulletins in London until October 2007, when she became the correspondent of BBC World News America, and currently, she anchors the show.
You May Also Like:- Angela Sun, American Ninja Warrior Host Ethnicity | Boyfriend Revealed
Additionally, she makes appearances in the shows including 'The Chris Matthews Show,' 'Morning Joe,' 'Meet the Press,' 'Real Time with Bill Maher,' 'Larry King Live,' and 'The Diane Rehm Show.'
With her appearance in different shows, she earns a decent salary in between $42K to $ 45K, that indeed contributes to her net worth, however, the facts and the exact figures remain confines till this date.
Think we're missing something? Do let us know in the comment section below!