Entertainment
Kirsty Gallacher Married, Husband, Children, Boyfriend
Dainty celebs, despite having high fame, often struggle to maintain the longevity of their relationships. The case applies not only to a single star but plenty of celebs like Mayte Garcia, Holly Marie Comb, and Kaynette Williams.
Similarly, Scottish-American actress Kirsty Gallacher surfaced in the news after she ended her marriage with long-time husband. Today, let's find out the reason for separation and about her dating game after the split.
What Led The Marriage To "The End"?
In 1999, Kirsty met her soon-to-be husband, Paul Sampson in a charity event. After a while, the couple moved in and lived together in Surrey. After four years of living in relationship and dating scenario, the lady gave birth to a son named Oscar in 2006 and to her second son Jude Sidney on 19 January 2010.
Around ten years of dating and giving birth to two children, the duo finally settled to get married and hence on 24 July 2010, Kirsty got married to her man in the Spanish town of Arcos de la Frontera. It was a picture-perfect family event for the lady with two sons and a loving husband.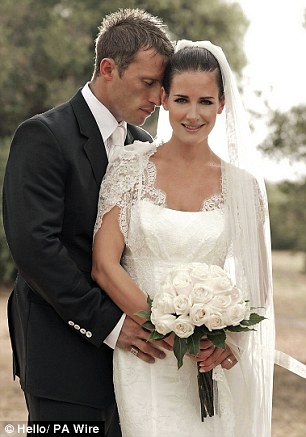 Kirsty wedded with Paul Sampson at their wedding in 2010 (Photo: dailymail.co.uk)
But, the family picture broke into pieces when the duo filed for divorce in April 2014. Their married life of almost four years along with ten years of a relationship was shattered in the blink of an eye.
The former couple tried staying together for their sons. They tried working through the differences and hardships, but as their lives became miserable by the day, Kirsty and Paul finally called it off.
Another Divorced Couple:- Find Out Why Corey & Audrina Finalized Their Divorced
Unable to keep the heavy load of the divorce within herself, Kristy came public. She mentioned that the separation did teach her how to be self-sufficient and independent, but since there were kids involved, she felt sad for them. However, being a caring mother, she worked hard to ensure her kids understood what happened between mommy and daddy.
The divorce did not only shake her emotionally but financially as well. In an interview Kirsty gave to Daily Mail on 19 June 2016, she said:
"Divorce is a nightmare, the legal fees and all the c*** that goes with it.It is too complex to get divorced when you have lots of things. I am a lucky girl but the more you have, the more you lose."
A significant portion of her asset was taken away in the entire divorce settlement. Although she has not revealed the exact figures spent, she spoke about her splurge in the new channel bag worth 2500 pounds right after the divorce.
Despite having two children, the lady turned out to be a determined person and has skillfully brought up her children. She did not allow the separation to impact her children, although they stay in the Surrey house while her ex-husband moved out.
Back In The Dating Scene?
Life is too long to grieve on something that you no longer have control on, and Kirsty thought the same before jumping into the dating spree immediately after her divorce was finalized.
The news of her dating rugby player Danny Cipriani soon hit the headlines. The source disclosed their secret romance and their weekend vacation at Zara Philips and Mike Tindall's country home.
Furthermore, the TV presenter confirmed Danny to be her boyfriend in an interview with Dailymail.Co.Uk on 8 April 2016. She went on to add that it was interesting to be with someone else after being with just one person for 15 years.
Kirsty and Danny's relationship was supposedly going well until the news of their break up hit the headlines in 2016. The duo ended their relationship due to the age gap. The rugby player is said to have moved out when he noticed the different stages of life they were in.
Someone Similar:- Camille Rowe Dating Again After Split With Harry Styles
Kirsty, being a mother of two children, acted smart and intact. She could have made a fuss out of the scene, but she chose not to as she has children and a reputation to carry. Maybe, the real reason for separation with Danny was due to his womanizer nature.
Caught In The Act?
As they say, there's always another one. Katie has not shunned herself from the world just because things did not work out with Danny. She has been putting herself out there, and she has had some success. Earlier in 2018, Kristy was reportedly caught having some fun time with Jack Whitehall at a party.
The two were single at the time, and no further information has surfaced about them till date. Has Kirsty learned from her past and is keeping the relationship a secret for the moment? The public will only know if either of them decides to shine some light on the matter.