Entertainment
Mario Van Peebles Not Stable With Wife? Has Multiple Children From Failed Married Lives
Children bring joy, and it is often said that only fortunate gets chance to have them. This statement can be wrongly taken and concluded for having more children. But is it such that the more children you have, the luckier you are? While this might be a serious question to be answered, "Empire" director Mario Van Peebles enjoys being the father of five children.
Marion's relationship timeline is a somewhat complicated one as he followed many ladies in his life, but unfortunately, he has been a victim of failed marriages. So, what about his current relationship, is it stable now?
Mario's Wife And Girlfriend:
Mario Van Peebles, a well-known American actor, has been involved in a long series of relationships but he ultimately failed to have stable relations with them.
Mario found his first love in Lisa Vitello and then approached for a marital life with her. The actor hasn't revealed any information related to the relationship and the special day.
However, the couple had a good connection in between and spent many years together and even shared two children. They spent a joyful marital life until the day they found themselves on the verge of divorce. The exact reason behind the divorce is still under wraps.
The breakup didn't stop the actor from continuing his love life. He was then engaged in a relationship with Chitra Sukhu, who is an American citizen and is a teacher by profession. He married Chitra in a concealed wedding ceremony and share three children with her, ensuring a total for five children of Mario.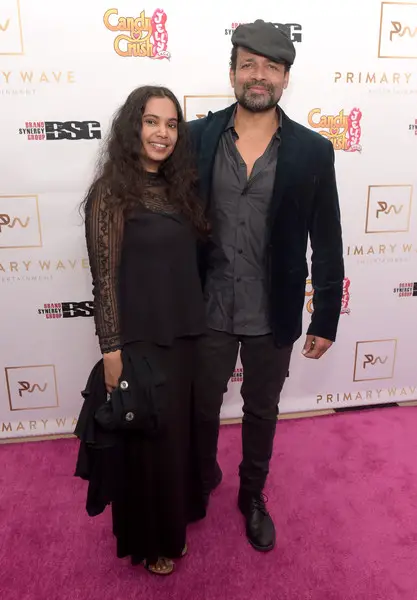 Caption: Mario Van Pebbles and Chitra Sukhu Van Peebles attending 10th Annual Pre-Grammy Party.
Photo Credit: lonny.com
Mario and Chitra eventually appear on several occasions making their way up to the media and flaunting their connections. They have an ongoing relationship and live a blissful with their five children.
Apart from the two marriages and five children, Mario was involved in relationships with Kini Van Peebles and Pamela Anderson, a Canadian actress. The actor kept the relationships completely hidden from the public, as he didn't leave any traces of it.
Children Of Mario From His Past Relationships:
The children of Mario Van Peebles include Makaylo Van Peebles, Marley Van Peebles, Mandela Van Peebles, Maya Van Peebles and Morgan Van Peebles. While these kids are from Mario's past relationships, they are passing a blissful life with their father and also appear at several events together.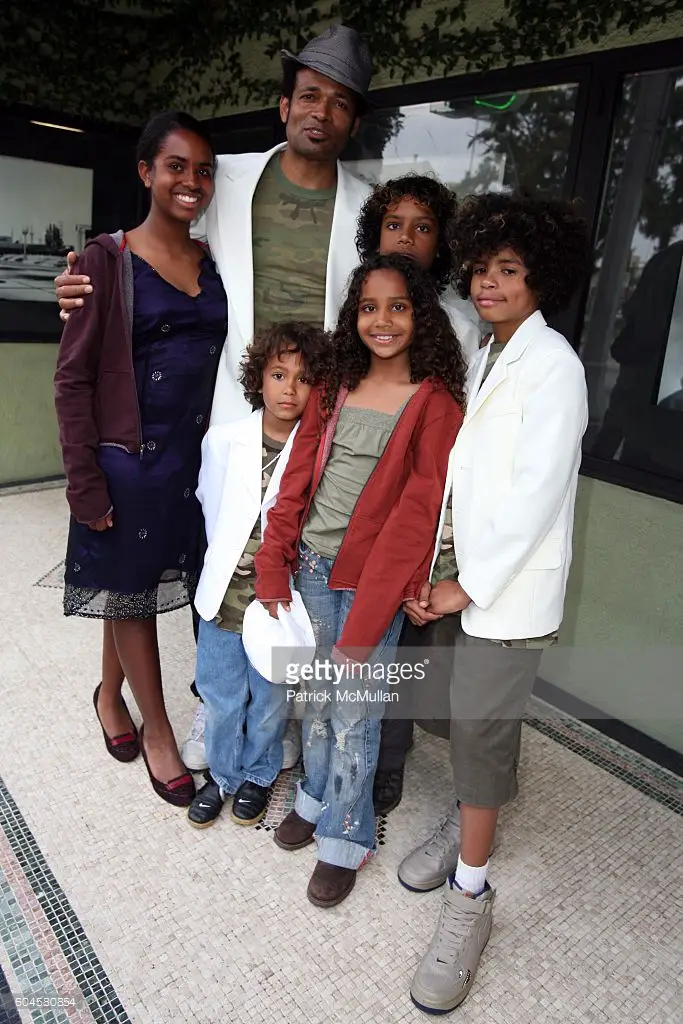 Caption: Father of five; Mario is spotted making a happy pose with his children.
Photo Credit: Getty Images
The elder daughter Maya studied in France and volunteered at an African orphanage while Makaylo mentored kids in the Bronx. Mario and his family also appeared in a TV series, Mario's Green House where they rearranged their Los Angeles home.
Their performances were applaudable, and they seemed as creative as their father. They now have started to make their living on their own.
Mario Van Pebbles and one of his sons, Mandela Van Pebbles, got spotted at Toronto enjoying a night at one of the happening places.
Mario also shares his experience regarding his childhood as:
"I got special attention being the first-born and the ugliest."
He also flashes more about his unconventional childhood saying that his room would mostly be a hotel closet. He further claimed his child life to be a broken one.
A Short Wiki-Like Bio Of Mario Van Peebles:
Mario Van Peebles was born on 15 January 1957 in Mexico City. He is the son of legendary blaxploitation filmmaker, Melvin Van Peebles and German actress, Maria Marx and shared his parenthood with his brother Max Van Peebles and sister Megan Van Peebles.
Mario, among the three children, seems to be influenced by his artist father and mother. We also witnessed the brother and sister combo of Mario and Megan in the 1983 feature "South Bronx Heroes."
Mario is best known for his directorial skills. Roots, Empire, and The Last Ship are some of the results of his great artistic work. He has a lot of hit movies listed in his name which makes his assets a net worth of $8 million.