Real life is no fairytale; there is one in a million chances that you will find 'The One' on the first try. And this is why break-ups or split happen, and this is why the marriage ends up in divorces. For Steve Harvey and his wife Marjorie too, they had to go through some terrible relationship to find each other.
Marjorie Bridges-Woods is the better half of Steve but other than that we do not know much about her. Let us learn more about her husband and kids. What was her experience from previous marriage and divorce?
Married Life, Husband, and Divorce Reason!
Who isn't familiar with Steve Harvey? You might have remembered the time when He made a funny and embarrassing mistake in the biggest modeling event 'Miss Universe 2015'. He is also the busiest man on TV hosting three different hit shows, so how did such an unlikely couple meet?
They first came in contact with each other when she walked into the 'Memphis Comedy Club, ' and Steve remembers it being the love at first sight. He announced on stage that night,
"I don't know who you are, but I'm going to marry you."
It was a perfect match made in heaven; you can know when they just stand together like in this picture.
But like all great couples, their love had to begin only after certain obstacles.In their case, it was being married to somebody else.Steve was with his second wife, Mary Lee back then until 2005 and Marjorie also were with one of her previous husbands. They reconnected in 2005, shortly after Steve's divorce and picked up right where they couldn't 15 years ago. So, the two got married two years later on 25th June 2007.
Divorce Issues:
As if, divorce isn't hard to deal with as it is, it becomes harder when you have a vengeful ex behind you. For Steve and Marjorie, their relationship was shown in a dirty manner by Steve's ex Mary Lee when she accused Steve of evicting her from her home and forcibly taking their son, Wynton on the court.
She also went on to post a YouTube video where she allegedly claimed that Steve was having an affair with Marjorie before their divorce. Later the judge declared that all of her allegations were false and also by posting the video she had broken the gag agreement, and there had been no evidence of Steve's infidelity as well.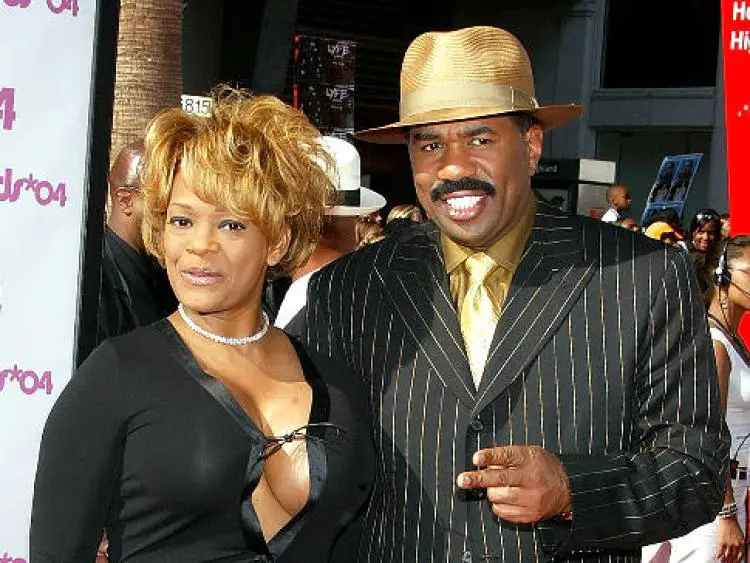 Caption: Steve Harvey with ex-wife Mary Lee in 2004
Source: nydailynews.com
Her Past Husband and Children:
There is no proper data on the past husbands of Marjorie, but sources report that both of the Marjorie past husbands were criminals. They were both apparently large Memphis drug dealers. After her first husband was arrested and charged with life in prison, she divorced him and married the infamous Darnell Woods. The same Darnell Woods from the Woods brother who is also a known drug dealer.
They have no children of their own, but Steve has four children from his previous marriage; Wynton born in 1997 from his relationship with Mary Lee and; twins Karli and Brandi born on 1982 and Broderick Jr. born in 1997 from his past relationship with Marcia Harvey. Similarly, Marjorie has three children from her previous marriages; Morgan, Jason, and Lorie. Here is a picture of Marjorie with her children who are all grown up.
Up until now Steve and Marjorie had a happy family life, but now there have been rumors of their split. 'Mediatakeout' has even reported in January, the first probable sign of the couple's divorce. Marjorie while attending the Paris Fashion Week told the paparazzi to refer to her as Marjorie "Bridges-Woods." Let's hope that the couple does not split.
Steve Harvey skips Trump Inauguration for Marjorie
When it was revealed that Steve Harvey had a private meeting with President Trump, the black community did not take this action well and considered it as an act of betrayal to the black race by Harvey. Harvey later responded to these accusations on an Instagram post which can be viewed below.
Steve Harvey was then, set to attend Trump's inauguration but had to cancel later because Marjorie said 'No.' He later clarified stating,
"I'll be turning 60 on Tuesday and my wife is taking me far away, So, I won't be at anybody's inauguration because my wife said no."
Maybe it was just because of Harvey's birthday or it was because of Majorie's whims, we still don't know.
Marjorie Bridges: A Short Bio:
Marjorie Bridges Harvey was born on October 10, 1964, in the US. Her birth name is Marjorie Bridges and got her the last name of Woods from one of her previous marriages. She is famous mainly because of her husband, Steve but she is also a fashion aficionado and creator of the blog, 'The Lady Loves Couture.'
#Steve Harvey's wife
---