Entertainment
Meet Fox News Channel's Eric Bolling and His Beautiful Wife Adrienne: Married in 1997. Meet Son Eric Chase
We have heard that Eric Bolling is quite the happy man having both personal life and professional life in perfect balance. Professional life might be easy to handle but what about his married life? Let's know about the man who gets criticized for his high pay.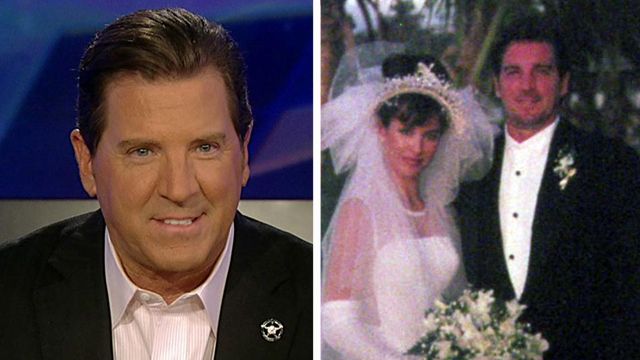 Caption: Eric Bolling wedding picture with wife Adrienne Bolling.
Source: alfa-img.com
A baseball player turned commodity trader turned television personality, Eric Bolling is married to Adrienne Bolling. He was married in the year of 1997. They have been married for around 19 years, and the couples are still going strong.
They have spent so many years together. We do not think there is even the slightest chance of this husband and wife going through a divorce in near future.
Adrienne (wife) watching Jersey Shore... I can watch 90 seconds max!

— Eric Bolling (@ericbolling) March 25, 2011
We thought that they had more than one children in the long run of 19 years. Well, they surprised us. The couples have a son, only a son. His name is Eric Chase, and he is quite a handsome and charming fellow like his father.
Relevant articles on Liverampup.com

Meet Greg Gutfeld model turned photo editor Wife Elena Moussa. Divorce rumors?

Meet Fox News Channel's Eric Bolling and his beautiful Wife Adrienne: Married in 1997. Meet Son Eric Chase

Dana Perino: 20 years of married life but no children

Fox News' Juan Williams 48 years of Marriage with Wife Susan Delise. Meet the Family of five : three Children

Meet CNN analyst Bob Beckel Ex-Wife Leland Ingham Beckel: Married in 1992 and have two Children

Fox News' sharp-tongued hottie Andrea Tantaros is Dating rocker Boyfriend Dave Navarro since 2015. Soon-to-be-Married?
Meet his Son, Eric Chase:
The Selfless Family:
As decent as the Bolling family seems, they are good human beings too. They often get involved in charity and social services. Here are some of the Tweets and Facebook posts of the Bolling family serving Thanksgiving dinner to those in need.
Apart from his married life and career, let's have a look at what Eric's other interests are:

A life-long fan of St. Louis Cardinals.
Fitness enthusiast
Not only baseball, but he also watches football too.
These days, Eric seems to be a little frustrated with all the presidential polls taking place. While his co-hosts were nodding in disapprovements, Eric said,
"We have to stop with these polls, they're insane" He continued,
"You look at a Trump rally, and they're 12, 15,000, 10,000 people and then you look at Hillary Clinton, and you have, I don't know, 1,500, 2,000."
Eric Bolling's Professional Life and Short Bio:
He is none other than Eric Bolling, co-host of the famous early evening show called "The Five" (alongside Kimberly Guilfoyle, Greg Gutfeld, Dana Perino and Juan Williams). You sure have heard about The Five, right?; the one that airs on Fox News Channel. Even if you haven't, you don't need to worry about it. We'll fill you up.
The Five is a popular round-table debate show, related to politics and culture or any other important subjects that happen on a day-to-day basis.
Eric Bolling and Crew look back on 2016
2016 was a big year for Fox News and Eric Bolling. From the 2016 American Election to the Roger Ailes Sexual harassment scandal, the Fox family went through a lot.
But Eric Boiling and Kimberly Guilfoyle reminisced about it all and accepted that it had made them a better person after it all. After talking about their rivalry with Kathy Griffin and Anderson Cooper (with Eric throwing some minor shade on Kathy's antic during past year's new years eve), Eric and Kimberly talked to TVNewser about their relationship along with what it felt to be part of the Fox Family and its current state.
Guilfoyle was quoted talking about Eric saying,
"Eric and I are like brother and sister, we text throughout the day, Same with Greg (Gutfeld) and Dana (Perino). Juan (Williams) is such a good sport, and he puts up with a lot of our craziness."
with Bolling adding,
"The ratings have been great this year. But we have also become a family over time. It's gotten to the point where we can each finish each other's sentences. When you watch us, it's like watching a fun dinner table conversation and we have a ton of laughs."
Boiling also talked about how morale was high even after all that happened with Roger Ailes and Rupert Murdoch taking the reins and that at the end, it all remained almost the same,
"Fox News has remained Fox News, even after the transition, and we'll still be the fair and balanced place you can go to consume your news. Rupert has been great, and we haven't lost a beat. "
Born on March 2, 1963, in Chicago, Illinois, U.S. Eric is a graduate of Rollins College in 1984 with a BA degree in economics. Eric was a commodities trader on the New York Mercantile Exchange and later got involved in developing CNBC's Fast Money, but later, he left CNBC and became a financial analyst at the Fox News Network.
Eric Bolling is also the author of a book titled "Wake Up America: The Nine Virtues That Made Our Nation Great—and Why We Need Them More Than Ever."
The book was published and was available from June 28, 2016 onwards.