Entertainment
Michael Strahan Enjoyed Last Summer With Girlfriend; Revealed Divorce Experience With Wife Was Harrowing Part Of Life
The romance was in the air, in St Barts which made the famous TV personality affected namely, Michael Strahan who showed the PDA moment in the ocean enjoying the dazzling sun of summer with his bombshell girlfriend. Let's see the relished summer of 2016 of Strahan in our story.
Strahan's quality time with his younger love:
Showing off the muscular frame in the ocean with a pair of black sunglass, the pro football Hall of Famer Michael Strahan enjoyed summer with his girlfriend Kayla Quick with whom he has been in a relation since 2015. On the other hand, Quick also made a show of her covetable figure in the printed bikini.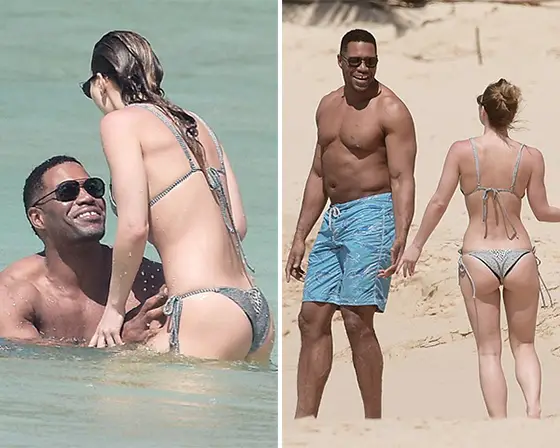 Caption: Michael Strahan enjoying summer with his bikini-clad girlfriend Kayla Quick on March 30, 2016.
The pair was keenly busy making love and didn't hesitate to show it off. Strahan on the other side was not able to take eyes off from his 28-years old bikini clad and was glazing with a broad smile on his face.
Previously while making his appearance in "Watch What Happens Live!" On October 2015 he mentioned that he "was in a serious relationship" while talking with the host Andy Cohen. During the conversation, he joked,
"You want me to give you the full name? None of your business."
Caption: Summer sun enjoyed by Strahan with his girlfriend, Kayla Quick, posted on March 30, 2016.
Remembering the past relations, he further mentioned,
"You know one thing I've learned, the whole public relationship thing doesn't work. It doesn't work. So I prefer to do my own thing and live my life away from that. Puts too much pressure on it."
The relationship of the two came into the eye of media after they were spotted at the DirecTV Super Bowl party in February 2015. After which we can figure out Kayla Quick happened to be the serious relationship which he was talking about and Kayla Quick, who shares an awful background didn't seem to affect their relation at all.
Grieving marriage and dating experience of Strahan:
Strahan was previously married to Wanda Hutchins, in Germany in 1992. The couple shares an adult son, Michael Anthony Strahan Jr. and a daughter Tanita Strahan. The two separated on 1996 without giving the precise reason of the divorce.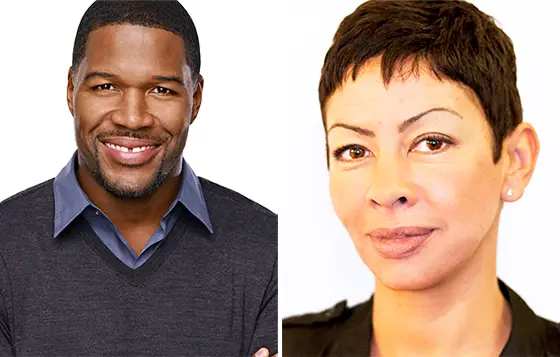 Caption: Strahan was previously married to Wanda Hutchins (1992-1996).
He then got married to Jean Muggli in 1999, with whom he had his first meeting at a Spa in Manhattan. Strahan has twin daughter from his second wife, namely Sophia and Isabella Strahan. With a very publicized divorce battle, he separated from Jean in 2006 after being accused of beating her.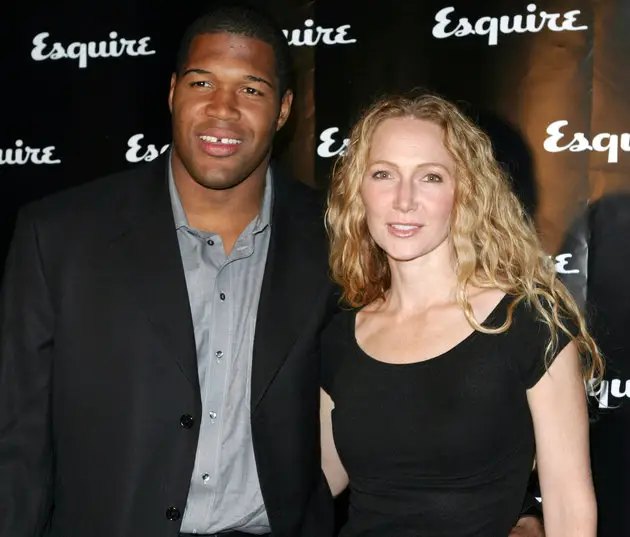 Caption: Michael Strahan and ex-wife Jean got nasty posing for shutterbugs on 2012.
Photo Credit: famousfix.com
Responding to the accusation, he told Gumbel which got aired on October 23, 2012, where he said;
"I think early on when you're reading all these things in the paper that aren't true — I'm not an adulterer. I'm not gay. I mean, I didn't beat anybody."
After the harrowing divorces, during an interview with People on 5th October 2015, the twice wedded NFL player shared his feeling over the divorce which he experienced. He stated,
"Personally, getting divorced is probably one of the toughest things I've ever gone through but it was also a learning experience and I learned a lot about myself and I learned a lot about a lot of the people who were around at that time and some aren't around anymore,"
Despite the bad marriage experience, he has a special relation with all of his kids.
During his talk with people on September 2016, he shared more about his family and children. He mentioned,
"My kids give me strength. I love being with the kids. To me it's all about family, now more than anything."
He further added emphasizing his role in his children's life,
"I think a lot of times when you split, people assume that the mother is supposed to take responsibility for the kids. But from day one, it was very important for me to be active, to be a part of their life. I was constantly on planes and phones. And it's very hard – of course it's hard with them being in Germany. But one thing I learned is, you make time for what you want to make time for."
Caption: Special relation of Strahan with the kids, published on June 13, 2014.
"Live! With Kelly and Michael, " co-host was then seen with Nicole Mitchell Murphy with whom he was engaged in 2009. After five years of engagement, the news of their split came out in 2014.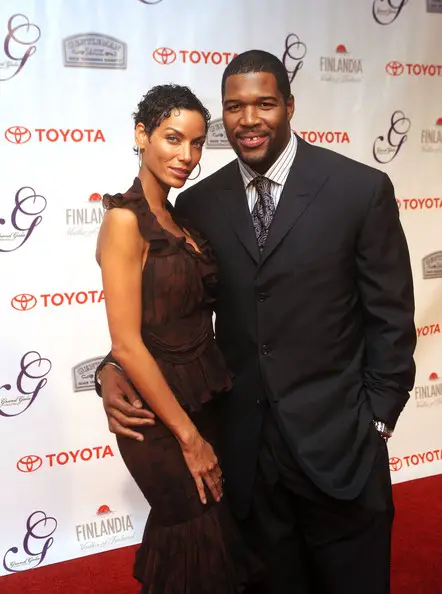 Caption: Strahan on 7th annual Grand Gala with his then-girlfriend Nicole (2008).
Photo Credit: zimbio.com
The reason for the separation of two was said to be the busy schedule of Strahan. For now, the years old actress is possibly single.
The sizeable figure of Strahan's work:
The former NFL player, Michael Strahan has played defensive end for fourteen seasons for the New York Giants. After the retirement, Strahan became TV personality hosting different shows and had been appearing as an analyst on "Fox NFL Sunday" and co-hosts "Live! With Kelly and Michael".
All his work in daytime TV shows, and as a retired football player he has an impressive net worth and a collective salary of $65 million.