Entertainment
Michelle Dockery Says Her Fiance Was Her Husband! A Widow Without Getting Married
With love comes the fear of losing your loved ones, either by death or by separation. Separation is one thing, but death only ends a life, not the love for that person!
This scenario perfectly fits the case of the actor and singer, Michelle Dockery, who lost her fiancé, John Dineen to life-threatening disease. Both waited for a miracle to happen until the last moment of Dineen's death, but fate wasn't in their favor.
Unfortunately, Michelle was forced to contend with such tragedy all alone. Although they were unable to become husband and wife officially, Michelle still refers herself to be his widow.
So today, let's take a closer look at her unconditional love for her late fiance, find out everything that you may have missed before this moment!
Micelle Dockery's Love For Late John Dineen:
Michelle Suzanne Dockery started dating late John Dineen, a financial PR, back in September 2013. They were introduced by one of Michelle's co-star, Allen Leech, who played chauffeur 'Tom Branson' in a famous ITV show, 'Downton Abbey.'
The duo kept their relationship a secret, until they were pictured together for the first time during their holiday in Venice, Italy the same year.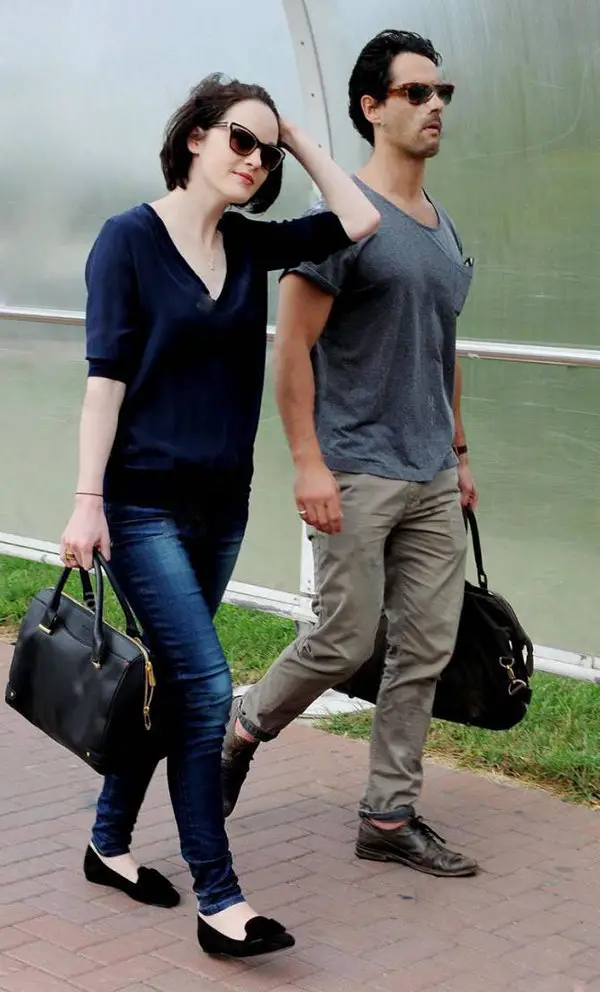 Caption: 70th Venice Film Festival - Michelle Dockery and John Dineen spotted in Venice, Italy on Sep 1, 2013
Photo Credit: Alamy
Although the actress and her long-term boyfriend didn't reveal much, Michelle got engaged to her late boyfriend. In an interview in 2014, she confessed,
"I have a wonderful man in my life from Ireland. We were introduced by Allen Leech. That's all you need to know."
Sadly, their happiness couldn't last for much longer as Michelle's love of her life, Dinnen was diagnosed with a rare form of cancer back in 2015, and just two days before Michelle's birthday, Dineen, 34, took his last breath at Marymount Hospice in Cork back in Ireland on 13 December 2015, leaving Dockery all alone at his bedside.
The final preparations of John's funeral were made in Cork as his family requested to be left alone to grieve in private. On the next day, a ceremony of his funeral was held, where Dineen's family and friends bid their final farewell along with Michelle.
The heartbroken actress also paid her tribute by singing "The Folks on the Hill" from the altar in memory of her late fiance. She stated in her farewell speech,
"I was honoured to know John. To love him and be loved by him. Whether in his work or his personal life John was extremely loyal. It was clear that when John was in your corner he was there. I was honoured to know John. To love him and be loved by him. He was my friend, my King, my hero, my everything. We celebrate him, we honour him and we will miss him."
After two years of such tragic moment, Michelle, in a recent interview, recalled the unfortunate time of John's death and said,
"I don't have the vocabulary to describe what it felt like. And what it still feels like. It is…Sorry, give me a minute."
She paused for a long time trying to keep herself calm, and continued,
"I've never been more committed to anything in my life than to him. So at the time everything just shut down. Work, everything. Work didn't matter. You suddenly become an [oncological] expert. This stuff becomes your world, and that of course was my priority."
Michelle further shared how late John fought against the life-threatening disease cancer. She expressed,
"I never lost hope. No. I'm not exaggerating when I say that John did not complain once, never, not once, and that gave us strength. It's what keeps you going, that positivity – to never lose that hope for a miracle. I couldn't have done it any other way."
After losing beloved John, she started seeing thing differently and when questioned if Michelle describes herself as a widow, she replied,
"Oh, I refer to myself as a widow, yes. We were engaged and married at heart, and so I do consider myself a widow. It's why I related to Alice so much."
After working for nearly five years in 'Downton Abbey' as Lady Mary, Michelle took off her corset and traded it with cowboy boots in her new show, 'Godless' to become Alice.
Her look of Alice is entirely different than her character as Mary. But drawing similarity, both the character of Michelle is- of a widow, and that's the reason why she said she felt connected with Alice!
In the upcoming days, Michelle wants to take a break from her busy schedule, since she didn't really remember the last time she had one, except for some weeks after her fiance's death.
Michelle confessed that she indulged herself in work because she didn't know what to do after John died. She further stated that losing Dineen was like losing a limb, but it will always be a part of her. She quietly added,
"I know people who've had losses and they took time out immediately, but I don't think I'd have been able to do that. My decision was to keep going. And that's what we all did."
Michelle, 35, lost the love of her life at a young age but despite that, she chose to continue her work and emerged herself in the craft of acting which she loves the most, and hopefully, will come out more stronger in the upcoming days!