Entertainment
Morgane Stapleton Welcomes Twins With Husband; Outnumbered By Babies
Giving birth to a child is not as easy as it sounds but the happiness after the pain is worth it.
Well, American singer-songwriter Morgane Stapleton may know it better for she has become the mother of not one, two but four children now. Morgane, who has been married for more than ten years, recently added newborns under her wings.
The welcoming of babies not just added to the family numbers but the amount of happiness in Morgane's home as well.
New Members Added In Family
Mexican singer and songwriter, Morgane Stapleton is blessed with a family of her own, which she shares along with her husband, Chris Stapleton. She first met her the country singer and songwriter husband in 2003 and exchanged their marriage vows on 30 October 2007 in a lavish wedding ceremony.
Morgane gave birth to twin boys, which added two members in her family of four making it six now. The couple welcomed their two bundles of joy in April 2018. The happy news was announced during 53rd Academy of Country Music Awards in April 2018 after Chris's album LP From a Room: Volume 1 was awarded the album of the year title.
While Morgane's family along with her husband were back home, the news was announced by the anchor Reba McEntire after she took over the stage as soon as the award was announced.
Starting her speech by quoting "that's only the second biggest news," she revealed about the couple's latest addition stating,
"We just found out that those little rascals came a little bit early. Hot off the press!"
It was triple the happiness as Chirs turned the same day, which made the day more special. Morgane was the first one to share about her pregnancy via an Instagram post in October 2017. The date of Morgane's Instagram post also marked the couple's tenth wedding anniversary.
The expectant mother posted the black and white portrait of the couple, and the caption expressed an anniversary wish for her husband along with the announcement of her pregnancy:
"14 years, 2 babies, & 2 more on the way. Happy 10-year anniversary babe! You make my whole world go round,"
Following her pregnancy announcement, Morgaine flaunted her baby bump during the 2017 Country Music Award (CMA) and 2018 Grammy awards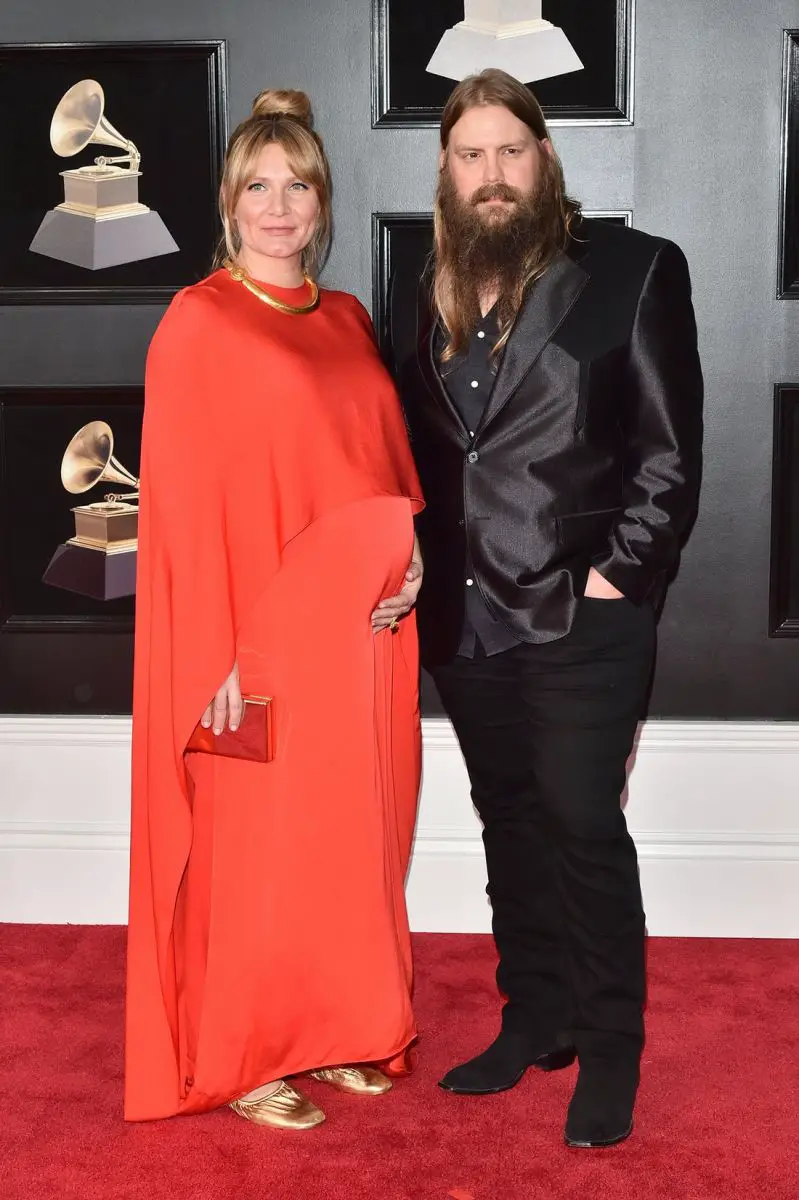 Morgane Stapleton with husband Chris Stapleton in Grammy Awards 2018 (Photo: dailymail.co.uk)
As for Chris, he was hit hard by the pregnancy news as he describes the feeling as "shocked" at that moment. He expressed his feelings by giggling after he heard that the couple was expecting twins.
Talking to Today's Willie Geist, Chris opened up about his initial reaction to the baby news, where he stated:
"I think I laughed for about 20 minutes straight when they told us. I was just shocked. I didn't know what else to do. … I was in shock. Shocked is the only word."
For now, the couple is yet to reveal the gender of their babies, but it is already assumed that their eldest kids (a son and a daughter) were hoping for a baby brother and a baby sister.
The mother of four revealed her eldest kids' desire in an interview with PEOPLE in April 2018. She remarked,
"They want one of each so they each get a new buddy, that's what they say. I'll see what I can do. I don't want to find out but the kids want to find out so I think we're gonna find out. I lost that fight."
However, the couple, who are fiercely private about their family life, has chosen not to reveal about their names along with their age publicly.
Keep Visiting as we keep you updated on the life of Morgane Stapleton!