Have you ever wondered how long does it take to find love? And how long can you wait for your prince charming to come and sweep you off of your feet? The wait may be long, but when you find your Mr. Right, but it's worth waiting as getting married for the right reason is crucial.
Well, Kristen Welker- the White House correspondent for NBC News knows the feeling of long await the most, and finally she got married to her marketing director husband, John Hughes. Excited to know about their love story? Let's dig in.
Kisten Welker is Married Now!
The NBC News correspondent Kristen Welker exchanged wedding vows with her husband John Hughes- a marketing director at Merck in the Philadelphia area and got married on March 4, 2017, in Philadelphia. The wedding ceremony was organized at the Hyatt hotel in The Bellevue, Philadelphia. The ceremony was attended by famous personalities including Chuck Todd, Andrea Mitchell, Kelly O'Donnell, Chris Jansing, CNBC's Aditi Roy, contrast executive David Cohen and FNC's Ed Henery.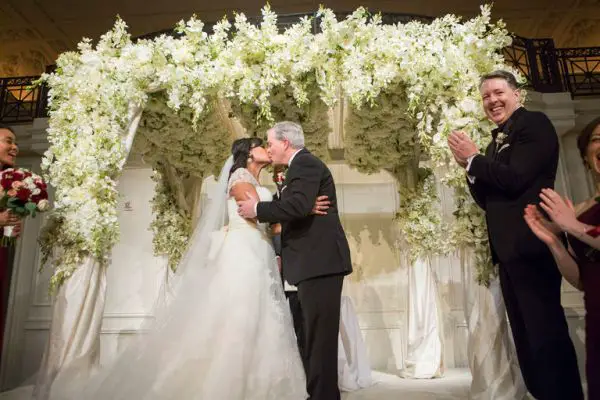 Caption: Kristen Welker and John Hughes sharing a wedding kiss on their wedding day on March 4, 2017.
Photo Credit: The New York Times
Following the wedding, Kisten Welker shared a group selfie from the pre-easter walk with the new in-laws through an Instagram post on April 15, 2017.
Back on August 21, 2016Kristen showed her excitement for their upcoming wedding through her Instagram post, where she mentioned about the wedding fitness through Falmouth Road Race 2016.
Kristen Welker, who's been working for NBC News since 2010, falls into one of the 50 most beautiful according to The Hill. But even her beauty couldn't help her meet the right person for all these years. But there is a saying, 'everything happens for a reason.' Maybe the reason behind her failed relationships was to meet the perfect guy in her early 40s.
Our beloved Kristen is finally married, and we couldn't be happier.
Wondering how did the lucky guy win Kristen's heart? How did he propose her?
Let's read the beautiful love story of Kristen Welker and John Huges which eventually culminated into the beautiful bond of marriage!
How Kisten Welker meet John Huges?
When you have given up on the chances of stumbling upon love, the love makes its way into your life.
In an interview with article.philly.com in July 2016, she had revealed about how she met John for the first time. She said:
I'm 40 years old. I say that to give hope to other women who maybe haven't found The One in their 20s. So two summers ago, my best friend from high school's mother said, "I'd really like you to meet John Hughes." He is their family friend's son. I had just about given up on the idea of finding someone, but we had dinner in Philadelphia, and the rest is sort of history.
How John Hughes Won Kristen Welker Heart?
Love finds its way and connects two people in the most unexpected way. Kristen Welker's date was fixed with John Hughes at a restaurant in Center City in October 2014. She arrived impeccably dressed in a skirt, and his first impression was very impressive. And revisiting the beautiful moment, when John was waiting for her outside in a blazer, Kristen said,
"It was just about the most chivalrous thing a man can do,"
John, at first sight, though that she was out of her league. But when he discovered her nervousness as she forgot to pay for the taxi, Kristen's nervousness became visible. And to impress her, John had a simple plan but effective plan to win Kristen's heart, which was to make her laugh.
The conversation in the date night flowed smoothly and they their conversation did not stop until late night. Recalling the memorable moment, Kristen said,
"Suddenly, I was so cool to him,"
Kristen nearly missed her second date as she had to cover the interview of former President Mr. Barack Obama. Kristen was tired and even had second thoughts of canceling the date, but she did not. However, she was two and half hours late, but John waited patiently.
The couple talked about work, life, hobbies, and family. But the turning point, on the date, occurred when John gave her an envelope. So what was inside the envelope? Let's find out.
The envelope contained a crossword puzzle of the presidential trivia which John had hand written cleverly along with the clues. Sharing the same Kristen stated,
"That's the moment he got me, As a White House correspondent, it was so touching, and it marked him different than anyone else I ever dated."
Kristen for the first time met a man who valued her work in the way no one had ever before and Kristen said,
"He allowed me to be me, And he's incredibly calm, while I'm typically talking 100 miles a minute."
Dream Proposal from John Hughes!
It was a regular Friday night, for Kristen and John on June 24, 2016. They were on their way to a restaurant for dinner when out of nowhere John got down on one knee and popped the question she had been waiting for all her life. And the answer was a definite yes.
The beautiful moment was captured on-camera by runner Anna Perkinson, who happened to be jogging near Lincoln Memorial when the life changing moment happened in Kristen and John's life.
Moreover, Kristen shared a picture of the moment right after the proposal, where their smile shouts out their happiness, through an Instagram post on June 26, 2016.
Also, Kristen had talked to Today around 2 months before the proposal about how boyfriend (now husband), John and her parents helped her stay focused while she was busy reporting on the 2016 presidential campaign trial for NBC.
Congratulatory messages on the engagement!!
NOOO, not true @kwelkernbc is engaged, sorry fellows a sad day in Mudville. Oh well, congratulation Kristen!!!

— Jimmy (@leftoverright) July 10, 2016
Even her followers are showering her with love and wish flooded over her social media feeds.
Before dating John, she was in a relationship with Andrew Mulroney, who is a senior software developer at Kimmel Centre. Phillymag.com reports that Andrew and Kristen grew up with the same friends.
How She Went on to be a Reporter?
In the interview, with article.philly.com in July 2016, she stated her mother political journey inspired her to be a reporter and said
I was in sixth grade. I loved TV news. I acknowledge that I was also in awe of Barbara Walters interviewing Patrick Swayze and dancing with him.

But when my mother ran for City Council, that was the moment when I knew I wanted to be a political reporter. Some reporters asked her about being married to my father - they have an interracial relationship - as if that was somehow a negative thing. I think my parents handled it with grace I would get very upset about this line of questioning. It made me realize how important it is that political reporters are being fair. Tough, but fair.
Kristen Welker's Professional Journey:
Graduated from Harvard University with honor, majoring in history, Welker started her reporting career from WLNE-TV, an ABC-affiliated company. She later joined WCAU, an NBC affiliate company as a weekend anchor and reporter. She officially joined NBC News in 2010 as a correspondent and reported for NBC platforms like "Today," "Nightly News" and MSNBC. She was named White House correspondent in December 2011.
She even had the opportunity to travel around the world with President Barack Obama, Vice-President Joe Biden, and First Lady Michelle Obama.Nevertheless, she was the only journalist who grabbed a place in Glamour's Meet the Women of Election 2016 spread. Go Kristen!
No matter how tough journey it has been for the hardworking television personality, her family has always been by her side. Now that she is married to the man she has been waiting for, the man who has loved her like her family, she is probably the happiest person in the world at this moment of time.
You're gone for weeks at a time, you come home, do your laundry, and get back on the trail…. I talk to my parents and my boyfriend every day. It helps you maintain a sense of normalcy.

- Kristen Welker on her hectic schedule covering the 2016 Presidential election on MSNBC's Morning Joe in 2015
In 2015, Kristen along with her team was nominated for a News and Documentary Emmy Awards for Outstanding Live Coverage of a Current News Story. She apparently won in the same category in 2015. She is also an active member of the National Association of Black Journalists.
Recently on May 31, 2017, Kristen showed her gratitude to NBC for showering her with the extraordinary experience at White House six years ago, through an Instagram post.
Kristen is aware of the power and the influence she has as a journalist. So she utilized her power and raised voice for the importance of quality education for children of all races so that they can fulfill their dreams as she has.
Video Caption: Reporter Kristen Welker voicing for quality education for the children of all races so that they can fulfill their dreams.
Her Ethnicity and her Motive to Cover the Election:
My mother [who is African American] ran for city council when I was in ninth grade and college, and a few reporters asked her why she was married to my father, who was white. It just angered me and made me feel that voters and candidates deserve a more elevated level of discourse. I want to press candidates to articulate policy.

-Kristen Welker on her motive to cover the election
Kristen Welker grew up in Philadelphia, Pennsylvania as an only child of anchor Harvey and Julie Welker. Her father, Harvey, is an engineer, and her mother, Julie, is a real estate agent and a former city council candidate. Her mother has described her as "the greatest reporter who's ever walked the Earth."
Since Welker's father belongs to white ethnicity and her mother belongs to African American ethnicity, she belongs to a mix ethnic background and is of American nationality.
Caption: Kristen interviewing 2016 Presidential Candidate Bernie Sanders in May. During the interview, Bernie strongly refused to back out from the race and pointed his fingers to a "Democratic Convention" when Kristen asked about his chances of winning the nomination. He was later invited by Green party's Jill Stein to take over the party ticket, and he refused. Ultimately, he endorsed Hillary Clinton for president at the DNC.
Kristen's Short Bio:
Kristen Welker was born on July 1, 1976, in Philadelphia, Pennsylvania to an interracial couple; mother Julia Welker, a prominent Fairmount realtor and former councilmember candidate, and loving father.
And during the visit to Clinton event in Philadelphia, she ran into her pre-school teacher and thanked for the firm foundation she had as a child. She shared a picture from the event through an Instagram post on August 16, 2016.
She comes from a multi-racial family where her father belongs to white ethnicity, and her mother belongs to black ethnicity. Welker graduated from the Germantown Friends School in 1994, and Harvard College in 1998, in Bachelors of Arts, with a major in History.
She worked as a reporter in different television stations around the country, finally settling as a news correspondent for NBC News in 2010. She was later named the official White House correspondent for NBC in December 2011, which gave her the opportunity to travel around the world along with President Obama. She covered the US 2016 election cycle was also assigned to cover the DNC, which took place in her hometown Philadelphia.
Kristen was one of the NBC's women power to cover the 2016 election including Hallie Jackson, Andrea Mitchell, Chris Jansing, Kelly O'Donnell, Katy Tur and Kasie Hunt.
She was also an important member of NBC Roadwarriors, an election-themed round-table show that aired (4 p.m) for three consecutive Friday in April and June.The show was an instant hit, thanks to the young female personalities including Kristen, Katy Tur, Halie Jackson and Kasie Hunt.
Caption: The NBC RoadWarrior team on the campaign trail. The election brought the personalities together who were living in different places fulfilling their respective duties.
Huffington Post senior reporter Michael Calderone wrote an article titled 'MSNBC Touts Straight News Shift, But Daytime Lineup Still In Flux' in June 2016 pointing out that MSNBC was no longer a left-leaning network. He emphasized that MSNBC was also attempting to grasp the conservative base. Nevertheless, he also stated that the boom period would come to an end once the election cycle is over. MSNBC Phil Griffin had stated that MSNBC was experimenting different shows and ideas due to the election rating boom.
Info: Did you know that Kristen Welker, Hallie Jackson, and Kasie Hunt are all from Philadelphia?
#NBC News
#MSNBC
#television journalist
#White House correspondent
---