Entertainment
Nikolaj Coster-Waldau Got Married At A Young Age! Claims His Wife Doesn't Watch Game Of Thrones In An Interview
When it comes to getting married, few people take their time, while others are set to seal their relation with the people they can't afford to lose.
Nikolaj Coster-Waldau, who is raging through his fame from his character Jamie Lannister in the HBOs' series Game of Thrones falls under the latter category. He is married to his beautiful wife Nukaaka Coaster-Waldau for 19 years now.
The couple shares a strong, loving bond, but his wife is found, not following her husband's popular show. What might be the reason? Let's find that out!
Married at a young age!
Despite having worked earlier in movies like Nightwatch, Misery Harbor, and few others, Nikolaj Coster-Waldau managed to grasp significant recognition through his Character Jamie Lannister alongside Cerci Lannister, Sansa Stark, Lord Varys and others.
Accompanying his successful career is Nikolaj's successful love life. He is married to Nukaaka Coster-Waldau who was crowned Miss Greenland and was placed 19th during the 1990's Miss Universe pageant.
There is no revelation as to how and when their relation initiated, but Nikolaj did mention he believes in love at first sight, and it was Nukaaka who took the time to fall for him.
"I think it took longer for her, I wore her down. I was just crazy in love."
They exchanged vows in the year 1998 when Nikolaj was just 28 years of age. The couple down the line started a family in the year 2000 when Nukaaka gave birth to their first daughter- Filipa in October and later in November 2003, they were gifted with another daughter Safina.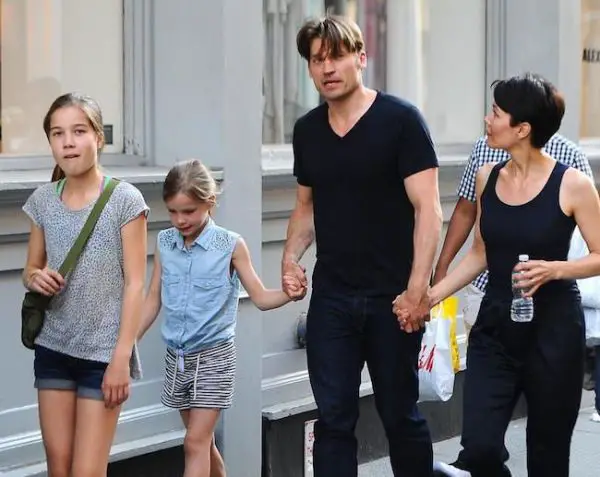 Caption: Nikolaj with his wife- Nukaaka and two daughters.
Photo credit: Pinterest.com
It's been 19 years of togetherness for the couple, and they are stronger regarding the bond they share.
However, Nikolaj got caught up in the rumor for kissing Cameron Diaz, when a fan mistook pictures from a kissing scene Nikolaj shared with the actress while filming 'The Other Woman in New York.' Nukaaku was full of mirth when she received a letter that informed her about the rumor, which read,
"You should know that your husband is cheating on you with Cameron Diaz. Cameron Diaz is not to be trusted."

Thankfully it was just a rumor without any strings attached, and Nukaaku took the incident very casually. It shows the duo trust each other perfectly.
Nikolaj's Wife, not a Game of Thrones' fan!
Nikolaj, who is a famous villain in the 'GOT' series, is soared to worldwide fame for of his character Jamie Lannister. He's a heartthrob for many ladies, and it won't be any surprising if you find guys having a man-crush on him, as he flaunts a sexy dapper look.
Despite the fame, Game of Thrones rewarded Nikolaj; it was reported that his Wife doesn't follow the series. In an interview with Esquire, Nikolaj talked about it in details revealing the fact that Nukaaka hasn't watched a single episode yet, and had he not been in the series himself it would have been the same case for him.
Nikolaj Told the magazine,
"She's like, 'Oh I don't know if it's for me! I'm not going to force her to watch it. I don't really care, it's just my job. And to be honest, if I hadn't been in it, maybe I wouldn't have watched it. I mean, I probably would have done, but I would have had that same 'Erm, I'm not sure if this is for me"

Furthermore, Nikolaj also talked about one of his weird interaction with his fan in an interview.
Caption: Jamies awkward interaction with his fan at a diner.
Game of Thrones, being a massive hit series and Jamie Lannister one of the admired characters, the show pays him just right helping him accumulate a net worth of $ 6 million.
Very soon he'll be back in action in the series. Don't miss having his glance on-screen; as the most awaited show is coming back on 16 July 2017.
Stay with us for emerging updates on Nikolaj Coster-Waldau.