Entertainment
Noah Reid Relationship Status Amid Heavy Gay Talks; Family Insight!
For stars who portray gay characters, it's obvious for his admirers to speculate them as one in real life as well. Many stars have gone through that, and here we're talking about another victim of the same rumor, Canadian actor Noah Reid, who is known as the titular character on the 2015 series Kevin from Work.
As far as his gay speculations go, there seems to be no truth in it as his current girlfriend dodges off every gay rumor linking Noah. Indeed, he has been romantically involved with his girlfriend which has silenced the rumors.
Well, take a look at the relationship that Noah shares with his partner.
Undying Romance With Partner - Getting Married Soon?
Noah Reid, who has won a Canadian Screen Award nomination for Best Original Song for his work in the feature film People Hold On, shares undying romance with his girlfriend.
See Also: Mike Holmes, Previously Married to Alexandra, Referred Anna As Wife: Starting a Family?
While he breaks the hearts of his admirers, his bond with his girlfriend is a relationship goal. Noah has been dating Clare Lydia Michelle who goes by Instagram name @clarelms.
It seems that the pair has been together for a long time now as they have made their relationship Instagram official and their pictures date back to a few years. Even though how they met and fell in love is still a mystery, looking at what they share, it seems that they are meant for each other.
Clare often appears in Noah's Instagram while he shows his appreciation for having her in his life.
Noah made sure to acknowledge her presence in his life during the special occasion of Clare's birthday when he posted a picture of her while sending out birthday wishes for his girlfriend.
Noah shared a black and white picture of Clare while marking her birthday. Through the caption, he appreciated Clare's presence and divulged that she makes his life better in every way possible.
He wrote,
"Happy birthday to this absolute Queen of a woman who makes my life infinitely better on a daily basis."
Adding to it, he posted a picture of his and Clare's collage picture in which they both seem to enjoy the little moments with each other while making memories.
Likewise, the couple even shares similar interests in sports. Both Noah and his girlfriend Clare enjoys baseball games often attends the live games on the stadium. Noah and Clare visited Fenway Park attending the game between Boston Red Sox and Tampa Bay Rays back on 8 September 2017.
In the meanwhile, the couple also attends formal events together. Back in March 2016, Noah and Clare attended Canadian Screen Awards together. The pair made sure to have their formal pictures taken while they posed in front of old windows stacked up on the wall.
The couple had all smiles on the picture as they posed for Vanity Fair. Through the caption, Noah revealed that the picture was taken before he faced a "graceful" loss at the Canadian Screen Awards.
Apart from it, through the Instagram posts, it has been known that the couple often jets off to their romantic getaway to a different place. The pair enjoys exploring new places while sharing each other's company.
As of recent, they went off to Portugal where made sure to spend a quality time in each other's company.
Don't Miss: Ariel Levy Story Of Fiance Turned Wife! Changed Life - Twice
Noah, who is at the age of 31, posted a picture of him with his partner on his Instagram in which Clare has her hands wrapped around Noah while Noah takes a selfie. In the picture, both of them had all smiles as they enjoyed their romantic vacation.
Through the caption, he revealed that they were having their quality time in Portugal.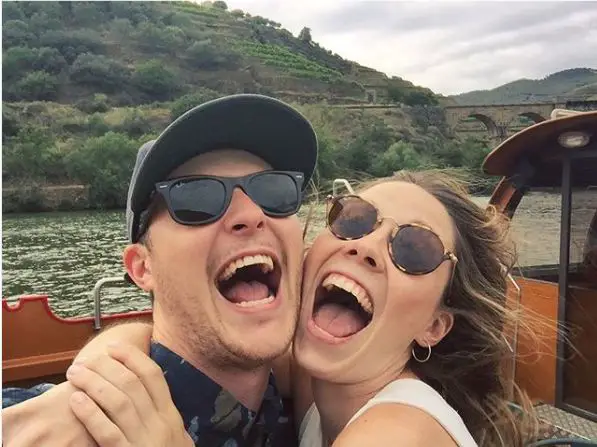 Noah Reid with his girlfriend Clare Lydia Michelle. (Photo: Noah Reid's Instagram)
Well, they sure seem a perfect couple made for each other and they might soon be taking their relationship to the next level. Clare does seem like Noah's possible wife.
However, the couple has not made any indications of their wedding and Noah has not popped the question just yet. Well, he might be waiting for a perfect time to turn his girlfriend into his wife and have a family of his own.
Onscreen Gay Relationship
While Noah is totally straight in his real life and loves his girlfriend dearly, he portrays a very different character on-screen. Noah, who appears as Patrick in the television series Schitt's Creek shares gay romance on the screen.
Patrick is involved in a serious relationship with Schitt's Creek character David Rose who is portrayed by Dan Levy. In the series they are the business partner turned lovers sharing serious romance.
Read Also: Lisa Riley & Musician Partner Soon To Get Married! Spills Future Husband Details
However, away from the on-screen portrayal, Noah made a simple gesture of sending out birthday wishes to his on-screen boyfriend. He recently posted a photo of him with Dan and wished him birthday through captions while mentioning Dan as a fake boyfriend.
Well, even though their close friendship might have raised the gay speculations, Noah's girlfriend is the only answer to all the fake rumors.