Entertainment
Perez Hilton- A Father to Two Kids Is A Weight Loss Idol! Reveals The Bars Are High For Upcoming Boyfriend
How many of you have seen your favorite celebrity spin off their weight loss body? We guess many as there are celebrities like Tia Mowry-Hardrict, Todd Starnes, and Miranda Hart. In that list, let's add another public figure, who has become the sensational weight loss idol for many – Perez Hilton.
Born as Mario Lavender Jr., Perez Hilton is an openly gay celebrity blogger, but that is just an oversimplified version of the introduction to him. However, this may come as something new to you, but this guy is already a father of two but is single. Today, we talk about Perez Hilton and what he holds most dear.
Weight loss, Not So Important?
For an overweight person, weight loss is always a big achievement, and a descending number on the scale brings a lot of joy. However, Perez, who has lost over 70 pounds or so since his 2008 commitment to lose weight, does not think it that way.
In an interview with Scale, he revealed that his weight on a scale does not matter to him. Instead, the 39 years old said,
"At my heaviest, I weighed a lot. And I don't know how much I weigh now. Those kinds of numbers don't matter to me. I don't weigh myself on a scale.What matters to me is how I look naked and how I feel. I'm looking better and better naked every day, and I feel better and better every day."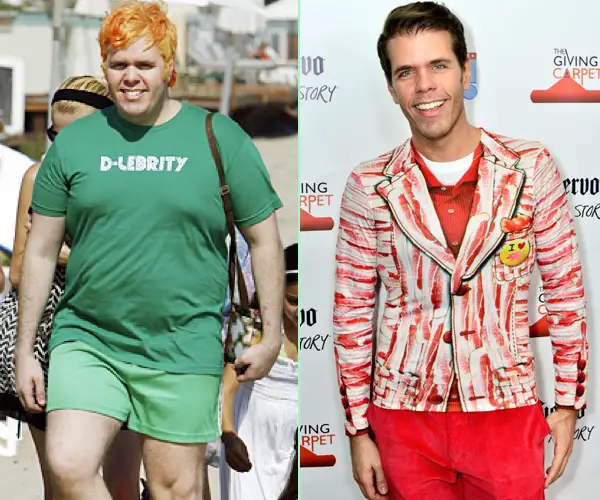 Caption: Perez Hilton before and after Weight Loss
Photo Credit: Liverampup
The self-proclaimed 'Queen of All Media' said that the secret to his weight loss was a lot of hard work in the gym, yoga and clean meal delivered to him.
When asked Perez about his plans for maintaining the weight, his answer was,
"I don't just plan to keep the weight off. I plan to continue improving. And that is by continuing to make the commitment to myself and to my health, by changing things up and continuing to put in the effort."
Related: 5 Best Foods For Weight Loss: Natural Weight Loss Diet Foods
When asked who inspired him to approach the body he has now, he answered,
"My fitness idols are definitely David Beckham and Zac Efron. My goal is to be super fit! I don't want to be big or bulky or "muscley." I want to be lean, defined, athletic, and super fit."
The father of two with that chiseling body is single, but in an interview, he shared his wish to have a family with some man.
Thoughts on getting Married?
Sources claim that Perez is a single man and now he has an undeniably sexy body. So, why the sexy Bachelor is not dating and what are his thoughts on getting married with a boyfriend?
In an interview with Huffington Post in April 2014, he opened up on dating and shared that with the arrival of the child, the bar for his potential boyfriend is raised.
"I'm not seeing anyone at the moment. But I'd like to be seeing a great man! I've definitely raised the bar for potential paramours after having a child,"
Moreover, he shared his thoughts on having a husband and said,
"I can't control when or if that will happen! I am hopeful that's in my future, but it's not a certainty."
Perez is a father to two kids, a son Mario Armando Lavandeira III, age 4, and Mia Alma Lavandeira, age 2. He welcomed both the children via surrogacy in 2013 and 2015 respectively.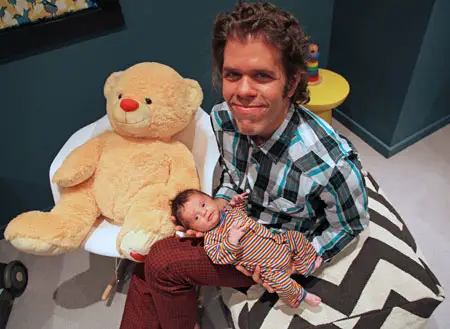 Caption: When Perez Hilton's son Mario Armando Lavandeira III Arrived in 2013!
Source: perezhilton.com
The news of Perez being a dad of a son trended on twitter for many hours.There were negative reactions too, but he was not bothered by such reactions and shared that fatherhood has changed him for good.
"I'm a lot calmer since having my son — more centered — grounded. My son is like an anchor! He's a constant reminder of what matters most! Each day gets better! That's been another surprise. How much more fun it gets with every passing day... This past year with my son has been magical."
Previously, Perez expressed his desire on having a baby and his love for kids in a 2011 book, The Boy With Pink Hair.
Well, he did say the bars were high when he was a dad to only son Mario III, but now, the bars have likely been raised higher for any man, who wishes to be his boyfriend, from the moment he welcomed daughter Mia in 2015.
Caption: "I want to have my own children," Perez Hilton. (Published on December 14, 2016)
This video shows how committed Perez is towards his family of three and his connection with children. The online sensation occasionally finds it hard to maintain time but does not stay away for more than a couple of days.
He only talks in Spanish to his kids at home, because that's how he grew with his parents and felt that tradition should be kept alive.
Perez Hilton is the founder of PerezHilton.com, one of the most popular celebrity Gossip Platform with other children websites like Perezitos, TeddyHilton, FitPerez, CocoPerez.
Moreover, he also has two radio shows and stands on a luscious net worth of $30 million.
Stay with us for the emerging updates on Perez Hilton!