Entertainment
Rory McCann Reveals If He Is Married Or Not; Already Has An Important Woman But It's Not Her Girlfriend Or Partner
A public figure's personal life is something the fans and the media are most keen to know about. After all, we love them, and we want to know as much as we can about the celebs we love.
Game of Thrones' actor Rory McCann's case is no different, as people are also keen to know if he is married and has a wife or at least has a girlfriend to accompany in his life.
He has made quite the name in the industry through the Game of Thrones alongside Sophie Turner, Emilia Clarke, Kit Harrington, Peter Dinklage, Gwendoline Christie, Natalie Dormer, Nathalie Emmanuel, Conleth Hill and many others.
But his fans are willing to know about his life beyond the screen as well. So without further ado, let's get to the facts you came here for.
The Love Life of Rory McCann: Girlfriend, Wife: Special Women In Her Life?
The love life of Rory is something that has been a thing of keen interest for the fans and the media. They wonder if the man is married, or has a girlfriend in his life.
However, Rory has not spoken much regarding his personal life, so the fact about this star's personal life remains a mystery.
However, on occasion back in 2009, he revealed that he had no partner back then.
I'm single because I move about so much that I can't really get attached. I spent the new year in Ullapool and all I was getting was "Oh my God, you're the Porage Oats man!" That doesn't really help the situation. I did better in Iceland. I lived there for a year and I'm not known there, so it was just regular. The women there are fantastic. They wear the trousers. They're the ones that point and go "Hey you. Over here!" and the men are the meek, quiet ones who are sitting there going "Who, me?" I liked that approach.
He also added,
I'd like someone quiet and not too much trouble. Someone very cuddly. Chatty, but not outspoken; I don't like loud women at all. In the business I meet some beautiful women, but to be honest, 80 per cent of them, are raving lunatics, and are to be avoided. It's just insecurity, actors are generally quite insecure. I wouldn't date, or I've never had a fling with an actress, and I'd quite like to keep it that way. But we'll see. I have the will of a flip-flop.

If I had a long-term partner, I don't think I'd be an actor. It'd be too much of a strain; you have to work too hard to balance that life with a family and a mortgage and all that stuff, it would be too much. I don't think it would be fair.
So that made people believe that the actor was not involved in any love relationships and was never married. That led to the initiation of the speculations about Rory being on the gay side, but until the actor comes forth with any confirmations, the fact remains confined to the actor himself.
However, he has explained that he had some other important women in his life, his mother and his sister.
I've got to say my mother is the most important woman in my life and not just because she is a Scotsman reader. She's my one true believer, my No 1 fan. I've always been close to her. She's been very encouraging through the ups and downs of being an actor. It's not easy because there's long periods of no work and she's always been the one trying to keep me positive. I've managed to bring her to a few premieres – she met Angelina Jolie and that made her day.
The actor continued,
My sister is also a very important person in my life. She's three years younger than me and works in the business as well, she does costumes. She did a job on Alexander with me, which was great. It's good to have a confidante. On set, we speak a secret language from childhood, so none of the other actors or directors know what we're talking about. It's very useful when you don't want others to know what you're saying.
Glad to know that the actor has a great place for his family in his heart!
Rory McCann: Sandor "The Hound" Clegane.
Rory is most famous for portraying the role of Sandor "The Hound" Clegane in the American classic Game of Thrones. Known for his fierce and ruthless character, "The Hound," Sandor is not one of the most adored characters from Game of Thrones, but he sure isn't someone who is worth missing there too.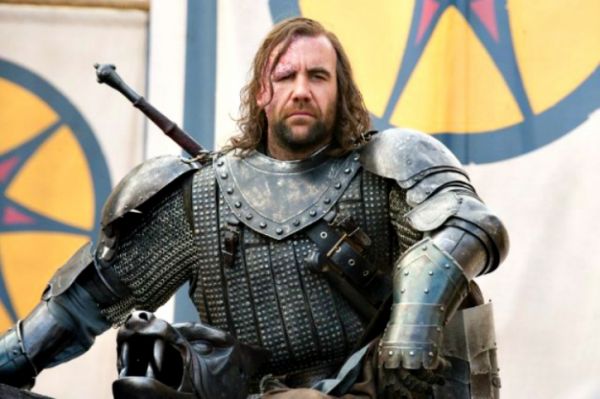 Caption: Rory McCann in the Game of Thrones as Sandor "The Hound" Clegane.
Photo Credit: indiatimes.com
Rory was confirmed in the role of The Hound back on 23 September 2009. He was first the part of the initial starring cast and also remained a member of the starring cast for the 2nd, 3rd and 4th seasons before taking a break during Game of Thrones' 5th season.
The main reason behind that was due to his character allegedly dying on the show, but he reappeared in the 6th season to redeem the role of "The Hound."
Caption: An Uncut Thronecast Interview Game Of Thrones - Rory McCann (The Hound). Published on Apr 21, 2014.
He too like his other cast mates has not revealed what the fans could expect from the penultimate season of the classic show so let us sit on the edge of our seats and stay hyped!
Stay with us for the latest updates on Rory McCann and Game of Thrones!