Relationships are not always blissful, and not every relationship have a happy ending. While some people cannot get over their estranged relationship, there are few people who find their way to live happily even after a broken relation.
Likewise, stand-up comedian Russel Peter has moved on from a failed marriage along with his cute little daughter. Has he found love again or is nurturing his daughter alone? Let's find it out.
Their marriage didn't even last more than two years!
On August of 2010, Russell Peters got married to Monica Diaz in Las Vegas, but their relationship couldn't last more than two years. They haven't revealed about their affair before their marriage, but it comes to know that Russell proposed his ex-wife Monica at the airport. Russell also took to his Twitter to announce his engagement news to his fans and followers.
I no longer have a girlfriend... I now have a FIANCEE!!! Love u baby!!! @MonicaNBB forever and everandeverandever....

— Russell Peters (@therealrussellp) July 11, 2010
Soon after the engagement news the couple wasted no time and tied the knot in Las Vegas.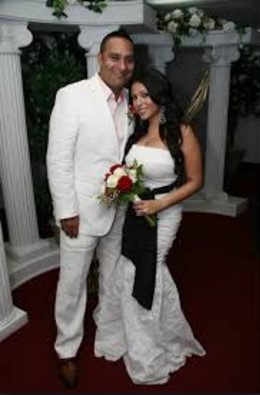 Caption: Russell Peter tied the knot with Monica Diaz in Las Vegas in August of 2010.
Photo Credit: langfieldentertainment.com
They together have a daughter named Crystianna Marie Peters born on December 2010. Crystianna Marie Peters has now turned six years old.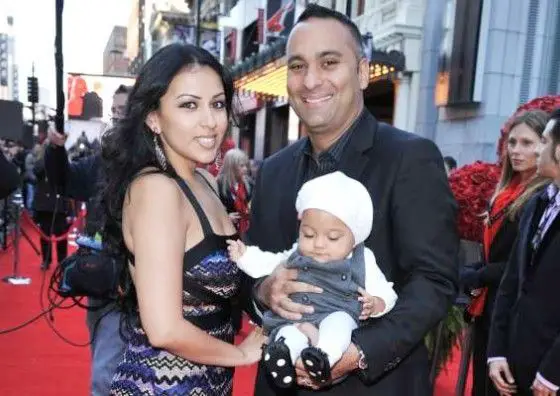 Caption: Russell Peter with his ex-wife Monica Diaz and daughter Crystianna Marie Peters attends the 2011 Canada Walk of Fame.
Photo credit: divorcedebbie.com
The newly married couple was certainly happy until they realized the difference between them. The couple had a divorce in 2012 with no hard feelings.
While promoting Russell's Notorious World Tour in an interview, he said that the divorce was a decent breakup and there were no hard feelings, in his statement he said;
"It was actually a decent breakup. There were no hard feelings,"
he added;
"We just realized we rushed in and didn't know each other and when we got to know each other we were kind of like, 'Hmm, I don't think this is going to work out for the rest of our lives.' And I didn't want to wait until my daughter was older and got used to seeing us together and really mess with her head."
moreover, he said;
"I said, 'We should probably do it now before the baby understands anything, and then all the baby knows is mommy and daddy apart, but she knows that when mommy and daddy see each other, there's no animosity and that, 'Daddy loves you and mommy loves you and that's the bottom line."
They eventually found out that there was no love between them to last their marriage longer. Russell and Monica decided to get separated as they knew that having a child together wasn't a strong reason to stay married, so they parted their individual way with a mutual decision.
Moved on from a failed marriage:
Russell has already moved on from his failed marriage and is nurturing his daughter alone. It seems that he has left behind his past affair and is spending quality time with his daughter.
Russell who loves his daughter to the moon and back has found love again. In September last year, he got engaged to his girlfriend, Ruzanna. He shared the news about his engagement with ET Canada. He explained it while laughing-
"I was naked. Just about to go to bed and I just got on both knees because one knee hurt"
He was then asked about his plannings of getting married to Ruzanna where he jokingly replied-
"Oh no rush, I still got a bunch of side chicks I got to get through."
Russell gifted Ruzanna a 4.25 carat diamond ring made by Mark Lash. Talking about the ring he said;
"Mark Lash made this giant ring, It's a 4.25 carat diamond with four lobster claws holding the diamond in place because [Ruzanna] & I are big 'Friends' fans and there's that whole thing that lobsters mate forever…"
Caption: Russell reveals that he is engaged to Ruzanna in an interview with ETcanda.
Video credit: etcanada.com
Russell, who is in mid-forties, has already established himself as one of the successful stand-up comedians. He has not only gained popularity but also has been receiving an incredible salary from his profession. Through many shows and tours, he has been able to accumulate the net worth of $40 million. He had also received a Gemini Award in back in 2008.
#Canadian comedian
#Monica Diaz
#Crystianna Marie
#Ruzanna
---