Entertainment
Russell Peters Moved On From Failed Married Life While Accompanied By Baby Daughter
Canadian stand-up comedian of Indian descent, Russell Peter has moved on from a failed marriage and is upbringing his cute little daughter.
Has he found love again, or is he nurturing his daughter alone? Let's find it out.
Russell Peters Moves On Post Divorce
Russell, who is famous for his comedy shows/albums such as 'Notorious,' 'Almost Famous,' 'The Green Tour' and 'Outsourced,' has already moved on from his failed marriage.
It seems that Russell Peter has jilted his past affair and is spending quality time with his daughter and his new fiancee.
Russell Peters and his ex-wife Monica Diaz, together have a daughter named Crystianna Marie Peters, who was born in December 2010. Crystianna turned seven years old on 14 December 2017.
The Ontario-native comedian is nurturing his daughter amicably with ex-wife Monica Diaz.
Russell Peters wishes his daughter a warm "Happy Birthday" on 14 December 2017
Russell, who loves his daughter to the moon and back, found love again after his amicable divorce with Monica Diaz.
In September 2016, the Canadian stand-up comedian whose comedic style cynosures stereotypes converged observational comedy, got engaged to his girlfriend, Ruzanna Khetchian.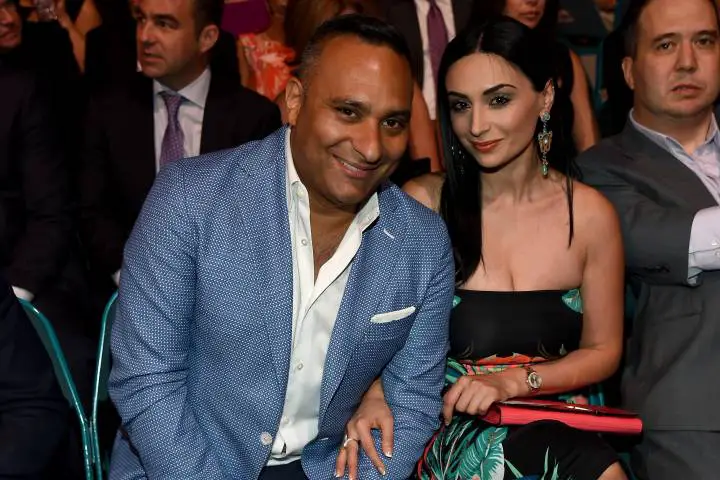 Russell Peters attends 2015 NHL Awards with then-girlfriend Ruzanna Khetchian (Global News)
He first shared the news about his engagement to ET Canada in September 2016. He explained it while laughing:
"I was naked. Just about to go to bed and I just got on both knees because one knee hurt"
He was then asked about his marriage plans to Ruzanna. He answered the question with sarcasm. He said: :
"Oh no rush, I still got a bunch of side chicks I got to get through."
Russell gifted Ruzanna a Mark Lash-made 4.25-carat diamond ring. Talking about the ring, he said:
"Mark Lash made this giant ring, It's a 4.25 carat diamond with four lobster claws holding the diamond in place because [Ruzanna] & I are big 'Friends' fans and there's that whole thing that lobsters mate forever…"
Here's the grand ring.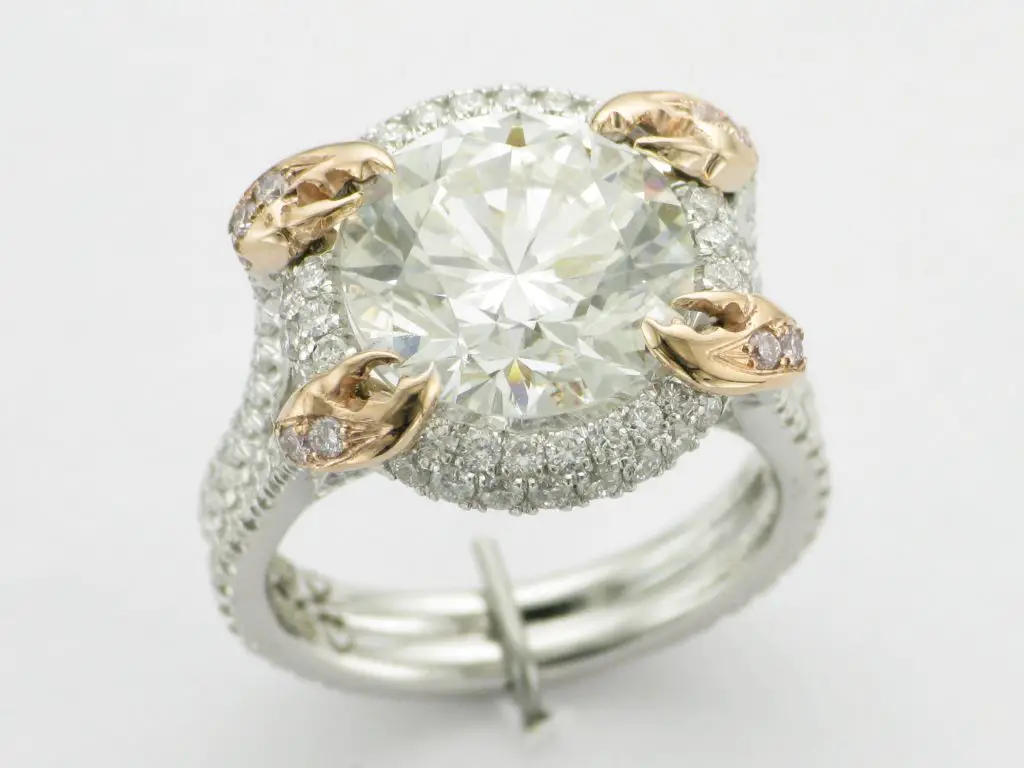 Photo: Comedian/actor Russell Peters gifts Mark Lash-made grand ring to Ruzanna Khetchian in their engagement (marklash.com)
Here's Russell's interview with ET Canada's Sangita Patel. In the interview, Russell can be seen sharing the exclusive news to the network.
Russell reveals that he is engaged to Ruzanna in an interview with ETcanda (etcanada.com)
The couple has been engaged for almost two years now, and their fans are eagerly waiting for Ruzanna to be his wife. Neither Russell not Ruzanna has confronted anything on the matter.
But he did get a new lavish mansion for a whopping amount of $6,450,000 in Hidden Hills, California after he got engaged with Ruzanna.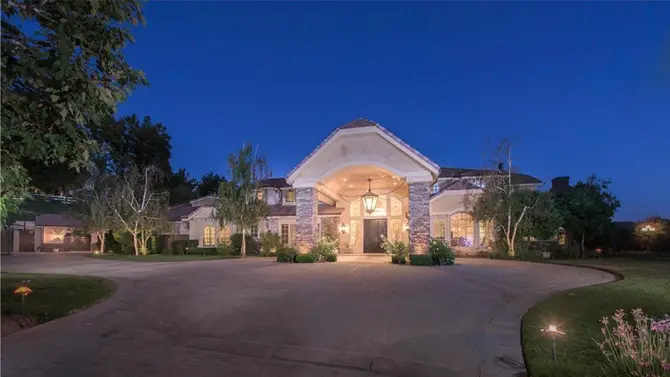 Russel Peters' new mansion in California (Variety.com)
Previously, Russell used to live with his ex-wife and daughter in a Woodland Hills home, which they bought for $1.46 million back in 2012. Nevertheless, the record-breaking comedian also owns a Malibu estate currently priced at $8.8 million.
Apart from being engaged to Ruzanna, Russell has also witnessed new breakthroughs in his career post his divorce with Monica Diaz.
The stand-up comedian has done many show, movies, and tours since then. He seems unaffected by his amicable divorce.
Clip from stand-up comedian Russell Peters first debut album 'Outsourced' released in 2006 (Published on Nov 1, 2016)
His speculated net worth in 2015 was $40 million, according to therichest.com. In 2016, the famous comedian earned around $9 million, and in 2013, he made around $21 million, according to Forbes magazine.
Even in 2018, Russell Peters is scheduled to perform in various countries like Australia, New Zealand, Malaysia, Thailand, Hong Kong and many more.
Stand-up comedian, Russell Peters' event, gets sold out in February 2018
Also in 2018, the Canadian humorist portrayed a notable role in the American comedy movie 'The Clapper.' Previously in 2017, he enjoyed the opportunity to lead the Canadian drama series "The Indian Detective', portraying the major character Douglas D'Mello, a police officer from Toronto enmeshed in a murder investigation in a foreign land.
Heretic comedian Russell Peters portrays constable Dout D'Mello in 'The Indian Detective' in 2017 (Published on Nov 11, 2017)
Currently, comedian Russell Peters is busy touring for his 'Deported World Tour.'
The comedian turned actor has also appeared in various movies such as 'Chef' and 'The Jungle Book,' and tv shows such as 'Family Guy' and 'Lopez Tonight.'
Nevertheless, the Canadian humorist has also won a handful awards, including '26th Annual Gemini Award' and '2009 Juno Awards.'
Russell Peters' First Wife, Divorce, Past Affairs
In August 2010, Russell Peters got married to his girlfriend turned fiancee Monica Diaz at 'A Little White Wedding Chapel' located in Las Vegas, but their relationship couldn't last more than two years. Russell had previously proposed Monica at an airport.
The wedding witnessed about 20 guests, including an Elvis impersonator. Soon after the wedding, the comedian revealed to The Canadian Press that his wife Monica was pregnant, humorously stating:
"Did I get married because she was knocked up? I would say that expedited it."
Earlier on 11 July 2010, Russell took to Twitter to announce his engagement news to his fans.
I no longer have a girlfriend... I now have a FIANCEE!!! Love u baby!!! @MonicaNBB forever and everandeverandever....

— Russell Peters (@therealrussellp) July 11, 2010
Soon after their engagement, Russell and Monica wasted no time and tied the knot in Las Vegas.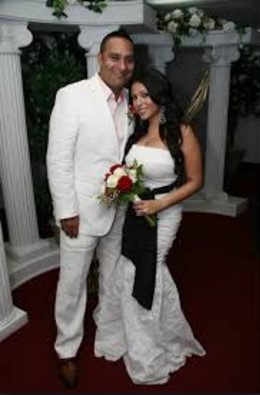 Russell Peters marries Monica Diaz in Las Vegas in August 2010 (langfieldentertainment.com)
The newly married couple remained together until they realized the difference between them. The couple divorced in 2012 with no hard feelings.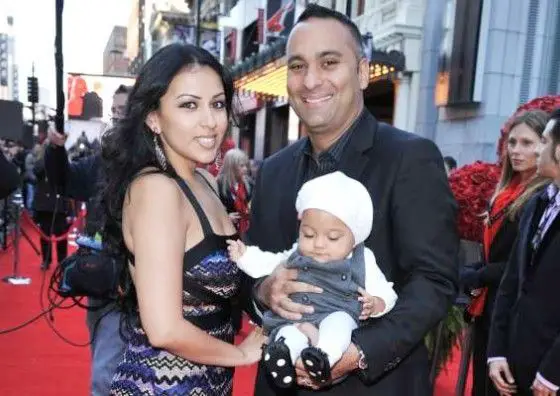 Russell Peters with his then-wife Monica Diaz and daughter Crystianna Marie Peters attends the 2011 Canada Walk of Fame (divorcedebbie.com)
In an interview with Canadian Press in June 2012, Russell emphasized that the divorce was a decent one. He said:
"It was actually a decent breakup. There were no hard feelings"
He added:
"We just realized we rushed in and didn't know each other and when we got to know each other we were kind of like, 'Hmm, I don't think this is going to work out for the rest of our lives.' And I didn't want to wait until my daughter was older and got used to seeing us together and really mess with her head."
Moreover, Russell said:
"I said, 'We should probably do it now before the baby understands anything, and then all the baby knows is mommy and daddy apart, but she knows that when mommy and daddy see each other, there's no animosity and that, 'Daddy loves you and mommy loves you and that's the bottom line."
They eventually found out that there was no love between them to last their marriage longer.
Russell and Monica decided to get separated as they knew that having a child together wasn't a strong reason to stay married, so they parted their way through a mutual decision.
The comedian shared a funny thought about his divorce, talking to gulfnews.com in March 2012.
"All the money I saved on the wedding I'm spending on the divorce,"
Short Fling With Adult Artist Turned Actress
In 2014, talking to Hindustan Times, Bollywood actress Sunny Leone, a former adult artist, revealed for the first time about her experience dating her long-time friend Russell Peters. She said:
"You know, we were friends for such a long time and sometimes if you are friends for so long you think you can end up together. So we dated each other for some time, but I think that was a mistake"
A long time ago, before 2012, Russell dated Sunny Leone, who has been active in Bollywood since 2008.
Bollywood actress Sunny Leone regrets dating her long-time friend, Russell Peters, an international comedian (Published on Jun 3, 2014)
One of the prominent comedians in the country, Russell Peters is famous for his funny punch lines such as "Somebody gonna get a hurt real bad," and "Be a man! do the right thing!"