Entertainment
Sam Role Pregnant With Boyfriend-Turned-Fiance! Engaged & Waiting For Baby
You might have watched reality star Sam Role in the show, The Married at First Sight. Many of her fans have even praised and sought to see her again in some reality show. Her fans even witnessed her getting married in the show and getting emotional for the broken relationship on season 3 of the dating show.
But tables have turned now, and she has a love filled life with whom she is engaged. Well, alongside her engagement news, another good news of pregnancy came knocking the doors. So, if you are wondering about her personal life, after the end of the show, then keep reading!
Sam Role Expecting Baby With Fiance
The consultant Sam Role, who is 32 years of age, got engaged to her analyst boyfriend, Chris Wise, in January. They dated for almost a year, and Chris took their relationship a step further with the proposal over the weekend of his birthday this year. Sam took to Instagram to share her engagement news with a caption that says,
"I flew to #ATL this weekend to celebrate @chrisw1687 birthday. Not only did I get to spend time with him, but HE PROPOSED! #ISaidYes❤️#SoonToBeMrsWise #2018Engagement"
Sam explained that being pregnant is one of the best experiences she has ever had. Further, Sam explained that they are overjoyed and cannot wait to see what the future holds for them.
"Just being able to have this experience and create something so amazing with the man I love is all I ever wanted. We are both so overjoyed and cannot wait to see what the future holds."
Sam is already four months into her pregnancy, so it sounds like they were pregnant before they got engaged. She confirmed the news and said,
"I was very excited to find out I was pregnant. I wasn't sure if it was going to be possible since I was diagnosed with endometriosis when I was younger."
The reality star uploaded the picture showing her baby bump with his fiance, Chris where the joy of soon to be parents is visible.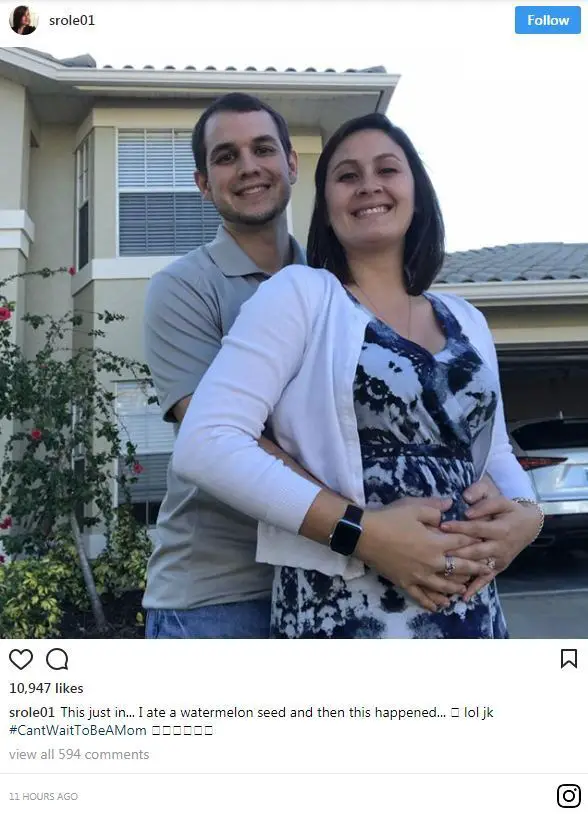 Sam Role with fiance, Chris Wise (Sam Role's Facebook)
Sam, who grew up into the military family, took "six pregnancy tests and then two more a few days after" to re-confirm the happy news, which is "the most amazing dream come true," she shared.
The engaged couple has not yet determined the sex of their baby yet but has already thought names. Sam revealed that they really want a little boy and would not be disappointed to have a little girl. She further added that,
"All that really matters is that the baby is happy and healthy."
Previously, Sam got married to Neil Bowlus in 2015 after meeting on a reality show, but Neil ultimately chose divorce during the season 3 Decision Day episode in 2016. Even after their split on season three of Lifetime's hit show, she has stayed friendly with her ex-husband Neil Bowlus.
Moreover, after the news of Sam's pregnancy circulated, Neil congratulated the expectant mother, proving there are no hard feelings between them after their split.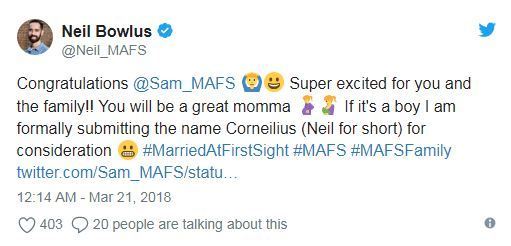 Sam Role's ex-husband, Neil Bowlus tweet after the news of Sam's pregnancy (Neil Bowlus' Twitter)
Though the things were not right between Sam and Neil, she in good terms with her ex-husband.
Although she had declared that she is going to tie the knot with Chris soon, they are yet to make a wedding announcement!