Entertainment
Singer Dolly Parton Was Awarded Lifetime Achievement At CMA Awards: Her Husband Must Be So Proud!
It makes our beloved one more happy in our achievement. Same might be the situation with Carl Dean, husband of country star, Dolly Parton. After all the contribution and hard work that she has given to the music industry, she achieved 'lifetime achievement award.'
On the 50th annual CMA award held in the arena of Nashville, Bridgestone on 2 November 2016, it added another monumental achievement to Dolly Parton's impressive year. At the age of 70, she got honored with the Willie Nelson lifetime achievement award. So who else would be happier in this achievement of hers than her husband, Carl Dean.
Dolly Parton awarded lifetime achievement award: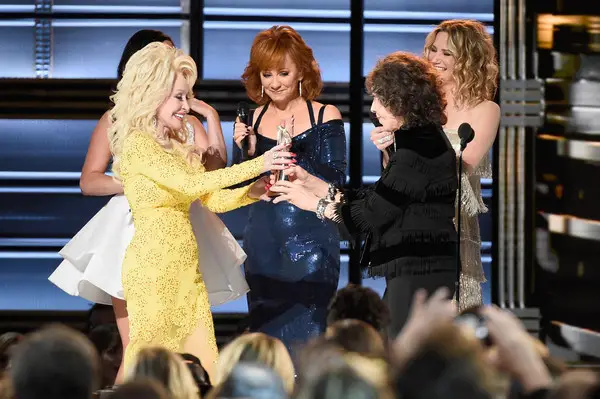 Caption: Dolly Parton seemed satisfied after receiving "Willie Nelson Lifetime Achievement Award." on November 2, 2016.
Source: zimbio.com
November 2, 2016, was a day of pardon. She got honored by getting tributes from stars who were singing her lifetime big hits. One of the catchy performance was a beautiful version of "Jolene" by Pentatonix which was further joined by Reba MnEntire singing "9 to5, " and Kacey Musgraves performed "here I come again" with equally memorable performances. The limelight was stolen United performances of the Carrie Underwood and Martina McBride sang "I Will Always Love You."
Before going to CMA, Parton Twitted.
There's electricity in the air tonight.... or maybe that's just all these rhinestones on my gown! #CMAawards50

— Dolly Parton (@DollyParton) November 2, 2016
She received the award from her "9 to 5" co-star Lily Tomlin who presented the award saying "one of the greatest artists in the history of country music."
Caption: Dolly Parton Reacts to Winning CMA Willie Nelson Lifetime Achievement Award on November 2, 2016.
After all, we all were waiting for her tweet after the achievement, and she did.
A BIG thanks to all who participated in and worked hard on that beautiful tribute tonight. It was absolutely wonderful #CMAawards50

— Dolly Parton (@DollyParton) November 3, 2016
Family Issues and Children:
Parton after completing her high school moved to Nashville. In Nashville, she met her love of life, Carl Dean. She got married to Dean at the age of 21.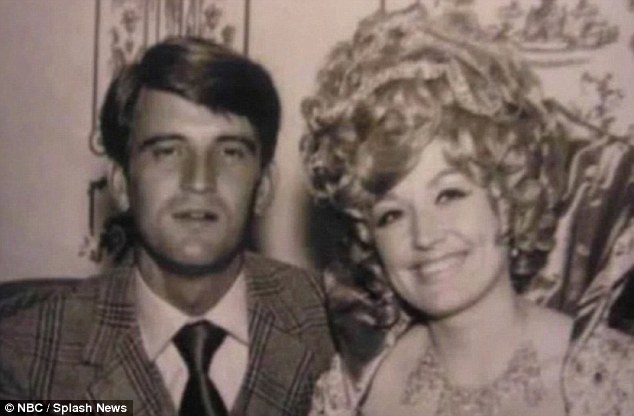 Caption: A very rare picture of Dolly Parton with her husband, Carl Dean.
Source: dailymail.co.uk
Parton did have many supposed rumors with everyone Sylvester Stallon and Burt Reynolds to Judy Ogle, her assistant, nd best friend. In an interview with Dailymail, on 8 January 2014 she openly shared
"I love to flirt, and I've never met a man I didn't like."And of course, Carl have been very well-known about all these.
All we can say is, 'trust and understanding' are the strong pillar which has made their married life running smoothly.
After the 50 years of marriage, the couple doesn't have any children. On the very topic relating her siblings and children, the country star told People magazine in September 2016, where she said;
"I grew up in a big family with eight kids younger than me, And several of my brothers and sisters came to live with me early on in my life.I've loved their kids just like they are my grandkids, and now I've got great grand-kids." She added,"I often think, it just wasn't meant for me to have kids, o everybody's kids is my kid."
She mentioned,
"I think kids relate to me because they think of me like a mother goose or fairy- godmother.",
she further added;
"I'm like a cartoon character my voice is little, and I'm an excitable person like them!I'm very childlike in that way, in nature."
No matter what, Dolly Parton keeps us surprising and again she did. She published a book for children which shows her love towards all the kids.
From this, we can figure this out that this country star is okay with not having her own kids as she is the Godmother of her grandkids and great grandkids.
Her Diet Plan!
It is not surprising to know Parton is quite of a diet follower. But it is when her diet is also known after her name as 'Dolly Parton Diet.' She prefers cabbage-soup as her diet which is called 'Dolly Parton Diet.'
She does have an interesting and precise Contrast choice particularly in the world of dieting. She does that seven days of a week which consists of two parts.
The first one consists of eating an ample amount of particular cabbage soup every day and second part involves eating specified foods each day of a week.
To look young Parton openly admits to having had multiple plastic surgeries.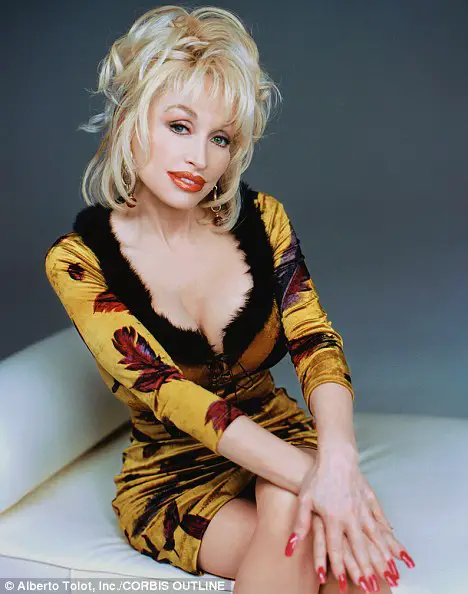 Caption: Parton is looking fit and stunningly beautiful.
Source: dailymail.co.uk
Well, it doesn't matter what she chooses for her maintained zero-sized figure because all we got is a 70 years old, Evergreen Young, Dolly Parton who always surprises us with her stunning looks.
Her Tour Plan!
Parton's project for 2016 is "Pure and Simple."She has got her tour scheduled now. For further detail, you can login her official site dollyparton.com.
On her site, Parton has happily compiled,
"We're so excited to go out there and see the fans again.I'm already looking forward to singing songs the fans have not heard in a while,as well as the hits,while debuting a few new ones off Pure & Simple."
From this, we can jump on to the conclusion that she is as excited as her fan for her awaited performance.
Caption: Dolly Parton was playing saxophone during her performance on may, 2016.
Source: pinterest.com
With all her incredible work Parton is now known as Country singer, songwriter and not only that an author and an actress.She has served music industry fo five decades which has led her to the Willie Nelson Life Time Achievement Award.An ovation to her hard work which gave her immense success.