Entertainment
Slade Smiley's Wiki-Like Bio! Son Holding Him Back To Get Married With Gretchen Rossi?
It's proving to be a long wait of four years for Slade Smiley and the Real Housewives of Orange County star Gretchen Rossi. Astonishingly, their wait is not over yet!
Yes, the engaged couple has yet to fulfill their wedding dream, as their marriage date still seems invisible on the calendar.
Gretchen made a fantastic engagement proposal to Slade Smiley in April 2013, but its fragrance started fading out slowly due to their issues. So, what are the reasons to hold the couple this long? Are they planning something engrossing which is taking them this long? Let's find out!
Do The Couple Hold Any Intent Or Goal For The Future?
Slade and Gretchen started their relationship in 2009, got engaged in 2013 and completed their eight years of being together earlier this year in February. Conversely, they still lack the joy of being together as husband and wife.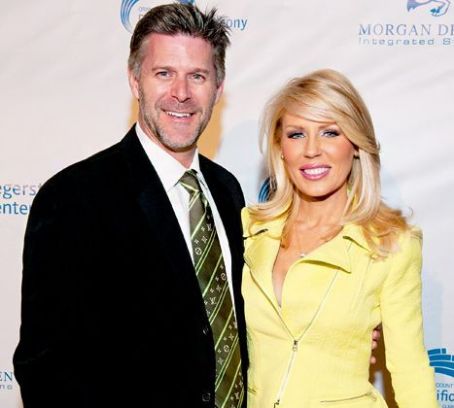 Caption: Slade strikes a pose with his fiancee Gretchen.
Photo Credit: whosdatedwho.com
The couple didn't short any plan, but they did schedule a beautiful future for them by starting with a child of their own.
Gretchen told People:
"Really, the thing that ultimately held us back from pulling the trigger is the fact that Slade and I don't do anything really small; we kind of do things over-the-top and a little snazzy. Right now, our focus is really on trying to have a baby of our own, and our money and our stuff is going towards that and towards his son."
She further explained:
"Until we kind of get some of those things figured out, I think it doesn't feel right to spend $200,000 on a wedding right this minute. I think that's why we're at that place."
However, the actual reason behind their delayed plan is Slade's teenage son Grayson Smiley, who is battling cancer since 2009. Grayson, who was born on May 16, 2000, is one of the two sons from Slade and his previous relationship, Michelle Arroyo.
The child faced a near to dead condition in the year 2015 when he had multiple complications, one after the another.
Gavin Smiley is the elder son of Slade and Michelle.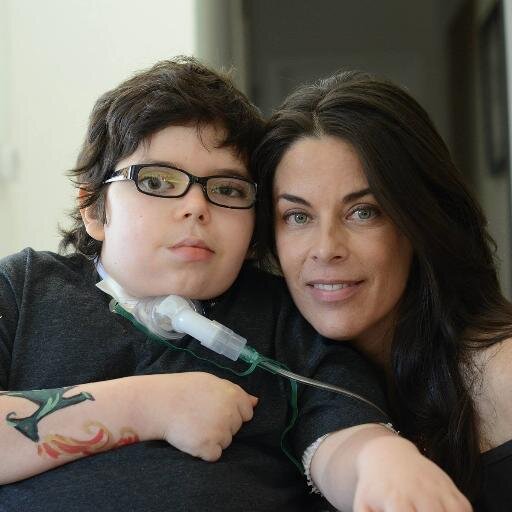 Caption: Michelle Arroyo with her ailing son, Grayson Smiley.
Photo Credit: Twitter
Slade's expenses are all in the treatment of his younger son who is having a terrible moment of his life.
Slade confronted the media and told People:
"I am happy to be in debt as long as Grayson gets to stay here with us."
It's not only Slade, but The Talbert Family Foundation is also offering its help for the child to recover from the disease.
With the delay of the marriage, Gretchen tried to calm the situation and added:
"The truth is that Slade and I already feel married and we're in a very committed relationship as if we were married, and so it's not something that we feel like we have to have a marriage certificate to qualify our love for each other."
Slade and his Gretchen are awaiting the very day to get married while their plans remain unchanged. We pray for the speedy recovery of Grayson and wish the couple to complete the family very soon.
A Short Wiki-Like Bio Of Slade Smiley:
Slade Smiley was born on October 29, 1973, in Oakland Naval Hospital, California. He is an American reality TV personality, who gained fame with his appearances in the Real Housewives of Orange County show.
Slade had an amazing childhood. He is an artist from his childhood days, as he used to participate in musical events as well as dramas in his school life. He also had his interests developed for athletics and performed in skiing, track & field, and cycling.
We even saw his recognizable participation in the Olympic Training Center and 2003 Tour De France. Later, he moved to Southern California in 1993 and started searching his career in modeling and TV commercials and out came as a successful model.
He then began advertising for the popular brands like Adidas, Gillette, Volkswagen, Gatorade & Milk which made him a TV-famous person. Moreover, he appeared on the popular show called RHOC in 2005.
Apart from the field of entertainment, he is also the CEO of a company that he named after his younger son, and it's called Grayson Entertainment. With all his hard work in the entertainment sector and business field, Slade has been able to accumulate the net worth of $100 thousand.