Entertainment
Sophie Lui Has a Boyfriend, Married?: Profession's Hectic Schedule
Life has always been full of hectic schedules for Sophie Lui, the previous co-anchor at Global BC morning news. She has somehow managed to encompass her professional hectics and live with it these days. Does she have a family to look after or boyfriend to attend? Is she single or married? Let's come to that.
Married Life, Boyfriend, and Dating?
Well! It may be a heart-breaking news for most of us who like her. She is married, has a husband and not readily available on the market for now. According to a source, Sophie got married to a sports anchor of New VI, Jason Pires @jason on July 2, 2005. There is also another source that gives us a hint of her marriage. And yes! She doesn't have any children.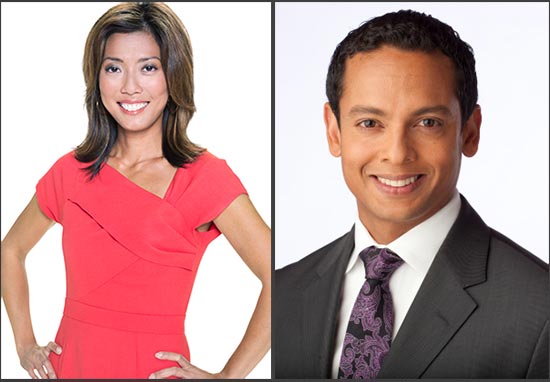 Caption: Sophie Lui and Jason Pires are married to each other.
Source: liverampup.com
Profession: Busy Indeed:
She had a lot to do when she was in BC morning news. You will be amazed how somebody can bring a balanced approach to get their things done in a proper manner. She used to sets her alarm at 2:30 and be prepared for her day-job earlier. From allocating less time for sleep and gym to hurrying while swimming without getting anything late, it was indeed a hectic task that she carried out.
In an interview with CAROL CRENNA on June 21, 2014, she had explained how she had managed to do all.
Well! The situation has changed for now, and she doesn't have to get her alarm checked at 2:30 because she works in broad daylight now. She currently co-anchors the Global News Hour at 6, at 10 and 11 along with Jay Durant. Even though her personal passion for fitness, community involvement and much more have not changed, she still has a hectic schedule, but it is comfortable and manageable now.
Have a look at her working part of the day from her Instagram
"I wish I had more time for living! There's a lot I would love to try. I wish I had more time to travel and to work on stories." She said.
Sophie is a Vancouver native. She received a diploma in broadcast radio from the British Columbia Institute of Technology. She has been in the news delivering occupation since 1998 which sums up to be more than 18 years. Swimming, exercises, and community involvements are her hobbies.
Sophie Lui is also an actress, known for her cast in Repeaters (2010), The Company You Keep (2012) and The Client List (2010) in the role of a news person or reporter. She currently works as a co-anchor of Global News.
In the process of knowing more about Sophie Lui, we came to know that she is a fitness enthusiast who likes to work out and keep herself in proper shape. Along with working out, Sophie is also into cycling.
However, in July while cycling with her husband Jason Pires, they met with an accident and apparently Sophie fractured her left hand but it did not stop her from working out at the gym.