News
Danica Patrick's Past Married Life With Husband That Ended In Divorce; The Bad Luck Still Following Her In Dating Affairs?
How good is it when you have someone of the same profession and understands you in a way that no one does? Many couples work together in the office, but there are only a few couples who work at screaming racecars at 200 mph. That's the pair of Danica Patrick and boyfriend, Ricky Stenhouse Jr.
But how well do you know the car racer's past relationships? Is she carrying bad luck in her relationships?
A perfect relationship!
One of the power couples of NASCAR, Danica Patrick, and Rickey Stenhouse Jr have been in a relationship as the couple started dating in 2013.
Although they've had their ups and downs in relationships, they've made an effort to work on their relationship and made it strong amid how they perform on the track.
Patrick during an interview on February 29, 2016, arranged by sponsor Aspen Dental, said;
"When someone has a good day and someone has a bad day, usually the bad day takes over. I feel like last year we really made a big effort to celebrate the good days more so than come down to the misery level of the other person. We made an effort to do that. It made a big difference."
33-year old in age, Patrick and her 28-year old boyfriend Ricky Stenhouse Jr. "understand each other," as per Danica. She added:
"Other than a few rare scenarios with other people that are involved in racing, that are both racecar drivers, yes, it would be very challenging for anyone else to understand each other like we do,"
Divorced with her husband!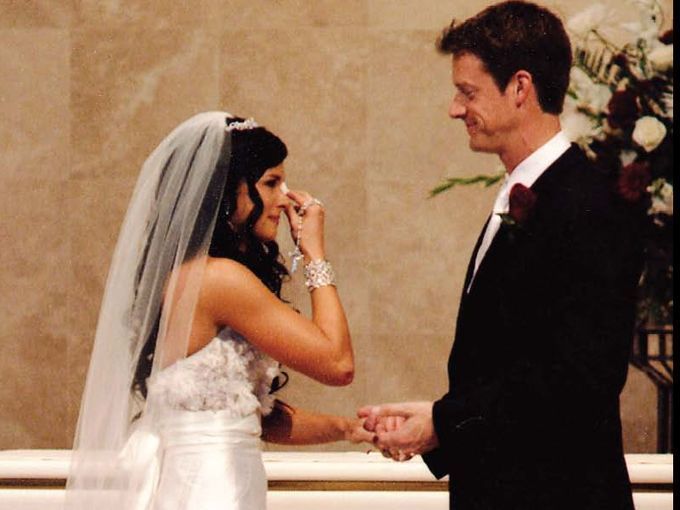 Caption: Danica Patrick wed Paul Hospenthal on November 19, 2005.
Photo credit: divorcedebbie.com
NASCAR driver Danica Patrick had filed a divorce on January 3, 2013, in Arizona's Superior Court of Maricopa County to end her marital status with husband, Paul Hospenthal. Patrick stated in her petition:
"My marriage is irretrievably broken and there is no reasonable prospect of reconciliation,"
Caption: Danica Patrick revealed that she and her husband Paul who were married for seven years announced that they called it off and are divorcing.
Patrick announced news of their divorce on Facebook on Nov. 20 which is just one day after their anniversary that she was divorcing Hospenthal, the guy who she married in 2005.
She met Paul Hospenthal, who is a physical therapist when she was treating an injury and is seventeen years older than her. The divorce was finalized on April 17.
Danica has been in a relationship with two males, and on that ground, it is clear that she is not Lesbian. CNN also confirmed the news on 2013 stating that Patrick is not lesbian. Being an American auto racing driver, model as well as advertising spokeswoman, she has an estimated net worth of $18 million.