News
Louis Eisner Dating Ashley Olsen At Age 30 | Sparks Romance Rumors
Fashion photographer and fashion designer are "fabricating" threads of love!
American artist Louis Eisner, known for his work as photographer fashion industry, is reportedly dating his girlfriend Ashley Olsen, the former actress who owns her own business empire along with her twin sister.
You May Also Like: Dave Rienzi Wiki: 5 Facts of The 33 Years Old Married To Ex-Wife of 'The Rock'
The couple has been rumored to be dating while they took a walk around arm-in-arm in Los Angeles on 28 August. The Sherman Oaks, Los Angeles native looked comfortably cozy in Louis' arms as they spend quality time together.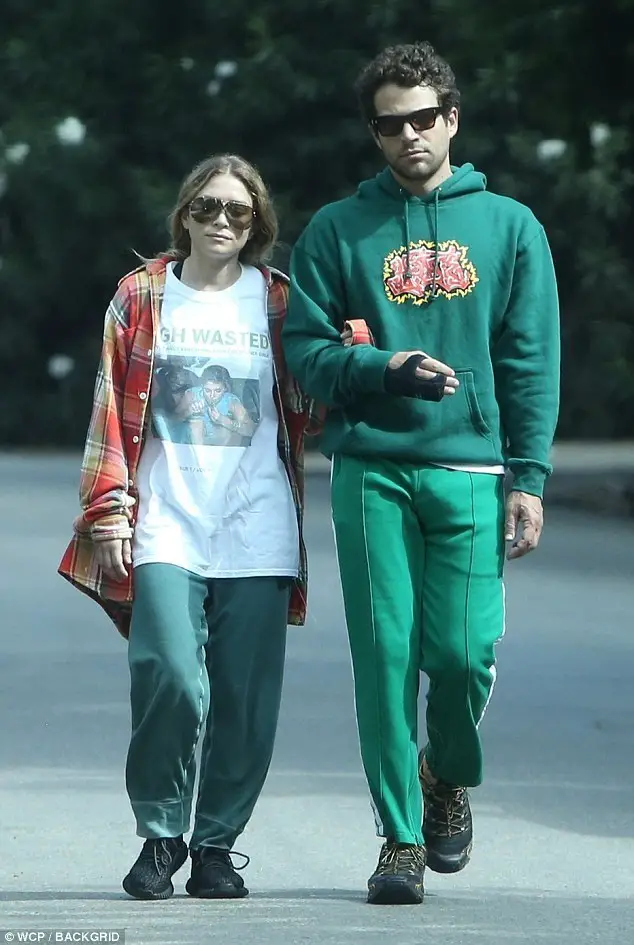 Louis Eisner strolling in Los Angeles with girlfriend Ashley Oslen. (Photo: dailymail.co.uk)
Loius appeared with his girlfriend in a casual wear with a green hoodie that had a red and yellow graffiti printed on the chest matching it with green track pants. As for Ashely, she had a major change in her outfits far different from her usual jeans, blazers and kitten heels.
The Full House star stepped out in a sporting looks as she wore a white T-shirt that had a photo of a man and a woman smoking marijuana. The t-shirt had the words "high wasted" and "style and fashion magazine for stoner girls" printed on it.
Don't Miss: Sophie Flack & Husband Reveals Daughter, Second Child A Bliss - Details!
She paired the t-shirt with orange flannel along with baggy turquoise sweatpants. Ashley accessorized the look with large aviator sunglasses and black Yeezy sneakers while having her blonde hair tied up.
The pair looked comfortable in each other's company. As reported by the source at E! News, Louis had his arms around her all the time and they were talking along as they strolled around the famous residential area.
The source said,
"seemed very comfortable with each other. Eisner had his arm around her and they were talking the whole time."
The PDA-filled walk was the first time the pair was witnessed sharing romance in the public since their romance rumors surfaced the media back in October. Louis and Ashley were last seen in each other's company back in June when the pair had a night out in Mayfair, London, sharing a dinner date.
Adding to it, some sources have even revealed that Ashely is considering relocating to Los Angeles which in theory would mean that Ashely would be closer to Louis.
However, Ashley and Louis still seem to prefer their relationship at the bay for their fans as for months they have been able to keep their romance off the radar since they were first seen in October 2017.
The couple was spotted at Hammer Museum's Gala in the Garden in Los Angeles. Adding to it, it has also been reported that last month in July Ashely celebrated his birthday right by each other's side.
See Also: Eric Andre Is Dating - Again! Meet Beautiful 'Big-Eyed' Girlfriend​​​​​​​
Before the beginning of Louis and Ashley's relationship rumors, the New York Minute star was linked to financier Richard Sachs. They ended things back in March 2017 as Ashley revealed that she wanted to focus on her clothing line.
Well, Ashley has finally broken the row of dating men older than her age as she finally found someone who shares a similar age frame.