Bradley Whitford is an American film and television actor who has been known for his hard work and classic portrayal of his roles in his projects. He has been able to win over hearts of plenty around the globe and that shows his work progress. But people also know that he was once married and is now divorced. So let us take a stroll past his personal life and what he is up to now.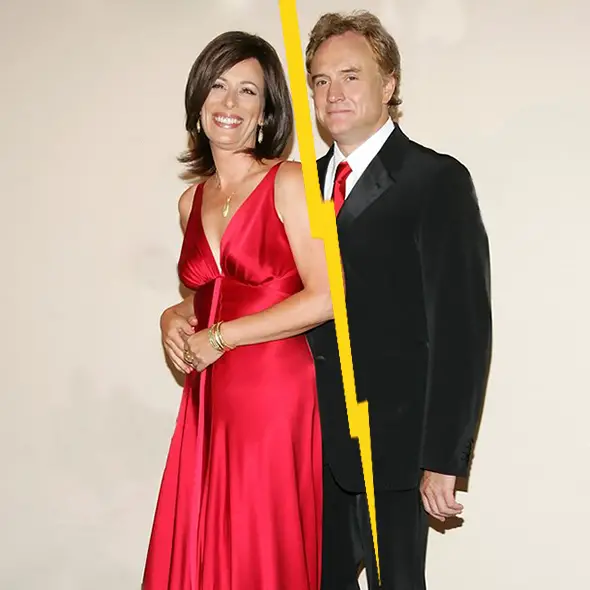 Bradley Whitford, an American film/television actor, is best known for his hard work and classic portrayal of his roles in his various projects. He has been able to win over hearts of plenty around the globe, and that shows his work progress. 
But people also know that he was once married and divorced. So, let us take a stroll past his personal life and what he is up to now. 
Married Life Disrupted; Divorced Wife Of 17 Years
Every fan of Bradley must know a fact for sure that he was once married to fellow American actress, Jane Kaczmarek. They dated for seven months after getting together in 1992 and married on 15th August 1992. 
Read Also:- Meet Lesbian Player Layshia Clarendon's Wife & Know About Her Married Life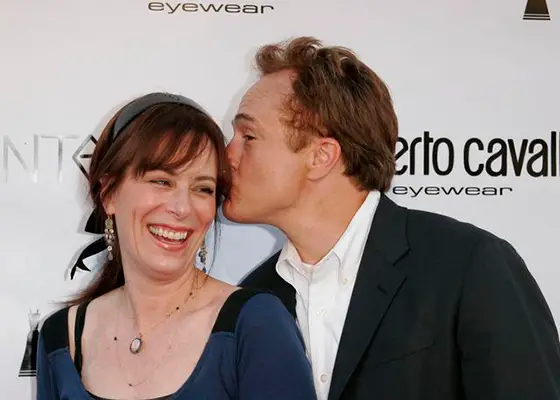 Bradley and Jane divorced after 17 long years of marriage (Photo Credit: celebitchy.com)
Seventeen years later, they divorced on 19th June 2010. The former duo has three children from their wedding, namely, Frances Genevieve, George Edward, and Mary Louisa.
Bradley and Jane's divorce came as a surprise as they were once a happily married couple. However, neither of the two have spoken on the factor that caused their separation.
 Talking about the divorce Bradley in an interview stated:-
"The best advice I have for other parents going through a divorce is... that the kids need to know that both of their parents are good people."
He also added, 
 "It's easy to set the example of kindness and love and respect when things are good. So if you can do that when things are hard, and wholeheartedly support their relationship with the other parent — you're showing them a certain kind of resiliency."
Also, Bradley's ex-wife has been rumored to have moved on in her life with someone new.
Don't Miss:- Michael Usher Is Married & Separated, Divorced Yet? Family Status Now
Life After Divorce From Ex-Wife
In case your wondering about Bradley's life post the split, you may be surprised to know that he is happier than ever.
After his divorce, Bradley started dating his Transparent costar, Amy Landecker.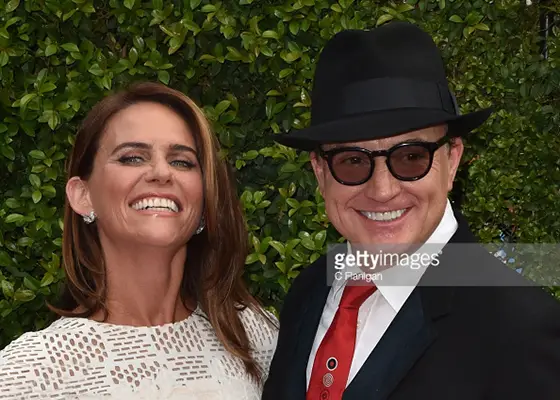 Bradley Whitford and Amy Landecker make their red carpet appearance in 2015 (Photo: gettyimages.com)
Amy and Bradley reportedly started dating in the summer of 2015. But it was neither love at first sight and nor did they meet while on the sets. Amy described it more in an interview.
"I knew Bradley for a year before we dated and I kind of thought that he seemed like a cocky actor boy and I wasn't really that interested. So I was like, 'Oh, see here it is! I didn't think and now I'm the happiest I've ever been,' "
In a separate People Interview, Bradley echoed similar sentiments. He quipped:-
"Things with Amy are spectacular. Things are wonderful. I met her last year, but we didn't start dating for a little while. I work slowly."
It seems that now they are happy with each other's presence in their lives. However, Amy and Bradley are always keen on keeping their relationships to themselves and not flaunt it as much as they can in front of the fans and media.
Married, Eloped With Long-time Girlfriend
And that's just what happened!
Interesting:- Reece Shearsmith Interview Filled With Love For Wife, A 'Gay' Man Of Sorts
Appearing before the cameras at the 11th Annual Celebration of the 2018 Female Oscar Nominees, Bradley and his then-girlfriend Amy stole the all the headlines as the latter showcased a diamond on her ring finger.
Although neither Bradley nor Amy, age 49, commented at the event, a representative for the Transparent actor later confirmed the engagement rumors while speaking to People.
Later, at the actual Oscars' red carpet event, the 59-year-old veteran actor - who was nominated for movies Get Out & The Post - made it official when he confirmed the engagement.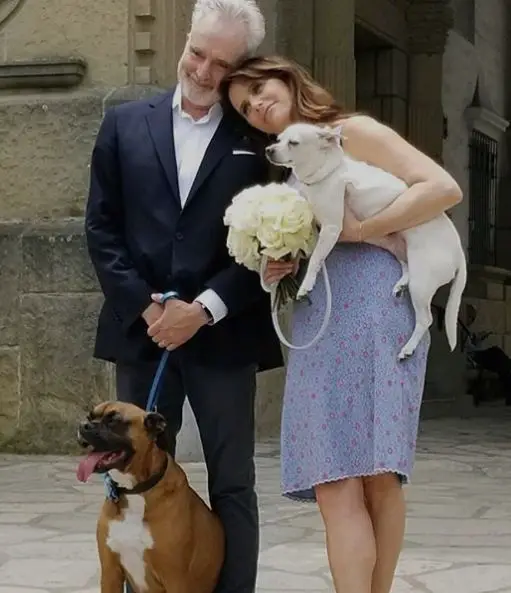 Bradley Whitford with wife Amy Landecker and dogs on his wedding day (Photo: Amy Landecker's Instagram)
After 16 months of establishing their relationship, the time finally came to make it official. However, just like their engagement, the couple chose to keep the details of their wedding a secret from the world.
Fans of the couple came to know of the nuptial only after Amy shared a photo of herself and Bradley on her Instagram handle. 
For the occasion that took place on the 17th of July 2019, Bradley opted for a Sharp suit while his beautiful bride looked even more stunning in a periwinkle dress with a pink floral print. 
Just like Bradley's - this is Amy's second marriage. The new bride was previously married to singer, Jackson Lynch. They were married for eight years from 2005 to the 22nd of November 2013 and have a child. 
Bradley Whitford's Net Worth & Movies
Bradley Whitford was born on the 10th of October 1959, in Madison, Wisconsin, USA. Having been known as a household TV and movie name, Bradley has done justice to all the talents and skills he possesses.
You May Also Like:- Who Is Detroit Pistons' Andre Drummond Dating Now? Girlfriend Rift
As a result, he has treated the fans and the film industry with some fantastic hits like The Cabin In The Woods, Saving Mr.Banks, Scent of A Woman, and The Handmaid's Tale, to name a few. His career has ultimately resulted in him accumulating a splendid net worth of $11 million.
Also, in October 2018, NBC announced that a Church Choir Comedy produced by Bradley was in works. Wake Webster's Jason Winer will co-produce the comedy series.