Aaron Carter wasn't really into the dating her after that night...Following the split from his ex-girlfriend he came out as...the pair had discussed their plans to have kids...family life is also every bit intriguing...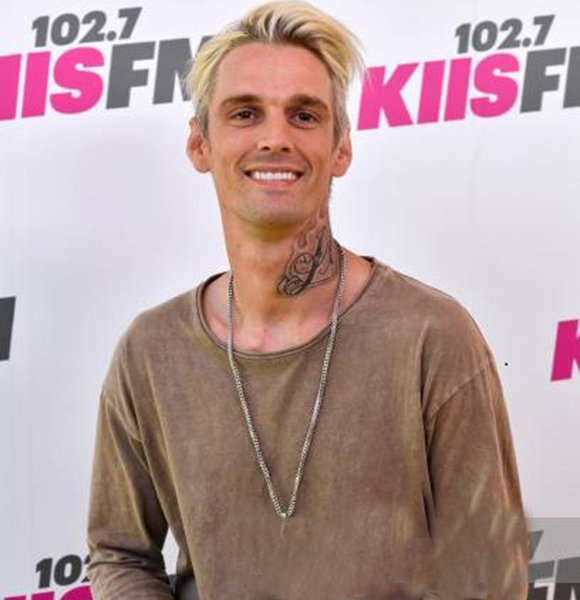 In early-August 2019, American singer Aaron Carter entered singlehood. Talking to E! News, he announced his split from Russian-born painter girlfriend Lina Valentina, who reportedly moved out of their house.
The I Want Candy hitmaker expressed grief over the separation by sharing that he had hoped the relationship to last forever. Admittedly, the former lovebirds' romance turned unhealthy as they struggled to place their differences aside. In his own words:-
"Lina and I have decided to go our separate ways. We couldn't seem to get past our differences and the relationship eventually turned unhealthy..."
Calling the decision to split the mature thing to do, Aaron opened up about learning from his past mistakes. Moreover, he professed zero regrets for the year-long romantic endeavor with now-ex Lina.
The pop singer ended his statement by insisting his priority as fans, music and touring. While still focusing on career, he claimed that he would find his soulmate soon.
Kids Before Split?
While announcing the split, Aaron mentioned about how the pair had discussed their plans to have kids.
Fans who followed the singer and his painter ex-girlfriend's relationship were well aware of his desire to become a father. So much so, that back in December 2018, he hinted Lina was pregnant with their firstborn.
Talking to E! News, Aaron later clarified his intentions. Despite his desire to have kids, he shared that the two weren't expecting a child at the time.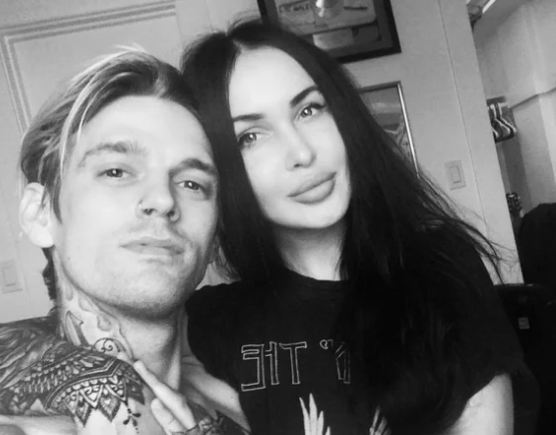 Aaron Carter and then-girlfriend Lina Valentina smile for a snap circa late-2018 (Photo:- People.com)
It was in September 2018 when Aaron and Lina's relationship entered the public domain. Flaunting the German-born, Spain-raised and Los Angeles-based artist as his girlfriend on Instagram, the I Am All About You hitmaker called her the love of his life.
Girlfriends & Dating History
Before Lina, Aaron shared romantic ties with Madison Parker. The former lovebirds' dating life came to an abrupt halt in 2017.
More On The Split:- Aaron Carter Splits with His Girlfriend Madison Parker After Revealing a Candid Letter About His Sexuality
Following the split from his ex-girlfriend Madison, he came out as bisexual. Also that year, he took months off from everything and spent time in a treatment facility amid legal and personal turmoil.
Aaron's dating history is an impressive one. Lindsay Lohan, Hilary Duff, Kari Ann Peniche, Kaci Brown and Brooke Hogan were lucky enough to be his girlfriend at one time.
Rumored Girlfriend & Feud
In August 2019, the songwriter had a short fling with YouTuber Trisha Paytas, which became evident through her post on Instagram. She shared a live video of two of them driving around and kissing in the car. His date for the night even posted a picture (now deleted) of them kissing along with a caption that contained a ring emoji.
As a result, many speculated that they were linked romantically, but it turned out that the singer wasn't really into the dating her after that night. With a tweet, he put a stop to the rumoring writing, 
I'm single guys.... for the time being. I'm not rushing into anything,I just got out of a relationship, that isn't mature to move on too fast. PERIOD. I have to learn from my mistakes."
But Trisha seemed to have carried away too much expectation since that night, and she didn't take his statement too well. It was apparent through her tweet that wrote,
I hooked up with @aaroncarter 2 nights ago and all I got was an unfollow.I'm sorry ur d--k is too big for me to take."
This led to an online feud between the two for a while, and he even made their DM's public. He made this move after she claimed he was sexually involved with her right after the night of break up with his ex-girlfriend Lina Valentina. So, it became highly probable that the two would not date one another.
Siblings, Family & Net Worth
Beyond love life, Aaron family life is also every bit intriguing.
The 31-year-old singer is siblings with Nick Carter, a member of Backstreet Boys. Like him, Nick boasts a long list of controversies, which include drink driving, nightclub brawl, and more.
On top of that, in September 2019, his brother sought restraining against Aaron after the singer revealed about his thoughts and intentions to kill Nick's pregnant wife.
To this move, the artist replied that these were merely false accusations and he would sue Nick instead. So, with a love life surrounded in controversy, his family life wasn't healthy either.
Married To Her Brother:- Lauren Kitt Age, Pregnant, Children, Husband
Besides Nick, Aaron has two more siblings: twin sister Angel - a model and B.J. by trade - and Leslie. In 2012, the latter died of a drug overdose at age 25. Tragedy further struck the Carter household as Bob Carter - the family patriarch - died of a heart attack in 2015.
Despite the personal turmoil, Aaron returned to music after 16 years with the album LOVE in 2018. As of now (2019), he boasts a reported net worth of $400 thousand.