Entertainment
Openly Gay Adam Lambert Searching For Boyfriend, Says Dating Is "Tricky"
American singer Adam Lambert has a straight way to stardom after being the runner-up in the Season 8 of American Idol. 
However, Adam had more of a roller coaster ride in his love life. From dating with boyfriend, sleeping with a woman to being single for two years, Adam has seen it all in his dating life and now, claiming dating is, in fact, a tricky thing to do.   
Besides, the Whataya Want From Me singer has also come out from the closet regarding his sexuality out wide in the open. 
Want to know how dating is tricky for Adam? Dig in!
Intention Of Not Getting Married With Boyfriend 
Back in 2009, Adam was rumored to be dating singer and songwriter, Ferras.
The dating rumors started in November 2009, which was followed by the two being pictured together in January 2010. However, the pair never addressed the rumors officially but still shares friendship till this day.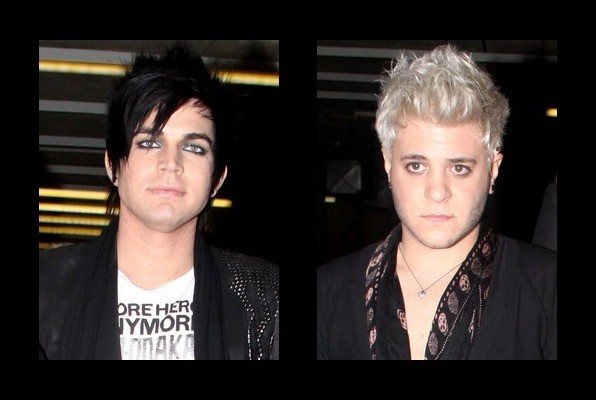 Adam Lambert gets pictured with Ferras in January 2010 (Photo: Zimbio.com)
Although Adam's relationship with Ferras never took off, he eventually started dating the Finnish television host, Sauli Koskinen in 2010. The couple broke up after a while and Adam soon got romantically linked with Murray Swanby, a male model in April 2013. 
However, Adam's dating rumors got crushed after he got reunited with Sauli a few months after their supposed break up. 
The news of them getting back together surfaced after the two were spotted together heading back to Adam's apartment in West Hollywood.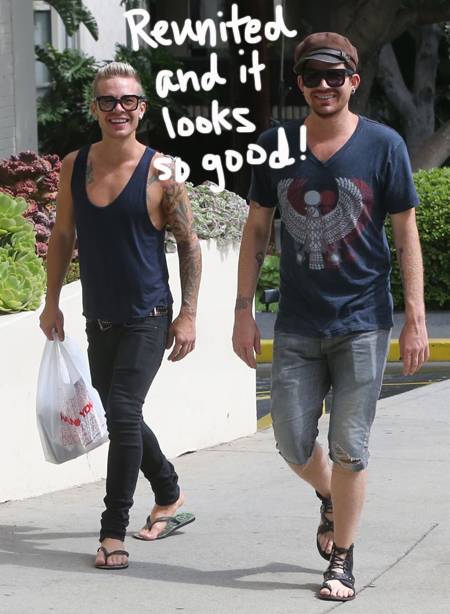 Adam reunites with ex-boyfriend Sauli in 2011 (Photo: PerezHilton.com)
The couple got reunited with no hard feelings but still shared some problems. Talking to US Weekly in August 2011, Adam cleared his intentions of not getting married to Sauli. 
Gay Revelation; Dating Rumors With Sam Smith
Adam first revealed of being gay in a Rolling Stone Magazine's cover story weeks after the finale of season 8 of American Idol. 
The singer took his time to come out openly with his gay sexuality. Talking to 20/20 on June 2009 Adam chose to acknowledge his sexuality publicly. Adam said,
"I am gay, and I'm very comfortable with it."
When asked about the reason for late disclosure of his sexuality, Adam answered he wanted to focus on his ability as a singer and an entertainer, so he chose to hide his sexual identity till the end of the show. 
Further, Adam also talked about exploring his sexuality and not remaining confined to one identity as he termed himself as "bi-curious." The pop star told in the interview that he had made out with girls on occasions and mentioned the possibility of going further than just kissing in the future.
"I've been kind of toying around with the bi thing in my head. I wouldn't ever give myself the label 'bisexual,' but bi-curious? Yeah I've been known to make out with girls from time to time. Couple drinks involved, you know. It's fun. And who knows? Maybe it'll go further someday. I don't know."
Although Adam only came out as openly gay in 2009, his mother had long known the fact. And Adam's mom, Leila Lambert, was the one who helped him come out of the closet when she first asked him if he wants a boyfriend or a girlfriend during a car ride. Leila remembered the incident, 
"I think we stayed up until about 3:00 in the morning and laughed and talked. I didn't want to pressure him. I knew for a long time and I just assumed. ... I knew this is who he is, who he was, and. ... I felt comfortable with it."
In the meanwhile, the Indiana-born remained low-key regarding his personal life; but in April 2015 he revealed about sleeping with a woman. In an interview with Huffington Post, Adam mentioned that he had slept with a woman while he was 29 years.
The date coincided with the period when Adam was dating Sauli which hinted towards the singer cheating on his partner. Further, fans also speculated that the two had broken up although Adam would only reveal it a few months later in August.
In August 2015, Adam talked to Mirror and mentioned his dating status as single.
Adam remarked that he had been alone for more than two years and was ready to be in a committed relationship. He added that he had a "bad game" when it came to his dating life as he felt nervous chatting up with guys.
Previously, Adam was also rumored to be dating British singer Sam Smith after the two were spotted getting intimate in a rickshaw in London. However, the news turned out to be a hoax when Adam disproved any romance between them. In February 2018, Adam appeared on Andy Cohen's Watch What Happens Life and falsified any romantic angle going on between him and Sam. Adam said in the interview,
"He's such a nice guy, he's funny and... no. There's no romantic rumor. We did ride a rickshaw in London from one club to another, wasted, at three in the morning. So, there was a lot of bonding."
He closed the dating rumors with Sam once for all.
"Dating Is Tricky" 
As of now, Adam is single and very much interested in dating, but seems like luck hasn't still favored the Queen's frontman yet.
In February 2018, Adam spoke to Kiss FM's The Kyle And Jackie O Show and discussed his dumb luck in finding a suitable partner.
"Dating is a bit tricky when you're moving around all the time I have to say."
He revealed that he even turned to dating apps but all in vain. Adam blamed his lack of love life to his busy schedule and constant travels and hinted that he might remain single for a while before finally getting married and settling down with a wife.