Entertainment
Juliet Huddy Went Through 3 Failed Knots, Got Engaged and is Now Dating a Musician. Ex-Husbands, Divorce and Children
She had been working in the news channel, but sometimes she, herself becomes the topic of news because of her relations and a nose job. Anyways, is not rare in Hollywood to be shaped through plastic surgery, is it? Juliet being a reputed journalist is full of controversies. However, as successful as she is in her professional life, not the same can be described as her personal one as she was married and divorced for three times up to now. That must have been devastating.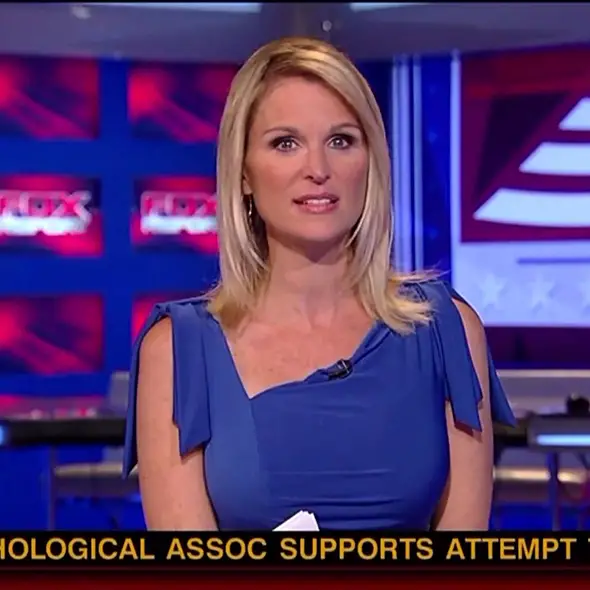 Quick Information
Fiance

Steve Wright(Ex-fiance)

Wedding Date

25 June 2017

Husband/Spouse

John Fattoruso

LinkedIn

linkedin.com/in/juliet-huddy-66538855/

Instagram

instagram.com/juliethuddytv

Twitter

twitter.com/juliethuddytv

Facebook

facebook.com/pg/JulietHuddyTV

Body Measurements

37-25-35 inches

Hair

Short

Weight

64 Kg

Height/ How Tall? 5 Feet 8½ Inches (1.74 Meters)
Education

University of Missouri(1992)

Career

1994-present

Net Worth

$2 Million (Estimated)

Date of Birth Sep 27, 1969
Ex-Husband

Dough Barret(2009-2009)

Ex-Boyfriend

John Jordan,

Boyfriend

Divorce/Split

Yes (Thrice)

Relationship Status

Married

Brother/s

John Huddy Jr.

Mother

Erica Huddy

Father

John Huddy

Ethnicity/Race

White

Birth Name

Juliet AnnMarie Huddy

Profession

Talk Show Host

Nationality

American
The gorgeous American TV reporter Juliet Huddy used to work as a news correspondent for the Fox News Channel. She is famous for her anchoring, glamorous looks, nose jobs, and relationships.
Married Life, Husband and Divorce History:
She has been married and divorced for three times up to now. That must have been devastating. Despite having a famous name, she has managed to keep her personal life in sworn secrecy. 
The news about her marriage (that took place in 2009) with her third husband, Entertainment Weekly's Dough Barret spread like wildfire in media since it was a topic of everybody's interest. Sadly, just after five months, they went through the process of divorce. Reportedly, Doug asked the engagement ring back.
When asked about the separation back then in an interview, Dough had then said:
"This is personal. I'm going through a separation."
According to a source, one of her husband, before she got married to Dough Barret, was then KADY-TV news director Dan Green. The television station was owned by Juliet's father, John Huddy. Then, Juliet also used to work for the station.
Mr. Wright
After three unsuccessful marriages, Juliet still had hope. In 2013, Juliet got engaged to Steve Wright. Nobody knew this news until her journalist brother, John Huddy, who is the Fox News Channel Middle East correspondent, revealed it through his social account on 27th October 2013.
Everybody thought that engagement with Steve, @SWrightNYC, was her full stop to unsuccessful marriages, but alas, they got separated too.
In Feb 2016, fans first noticed her bare ring finger when the former Fox and Friends Weekend co-host returned to the curvy couch in place of vacationing Anna Kooiman. 
Before Steve, Juliet was dating John Jordan. He is the CEO of Jordan Vineyard & Winery. Her relation with John also didn't work, and they got separated.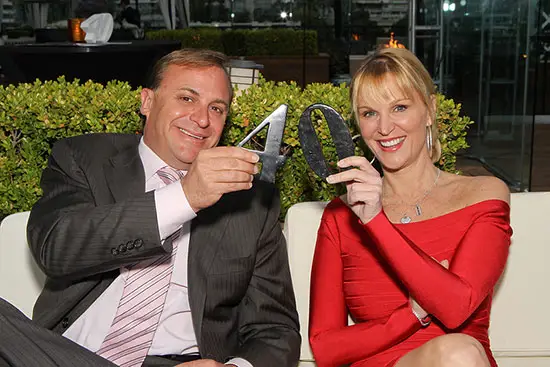 Caption: Juliet Huddy with then-boyfriend John Jordan celebrating his 40th birthday at the Jordan Vineyard and Vinery in 2012 (Photo: gayot.com)
The surprise is Juliet didn't have any children with any of her three husbands or past boyfriends. Even after her every divorce and breakups, she was successful in maintaining quite a steady profession.
Happy With Musician Husband
Fourth time became the charm for the former Fox journalist as she got married to her beau John in June 2017, the guitarist of the band Zire's War, John Fattoruso. They were probably dating since 2015.
She revealed about her fourth marriage via Facebook. The wedding ceremony was an intimate affair with close friends and family in attendance. After uniting legally as husband and wife, the love birds jetted off to Malta to celebrate their honeymoon in July 2017.
Well, the pair enjoyed their getaway to the fullest and plan to visit the magical place again.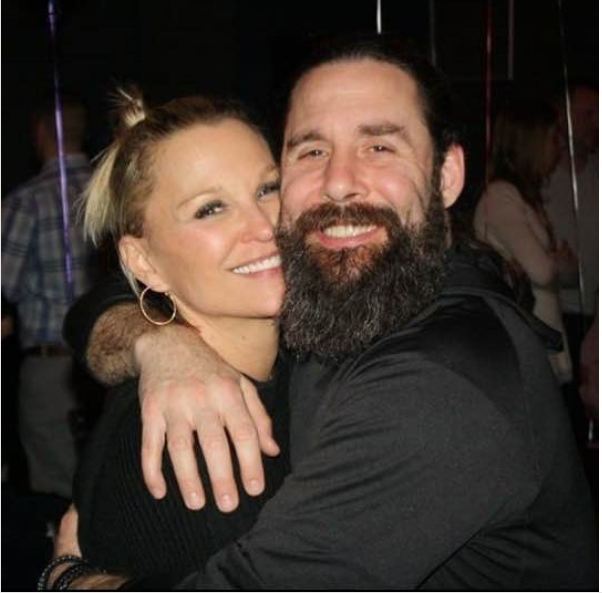 Juliet Huddy hugs her husband John Fattoruso on 13th Januray 2019 (Photo: Juliet Huddy's Instagram)
After the previous failed attempt at the legal bond, the marriage with musician seems to be the real deal for the blond beauty.
She even changed her name to Juliet Huddy Fattoruso adding her husband's last name to her identity. Besides, she regularly promotes her husband's gig on her Instagram handle.
Where Is Juliet Huddy From Fox News?
Juliet Huddy, the goddaughter of the former chairman and CEO of the Fox News Roger Ailes who was accused of sexual harassment by Gretchen Carlson, took her to leave from the channel on 5 September 2016. She broke the news on air and expressed warm-hearted gratitude to her viewers via Twitter on 7th September 2016.
During the end of her days in Fox Channel, she was serving as a reporter for Fox News Channel and also as an anchor for WNYW-TV. However, according to TV Newser, Juliet now plans on launching a website which will cover the music industry.
Sexual Harassment Case Against Bill O'Reilly
After the Roger Ailes sexual harassment feud, Fox News executives asked employees and former employees to come forward with similar accusations and Huddy didn't back off from this either. It was revealed that Bill O'Reilly pursued a sexual relationship with Huddy, and he was quite adamant about it, even after her refusals.
A draft from Huddy's lawyer to Fox News revealed that O'Reilly was sexually harassing Huddy and even tried to derail her career when she refused as he held superior influence over her career at that time.
The letter also revealed that O'Reilly called Juliet multiple times, invited to his house at Long Island and even attempted to kiss her. Apparently, he also took her out for dinner once and after asking her to return a key to his hotel room, appeared at the door in his boxer shorts.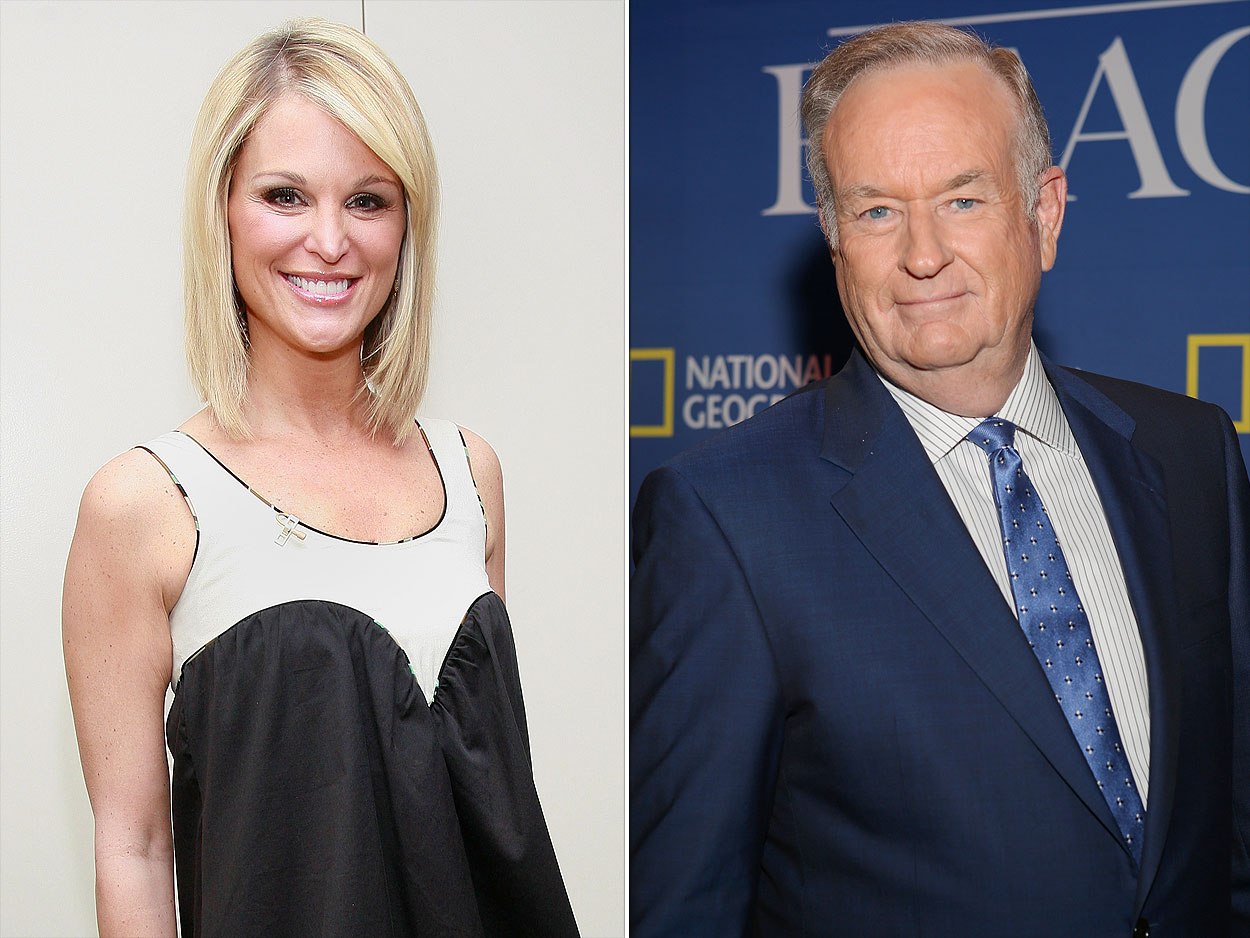 Juliet Huddy vs. Bill O'Reilly (Photo: People.com)
Huddy eventually agreed to keep silent on the case and agreed not to sue after she signed a contract with 21'st Century Fox and was paid a six-figure amount for her silence.
Related:- Bill O'Reilly Lands A New Contract with the Fox News Despite Controversy of Sexual Harassment!
The letter was sent anonymously but was authenticated and verified by several people. The authenticity of the accusations itself was based on the letter and the information received from 3rd Person parties and other individuals involved in the case. The letter also insisted that Jack Abernethy had retaliated against Huddy professionally after she made it clear that she was not interested in a romantic relationship with her. 
O'Reilly's and his lawyers, however, insist that the incidents talked about in the letter were false and had no basis for the accusations.
Juliet Huddy's Bio:
 Juliet Huddy was born on September 27, 1969, in Florida; the U.S to singer Erica Huddy and tv producer John Huddy. A Langley High school graduate, Juliet is a graduate of the University of Missouri where she received her degree in political science with a minor in sociology. She has two brothers, brother John, and a half brother.
She started her professional journey in 1994 is inspired by her television father, John Huddy. Her first stint was working as reporter/producer for KARO-FM's morning newscast in Columbia, Missouri at the age of 23 in 1998.
Juliet joined the Fox News as a reporter in1998 but later moved to New York to present various types of programs. She served as a reporter for Fox News Channel and as an anchor for WNYW-TV (Fox ) until September 5, 2016. Since September 2018 she works at 77 WABC radio.
Before her exit, she used to co-anchor early morning show Good Day Wake Up on Fox-owned WNYW (Fox 5). She had joined Fox 5 in 2012 following her 14 years of service in Fox News Channel. Then, she went on to fulfill Heather Nauert's role of Early morning anchor alongside Steve Lacy for Fox 5, whereas, Heather moved to Fox News Channel as part of Fox and Friends.
While her time at Fox News Channel, she could experience diverse roles including 'Miami correspondent', 'fill-in-anchor', 'Dayside anchor' and co-host of the syndicated 'Morning Show with Mike and Juliet' alongside Fox personality Mike Jerrick. 
Last but not least, she is also known for her successful nose job and healthy weight loss.