Entertainment
Is Bill O'Reilly Against Trump? Know About Bill's Political View. Unsuccessful Married Life, Ex-Wife, and Children
Politicians and Journalists have a long history of bitterness and arguments. Speaking of Politics-media disputes many of us were expecting things to get a little heated between Bill O'Reiley and Donald Trump in the March 3 interview with all the confrontation, accusation and remarks they have passed against each other.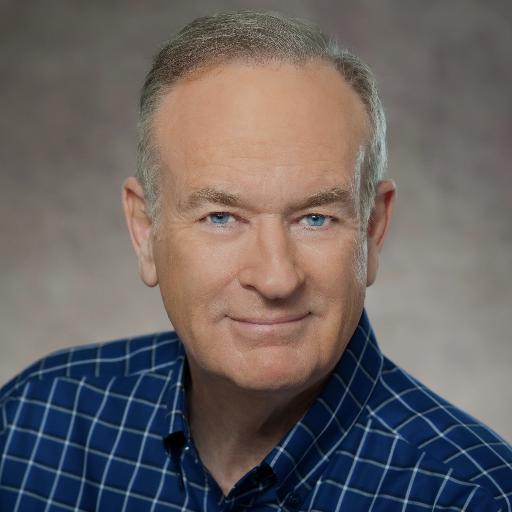 Politicians and Journalists have a long history of bitterness and arguments. Speaking of Politics-media disputes many of us were expecting things to get a little heated between Bill O'Reilly and Donald Trump in the March 3 interview with all the confrontation, accusation and remarks they have passed against each other. Find out about this and also learn more about his personal life.
Trace out the entire history of Bill O'Reilly and Donald Trump and also take a deeper look into the personal and family life of Bill. Learn about everything from his failed marriage to all the great accusations made about him here.
Does Bill O'Reilly Hate Donald Trump?
Bill O'Reilly interviewed Trump in his political commentary show, 'The O'Reilly show' on March 3. The interview went smoothly, or perhaps smoother than expected.
During the interview, O'Reilly mentioned him defending Trump last week when a minority party leader, Tavis Miley called Trump a racist arsonist. He had said to Miley that he doesn't know Trump as well as O'Reilly so, it wouldn't be wise to speak to him.
Personality From Fox Network:- Steve Hilton Of Fox News, The Next Revolution Show Host's Wife; Who Is She?
This surprised people as they were in a mentality that O'Reilly was hell-bent against Trump. Especially, after he confronted Trump so many times in the past months. He has called Trump thin-skinned and confronted him on the attack on Hillary Clinton through the use of Bill Clinton's recent scandals. He has also mentioned that:
This is not the first time O'Reilly and Trump have come face to face. On 'The Stephen Colbert Late Show' O'Reilly had said how Trump and Bernie Sanders were practically the same people.
He also impersonated Donald Trump showing how his ideologies are based mostly on his anger towards terrorism and immigration. He also mentioned that Trump is doing a good job acknowledging people but at the same time is making promises impossible to fully complete.
Donald Trump in a way got his revenge during his interview with Bill O'Reilly after the GOP debate where as per the interview Trump mentioned that O'Reilly was very negative and after O'Reilly asked: "Am I negative?" Trump only answered, "You should ask your psychiatrist" referring to O'Reilly' marriage problems whereby he had assaulted his wife and tried to destroy her boyfriend.
Donald Trump roasts a drunk Bill O'Reilly (Source:- YouTube)
There was news that he responded similarly when Ted Cruz was on his show on April 6 and started attacking Donald Trump by bringing up the topic that he kept donating his money to Democrats. But O'Reilly kept on trying to overpower the fact saying that he did it as a business person.
See Also:- Is Mark Simone, The Savage Radio Host Married? Family, Salary & Facts
Finally, Ted Cruz had too much and snapped," I know, you defend him a lot, Bill." O'Reilly denied the statement, but this brought a lot of light to the viewers that O'Reilly is comparatively little favorable to Trump.
But their feelings for each other is a lot complicated because O'Reilly also mentioned that Trump had been angry with him and hence had not been on his show. Maybe Tump was angry at O'Reilly for all his past comments.
Even though Donald Trump is not someone to shy away from answering to such comments as we may know from his feuds with Megan Kelley but being a politician, he has to think carefully before pulling stunts like that.
But in reality, Trump and O'Reilly are friends for more than 30 both seem to put everything ears. But they in their line of work. Both of them appear to speak their minds, and maybe at the end of the day they consider it as "Water under the bridge
Bill O'Reilly's Tumultuous Married Life With Wife & Children
As promising as journalist O'Reilly is, His family life is equally messed up. He has had only been married once in 1996 with his then-wife Maureen McPhilmy, which ended in a divorce in 2011.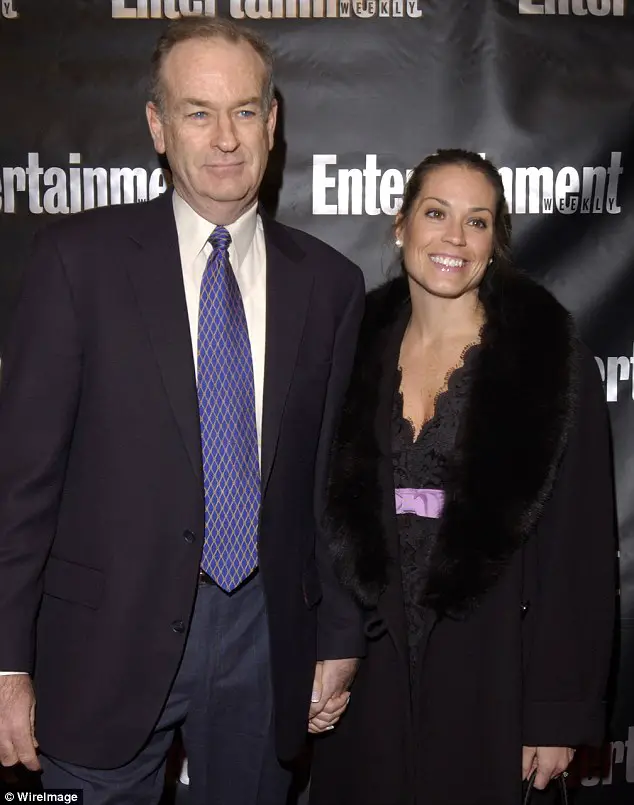 Bill O'Reilly with his Ex-Wife (Maureen E. McPhilmy) (Photo: tistory.com)
The divorce became a lot complicated in the future after the reasons for divorce surfaced years later when assault charges were pressed against O'Reilly on 2015, and then he also sued his ex-wife for 10 million dollars for cheating on him before the couple separated.
By default, Bill won the lawsuit against his ex-wife in 2017 for $10 million. Since the win, Gizmondo Media Group has been trying to unseal the documents relating to the lawsuit citing civil fraud.
Discover:- Twice Married Pete Hegseth Of Fox News Still Content Post Divorce; How?
He also lost the shared custody of the children after his daughter Madeline, 13 confessed witnessing the assault on McPhilmy. They also have a son, Spencer of age 16.
He denied the accusations but failed to prove it. Maybe one person can't have everything. There were many angry followers who expressed their hatred for O'Reiley's actions. One of the Twitter users replied to his comment about violence inflicted upon Trump's fans by writing:
"Billo the clown, now he knows how your wife felt. After you beat and choked her out. @oreillyfactor."
While another user accused media of turning a blind eye to his assaults against his ex-wife. Another Twitter user wrote:
"LOLOLOLOLOL Wow. He lied and got caught. You choked your wife."
Bill is yet to be accounted for the mistreatment of his ex-wife. As a matter of fact, he has swiftly managed to put the accusations against him under the rug and continue his ever-so-growing TV career.
Hilary Will Cry:
On the most recent update on the activities of Bill O'Reilly may have blurted out yet another conservatively delusional statement against Hilary and in favor of Trump by stating that Trump could make her cry on September 2016. While talking about a similar moment when Hilary Clinton shedding a tear during her comeback, Bill made the following comment
"Alright, but Trump may make her cry. I mean, that could happen. Anything could happen."
Bill O'Reilly Fired After Multiple Sexual Harassment Scandals And Lawsuits
After years of shining as Fox News' finest, Bill O'Reilly was finally forced out of his seat as Fox News and parent company 21st Century Fox takes action against O'Reilly. Bill is regarded as one of America's best News Entertainment hosts, and in his wake, he has offended and angered many with his offensive and crude comments which he shows zero remorse about.
Interesting:- Dana Perino: 20 Years of Married Life But No Children, Husband and Divorce?
Furthermore, Bill has a history of sexually harassing female coworkers as well as multiple sexual harassment cases. He alone has cost Fox News about $13 Million in lawsuits. However, it is a universal fact that he was a Cash cow for Fox News and he earned them more than he lost. His show 'The O'Reilly Factor' alone generated over  $446 million in the span of 2 years ( from 2014 to 2016) in ad revenue. But Fox News finally took action after multiple criticism and complaints. 
The news of the release of Bill O'Reilly came from a statement by Rupert Murdoch, ex-Ceo, and Chairman of 21st Century Fox.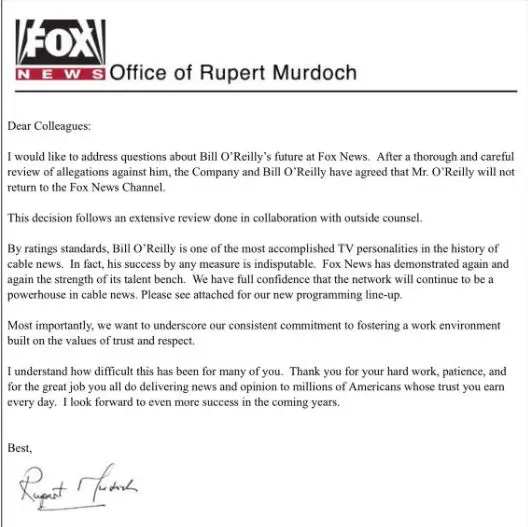 Rupert Murdoch addresses the future of Bill O'Reilly at Fox News via a letter (Photo:- Bruan Stelter's Twitter)
While no one is sure about the future of Fox News and O'Reilly himself, we are confident that this decision stands to show that sexual harassment is not tolerated in the Journalism or the Media business and Fox News is there to right itself in the coming future.
Bill O'Reilly is a very controversial figure, but despite all the finger-pointing he goes through in his life, he seems unaffected. His show on the Fox Network has been at the top of all the political shows. He has claimed this throne of the number one political show for 15 years. So, whatever people may say about him, he is a highly dedicated journalist.
Sexual Harassment Settlement
Bill O'Reilly and his accusers, Andrea Mackris and Rebecca Gomez Diamond reached a settlement in 2018 as per the New York Times report.
Read Also:- Who Is FatBoy SSE? Wiki Reveals Girlfriend, Net Worth & Essential Facts
According to the court documents, the agreement requires the plaintiff to hand over all the evidence to the Fox News veteran. However, the exact amount of settlement is yet to be disclosed.
Over the years, Bill has been involved in six known settlements including five for sexual harassment. The cost of all his settlements is believed to be around a staggering $45 million.