Entertainment
Is Alex Aiono Still Dating His YouTuber Girlfriend? Reveals About Nationality And Hair In Video
Known to be a professional singer and multi-instrumentalist, Alex Aiono is well known and successfully captured hearts of fans all around the world at a very young age. He owns Youtube channel, and people love things he does there.
But did you know that this up and coming star was once in a love relationship with an adorable girlfriend? And are they still together?
Is Alex Dating His YouTuber Girlfriend?
Many of Alex's fans know the fact that he was once in a relationship with his YouTuber girlfriend, Megan Deangelis.
Fellow YouTuber:- Carli Bybel Age 28 Dating; Real Reason She & Boyfriend Break Up
Although the exact date of the start of their relationship is a mystery, he first revealed their relationship through a Youtube video on his channel. On the same day, Megan also posted a similar video with a Boyfriend Tag, confirming a relationship.
But for those who adore the pair might have bad news to hear as the two are no longer dating each other. The announcement came out as a shock to everyone who called them the fans of the pair. Alex confirmed the news in a Q/A video on his channel.
Sad news indeed as they looked adorable together. However, Alex stated that the two are closer to each other now that they are not dating and are just friends. Good thing that there is no negativity between them.
So, what's next for Alex? Does he have a particular girlfriend in mind? Judging by his most recent tweet, the next girl he's planning on dating may be into books.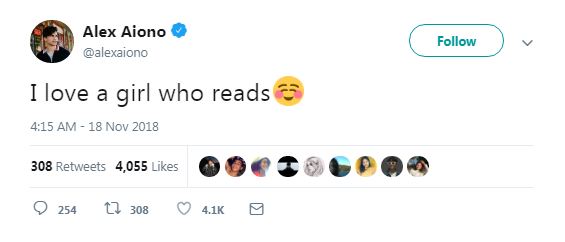 Alex hints his followers who his next girlfriend might be (Photo:- Alex Aiono's Twitter)
Interesting:- Pete Davidson Dating Months After Painful Ariana Split, Who Is New Girlfriend
Also, the YouTuber might be looking for a more serious relationship as evidenced by the November 2018 interview with Paper Magazine. Referencing the drama surrounding his love life, he asserted:-
"if you focus that energy on the people you love and your career, you get something in return other than momentary satisfaction."
It is clear that Alex's maturity is beginning to manifest itself in his music. Hopefully, it translates to the music he makes as well.
More On Alex Including Age, Nationality, Parents, Hair & Gay Rumors
Being adored by many people around the world, fans crave to know every little thing about you. The same can be said about Alex and people would like to know even the most minute fact about him, that might be it his ethnicity, nationality or his sexuality.
If you follow him over on his Twitter account, you could be able to see that he has revealed his ethnicity in a tweet. Back in 2013, when a fan tweeted asking him if he is Hispanic, he cleared out the question of his ethnicity through a Tweet, which read:-
"I'm Maori, Samoan, and white!"
Speaking of Alex's parents, he inherited Samoan and Maori identity from his father and the white bloodline from his mother of European descent. As a result of his father's New Zealand nationality, he grew up in Ngati Porou.
Discover:- Rose Namajunas From Long Hair Sacrifice To Addicted Boyfriend & Husband-To-Be Struggle
Believe it or not, Alex and his family moved to LA when the YouTuber was 14 years of age so that he could pursue a career in music. The move meant that he had to quit high school; he would later finish his degree online.
Regarding his family life, he seems to share a strong bond with his parents and his three sisters -- Sidney, Taylor, and Haille. Like him, they are all into singing.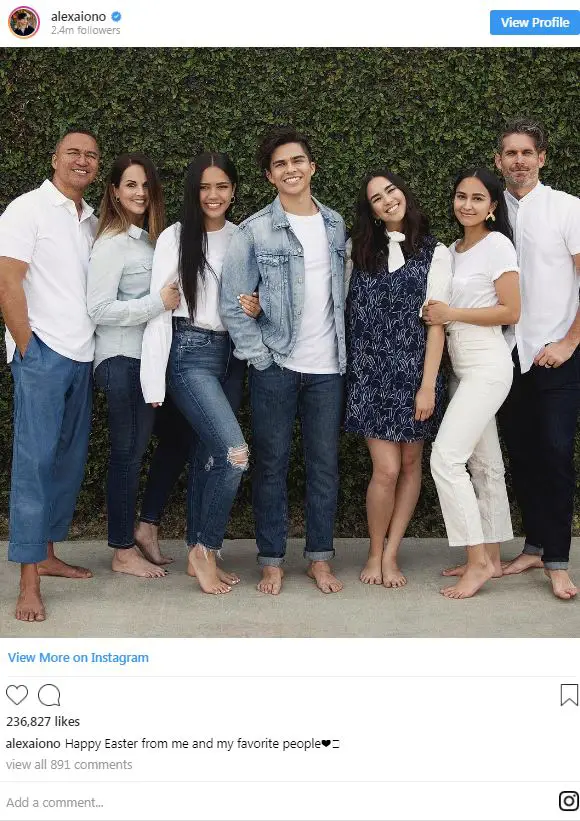 Alex posing alongside his sisters and family friends (Photo:- Alex Aiono's Instagram)
Similarly, a tweet that denoted his parents getting married shows how much he loves his parents. On 23 October 2015, he exclaimed:-
"MY PARENTS ARE GETTING MARRIED TODAY."
Also, his Twitter bio reads him calling himself a "Dad" which demonstrates how he likes to pretend like a parent. Also, a fan tweeted him "Happy Father's Day.
Before pursuing a career in music, he tried his hands at wakeboarding. Many might not remember but Alex appeared in an iTunes commercial when was just five years old.
Don't Miss:- Openly Gay James Charles, Exceptional Makeup Artist Boyfriend | Dating?
Moreover, he called himself a liar in a video followed by the statement that his real name is Martin Alexander Aiono which can't be believed in since he warned us of his lies. He then revealed his birthplace, which was Utah, USA and further stated he has lived in several places in the very country.
Also, many even speculate him to be gay as he at times has a gayish way of presenting himself, but his past affairs with females suggest that he might not be gay after all. However, nothing is sure, until any confirmed statement from Alex himself.
The fact that he has openly admitted the chick-flick special The Notebook as his favorite movie of all time doesn't help.
In a nutshell, we can say he has been able to earn decent name and fame at just 22 years of age and hope he continues to higher in the future as well.