Entertainment
Bachelor Hunk Jesse Palmer: Dating and Girlfriend History. Where is Jessica Bowlin? Is She Married?
Jesse grew up in Canada, he used to play in an amateur football club and got selected to play in the NFL in 2001, after his degrees in the U.S. To boost up his performance, he used to play in the college too. Jesse was loved by the ladies and still is. He appeared on The Bachelor show hosted by Chris Harrison, a show to give girls a chance to spend time with the handsome player and of course to be a wife if he wished.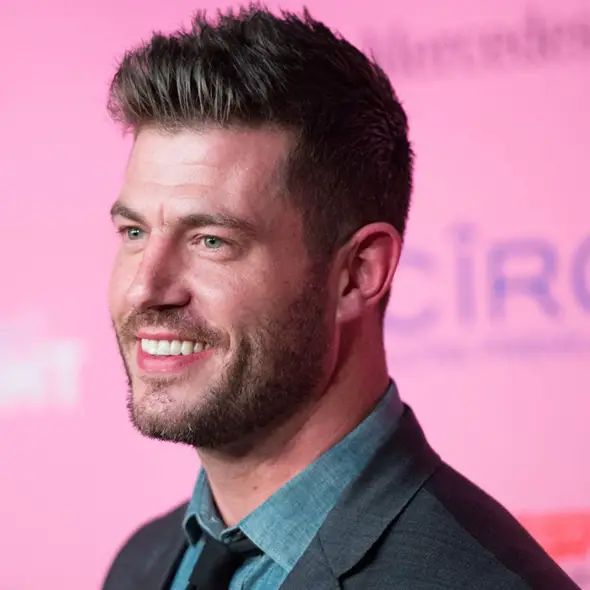 Quick Information
Divorce/Split

Not Yet

Weight

102 Kg

Height/ How Tall? 6 Feet 2 Inches (1.88 Meters)
Education

University of Florida

College

St Patrick's College

High School

St. Pius X High School

Net Worth

$6 Million (Estimated)

Dating/Affair

Dating

Gay

No

Ex-Girlfriend

Jessica Bowlin

Girlfriend

Emely Fardo

Date of Birth Oct 05, 1978
Relationship Status

Dating

Children/Kids

Not Yet

Brother/s

Billy Palmer

Mother

Susan Palmer

Father

Bill Palmer

Ethnicity/Race

White

Zodiac Sign

Libra

Birth Name

Jesse James Palmer

Profession

Sports Commentator

Nationality

Canadian
Jesse was a favorite among the ladies and still is. He appeared on 'The Bachelor' show hosted by Chris Harrison, a series to give girls a chance to spend time with a handsome player and of course to be a wife if he wished.
Though things didn't turn out quite the way he wanted it to be, Jesse doesn't seem to have any regrets with the experience on the show. Furthermore, there might be somebody new in the life of the former NFL star. Are they only rumors or has Jesse finally found the one?
Married Life, Wife, or Girlfriend?
In the show, Jesse had to find a wife for himself, and at last, he ended up with Jessica Bowlin, a 22-year old California law student out of 25 contestants on the show. However, he didn't propose Jessica but instead presented her with a one-way first class ticket to New York.
Maybe Jesse wanted her to fulfill her dreams and focus on her study, or perhaps it was just a Copout.
You May Also Like: Bachelor Star Brooke Blurton Swirls Romance Rumors, Dating New Boyfriend?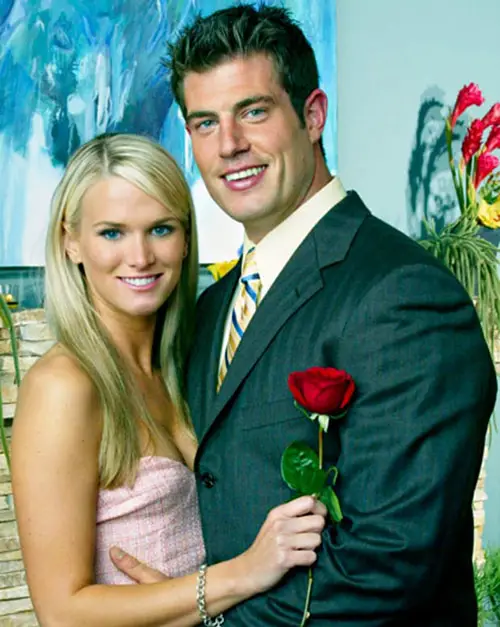 Jesse Palmer alongside The Bachelor winner Jessica Bowlin.  (Photo: wennermedia.com)
After having a long-distance relationship for a couple of months, the news of the couple still being together vanished in thin air. They didn't get photographed together afterward.
According to a source, this is what Jesse had to say about the relationship,
"Jessica and I shared an incredible romantic journey on the show that began with a friendship that remains strong today. We simply realized that, individually, our next steps take us in different directions." 
At the time, he was prudent of his own life & privacy and even asserted that he was married to his job. Moreover, Jesse wasn't seen with any women who could be called his girlfriend.
Despite the relationship failing to take its natural course, Jesse has no regrets over his The Bachelor experience. In an interview with Parade in 2011, he talked about his experience on the show. 
"I had never actually seen it. I guess I was naive in the sense that I didn't know just how big it really was. It was a tremendous experience, but going into it, I certainly wasn't prepared."
With Jesse clarifying that he and Jessica were not a thing, news regarding Jessica's status went ever-so-quiet. However, according to a source, after the breakup with Jesse Palmer, she graduated from East Carolina University and Chapman University Law School and passed the State Bar of California in 2007.
Read Also: Cody Nickson & Wife-To-Be Pregnant With First Child | Family Of Four
She is married and according to her Facebook account, "Rawi" has been added to her last name.
Though not a lot of info is available on her husband, Jessica seems to have moved on happily and is spending a good time with her husband and children.
Finally Found The One: Dating Girlfriend?
Apart from his link up with Jessica, Jesse's love life was still in the dark at the time. However, the former NFL star seemed to have found love one more time in the form of his Brazilian model girlfriend, Emely Fardo.
Though both parties refrained from revealing the exact details regarding the initiation of the relationship, it seemed that the couple had been dating each other for quite a long time, with both of them appearing on each other's Instagram posts as far back as 2017.
Emely, also a food & social media photographer, was quite open regarding her admiration towards his handsome hunk boyfriend. The Brazilian took to her Instagram to wish her boyfriend a happy birthday with a short and sweet caption.
Don't Miss: Did Shawn Booth Split With Kaitlyn? Reveals The Truth Amid Break Up Rumors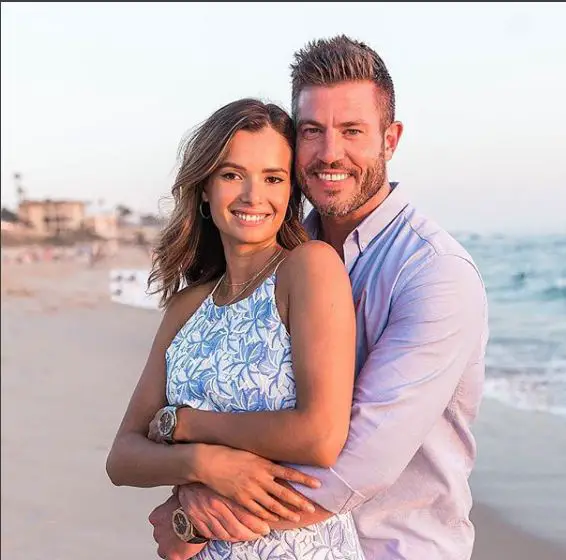 Jesse Palmer alongside his girlfriend, Emely Fardo. (Photo: Emely Fardo's Instagram)
"Happy Birthday to my best friend and the man of my dreams."
Jesse was also extremely open to sharing her relationship status publicly over his social media accounts. The Canadian even thanked his girlfriend for a surprise that she gave to her boyfriend. 
"Thank you @Emelyfardo for this wonderful surprise last night at @bluehillfarm. Such an incredible experience I'll never forget. I love you."
With the duo seen vacationing together and accompanying each other on several public events, fans of the couple hoped to hear the big news regarding their relationship.
Engaged To Get Married!
At last, fans' prayers finally got answered. In July 2019, Jesse proposed to his girlfriend Emely while on a trip to Reims, France. France holds a special place in the engaged duo's hearts. Back in 2017, they traveled to the country for their first vacation.
About the engagement: the NFL player turned reality star popped the question in both English and Spanish. The latter is his now-wife prospect Emely's first language.
Following the proposal, Jesse shared an image of him taking the knee as Emely cries in disbelief on Instagram. In the accompanying caption, he thanked Emely for making him "the best version of myself."
Taking to Instagram, Emely too echoed the same sentiment. She even labeled the former 49'ers player as "the love of her life." 
Engaged In 2019:- Kealia Ohai Engaged, Married, J.J. Watt, Age, Bio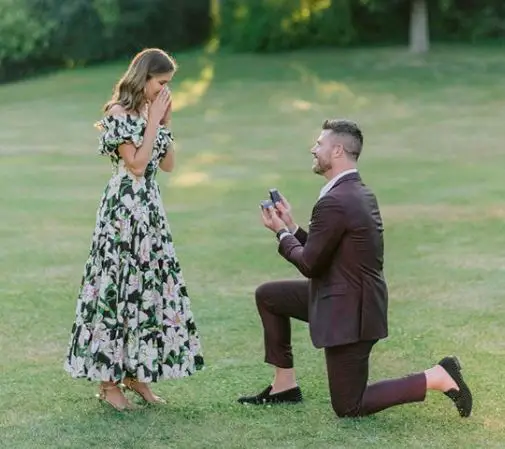 Jesse Palmer proposing to his girlfriend Emely Fardo in July 2019 (Photo:- Jesse Palmer's Instagram)
Speaking to Daily Mail after getting engaged, Jesse revealed that the two met after a boxing lesson at Rumble in New York. Admittedly, it was love at first sight for him.
Jesse Palmer's Bio
Jesse James Palmer is a sports commentator and former football player who often came in highlights from the 'The Bachelor' show. 
Jesse Palmer was born on October 5, 1978 (age 40) and grew up in Canada. He graduated from the University of Florida in 2001, where he used to play in an amateur football club and got selected to play in the NFL in 2001, after his degrees in the U.S. To boost up his performance, he used to play in the college too. 
After ending his career with the 49'ers, he moved to the position of a sports analyst. He currently works as a sports analysts for ESPN/ABC as well as a 'special contributor' for Good Morning America.